Preparing for the CMA exam doesn't come cheap. From IMA membership fees to exam fees to CMA review courses, your total CMA exam cost adds up – quick.
The investment is absolutely worth it in the end of course with CMAs earning on average $130,000 per year. A CMA certification can be even more lucrative than other accounting subspecialties. If you compare CMA vs CPA salaries in most regions of the world, CMA comes out on top.
Who wouldn't want that type of ROI on their investment?
When I prepared for the exam, it took me a total of 6 months and thousands of dollars without really knowing if I would pass the exam. There was a big chance I'd fail since the average pass rate at the time was only 35% globally.
The hardest part was choosing the best CMA review course that would work for me. There were many options and none offered me a guarantee that made me feel confident in my purchase.
Some offered a 30-day money-back guarantee while others offered unlimited access.
At first glance those seemed fine, but…
I didn't want to invest 30 days of my life "testing" out a course to find it sucked. I was a very busy professional and didn't want to waste my time this way.
And for sure I didn't care for an "unlimited access guarantee". What's the point of "unlimited access" anyways?
I don't think anyone wants to study for the rest of their lives. Unlimited access didn't assure me I'd pass the exam which was my ultimate goal. I know it's yours too.
Why "Pass or Full Money-back" is the Right Guarantee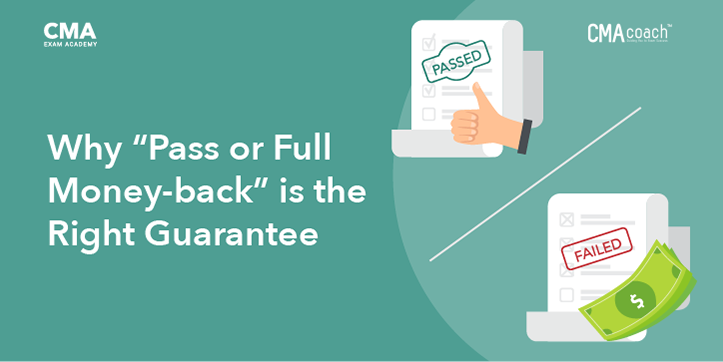 When I launched my instructor-led prep course, CMA Exam Academy, I began offering different guarantees. Started with the standard 30 days money back to 14 days money back, to unlimited access.
But I realized that none of them were enough.
Why offer these guarantees, like other CMA prep courses do, when I didn't care for them back when I had to purchase one?
I asked myself, "what guarantee would I have wanted from a course back then?".
14 days money back? 30 days money back? Unlimited access? Pay for my exam re-take if I failed?
These seem like good choices on the surface, but…
Ultimately, I wanted a course that would help me pass my CMA exam the first time or I'd get my money back.
This guarantee does two things:
It puts a lot more pressure on me and my team to deliver quality courses that will guarantee your exam success.
It gives you confidence in your purchase and zero monetary risk.
There's only an upside for my students.
Why pay for a course that promises you exam success if it'll keep your money if you fail?
It doesn't seem fair to me. This is why I'm changing the guarantee of CMA Exam Academy as of the date of this very post to our CMA exam blog.
If a student fails the exam after completing the entire course with me, I don't deserve to keep their money.
Here Are My Top 10 Tips for Passing the CMA Exam on Your Very First Try!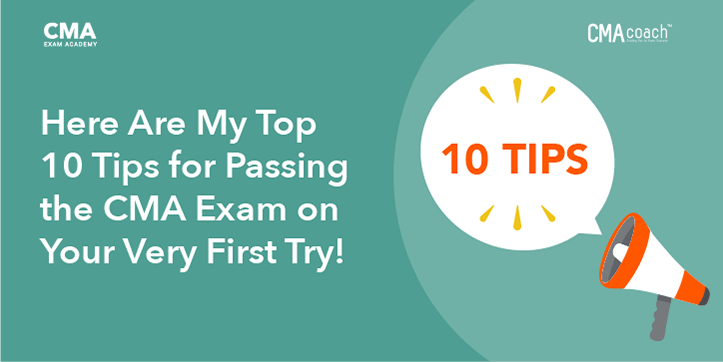 As I've said before, earning your CMA is an investment. Meeting the Certified Management Accountant requirements is not only a financial investment but also an investment of your time. And if you are like many candidates, you are a full time, working professional who has limited time to spare.
So while a Pass Guarantee is great, I want to offer you more than that.
I want to offer you some behind-the-scenes, learned-it-cause-I-lived-it knowledge on how to pass the CMA exam on your first try; guarantee or no guarantee!
So without further ado, here are some of my CMA study secrets and top tips on how to pass the exam on your very first try!
1. Learn Your Study Style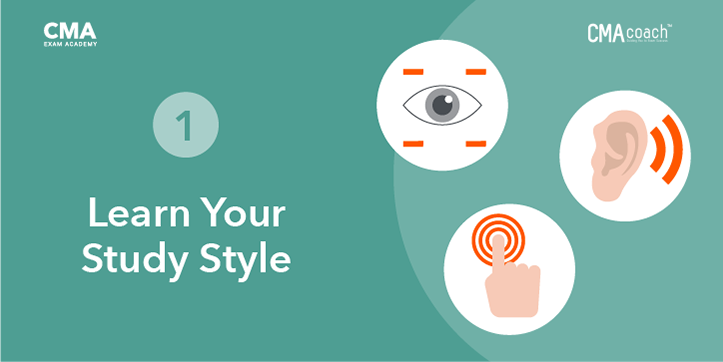 Did you know that not everyone learns the same?
That's right. Some individuals learn by reading or hearing, while others learn by watching or doing.
Just as people do not learn the same, not all review courses are designed the same. For some people, reading CMA textbooks is the most effective way to learn and retain information. Also, check out my speed reading tips and how to boost retention.
For other people, the information they read just doesn't quite stick, but they learn well from videos and audio podcasts.
This means you should be investing time and energy into discovering your personal style of learning so you can choose a review course that suits you.
Here are a few quick tips on how to identify your personal study style:
Visual Learner — Learn by best by seeing things and tend to:
Be good at spelling
Like charts and graphs
Prefer taking notes or making lists
Use flashcards or highlight, circle or underline as they read
Auditory Learner — Learn best by hearing and often:
Read out loud
Listen to podcasts or audiobooks
Like oral presentations and are good at explaining things
Work well in study groups
Tactile Learners — Learn by doing things and:
Are good at sports and have good hand-eye coordination
Learn by doing quizzes or tests
Tend to have poor handwriting skills
Enjoy building things and participating in live classes
Understanding your personal learning style can help you figure out how to study for the CMA exam in a way that works best for you.
The good news is, CMA Exam Academy accommodates every type of learning style thanks to its comprehensive textbooks, live coaching calls, cutting edge test bank technology, and mock exams (to name a few!).
2. Don't Just Buy a Review Course – Use It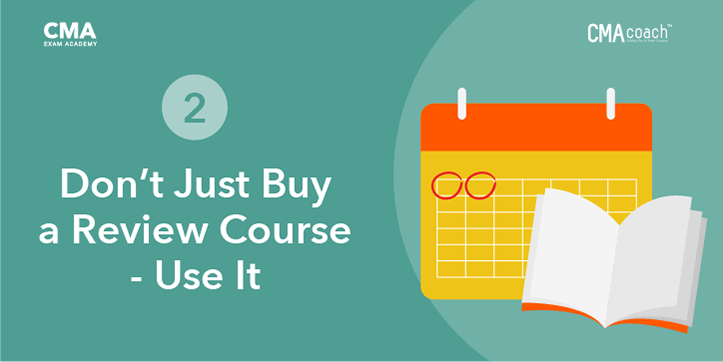 Review courses aren't designed to sit on your shelf (or laptop!) and collect dust.
In order to actually see results you must dedicate hours of studying and follow along with the review course syllabus.
CMA Exam Academy, for example, comes with a 16-week CMA review course that walks you through all the essential course material, while holding you accountable to a realistic timeline.
By utilizing this study guide and all the other study essentials included you will be fast on the path to success!
3. Give Your Brain a Break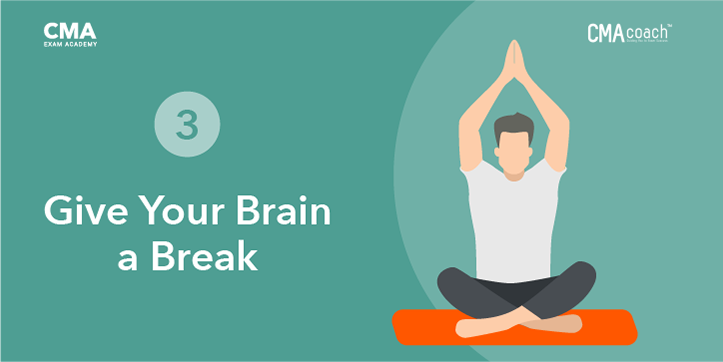 Too much of one thing is not always a good thing.
And when it comes to studying, even more so.
It is imperative that you give your brain frequent breaks to digest all the new material you will be devouring over the next several weeks.
Scheduled downtime may seem counterintuitive, but I promise you it isn't.
One of the best study hacks I used when preparing was to study uninterrupted for an hour and then take 10 mins downtime. I would get up, walk around and enjoy a change in scenery.
This mini mental break allowed me to relax and reset so I could hit the books again for another uninterrupted hour.
4. Get a Study Buddy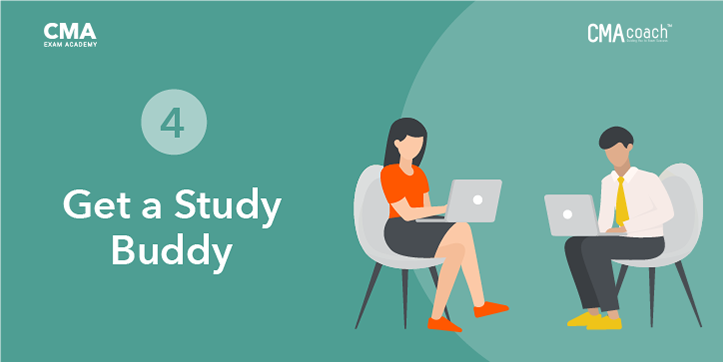 If things start to become tedious, perhaps it's time to shake things up a bit. As I mentioned above, not everyone learns great in groups, however, the occasional co-study session can be helpful.
For starters, studying in a group or duo can add a new sense of accountability to your efforts. Now, instead of just holding yourself up to your study schedule, you have someone else to consider.
Additionally, studying with others can give you a sense of moral support and boost your enthusiasm, especially when you are feeling down.
It also might be helpful to study with someone who can test you verbally or help you understand core concepts from a different perspective.
5. Simulate the Exam Experience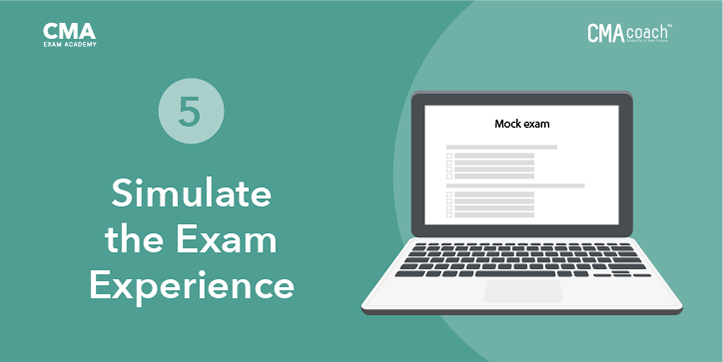 Whether you're a tactile learner or not, there is no better way to feel comfortable and confident on exam day, than by taking mock exams. Anxiety is the number debilitating factor that can lead you to fail even though you know all the material.
The good news is, the best review courses will offer mock exam scenarios that allow you to get the real exam experience.
By setting a timer and taking the mock exam seriously, you can start to identify your weaknesses while overcoming your CMA exam fear and anxiety. You'll also get exposed to many of the exam mistakes first-timers make because they didn't have the right preparation.
6. Make the Multiple Choice Section Work For You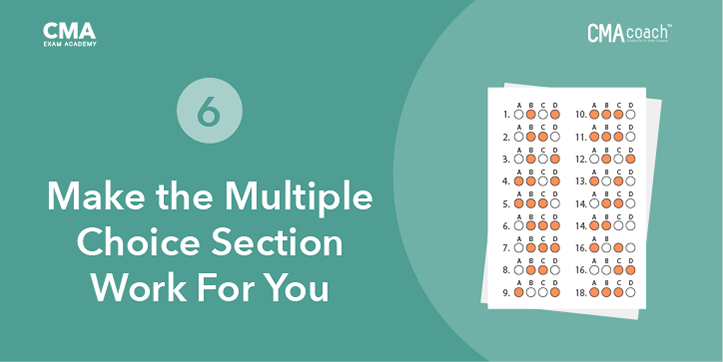 Let's be honest, CMA exam multiple choice questions can be deceiving. More often than not, CMA candidates complain about how they lose marks on MCQs because they overthink their answers.
Here are a few helpful tips to help you avoid multiple-choice failure:
Jump between questions and answer the ones that feel easiest to you first
Eliminate answers that you know to be wrong. If you still don't feel certain about the answer take your best guess – NEVER leave a question unanswered
Go with your gut – it's often right!
Read the root of the question and be conscious of double negatives
If you have time left over, review the questions – you never know what information will pop to the front of your brain once you've had a little time to think it over
7. Dominate the Essay Section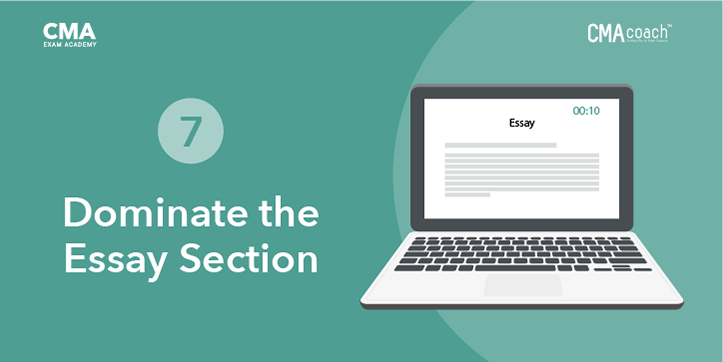 Essays can be tricky when you're on the clock because we tend to move too fast and forget key details. The best way to succeed with the essay section is to show all of your work (or assumptions) and at the very least, earn partial credits.
For each essay scenarios, expect to answer 4-6 questions. Be mindful of the verbs used in each essay scenario.
For example, one essay scenario may ask you to compare or contrast particular concepts. In this case you do not want to spend all of your time defining topics. Again, the question asked you to compare, not define!
Make sure you don't forget about proper English grammar. Graders are looking for effective writing skills. Avoid colloquialisms and slang.
8. Focus on Your Health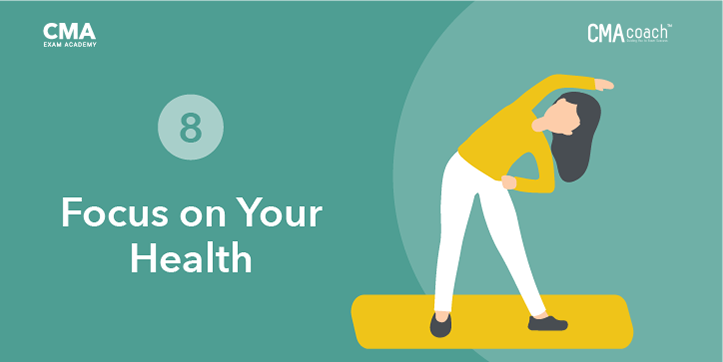 Studying can be exhausting. It can also make for a great excuse to stop focusing on your health because you "are too busy."
This could not be a bigger mistake.
Your health is your wealth, my friend.
In order to get the most out of your studies you need to take care of yourself. Make sure you are eating healthy, getting regular exercise, and taking mental breaks. Every aspect of your being will be tested while you prepare for the CMA exam, so do not let your health slip.
Instead, make it a priority and enjoy all the benefits; mental clarity, energy to study, and motivation to keep on track!
9. Downsize Your Priorities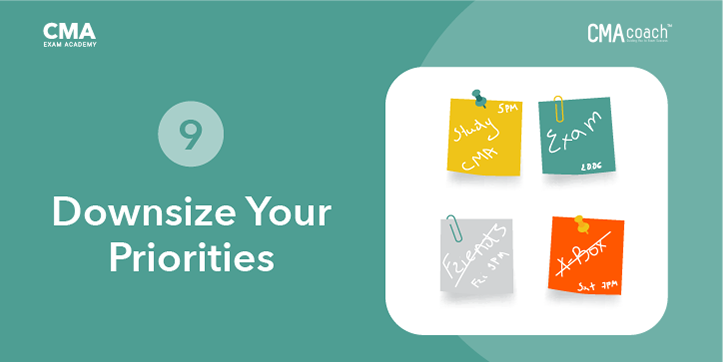 The reality is, many CMA exam candidates begin studying while either holding down a full-time job or balancing family life.
In order to be successful at the exam, you must learn to manage your priorities and where possible, downsize.
This may mean cutting out drinks with your co-workers after work, saying no to a round of X-Box with your buddies, or not signing up for that pottery class you've been dying to try.
There will be plenty of time to do all the things you love, but you must make studying a priority. Again, this is not to say you don't need (and deserve!) downtime, but it should be managed so that you can achieve your end goal; earning your CMA certification!
10. Eliminate Your "Plan B"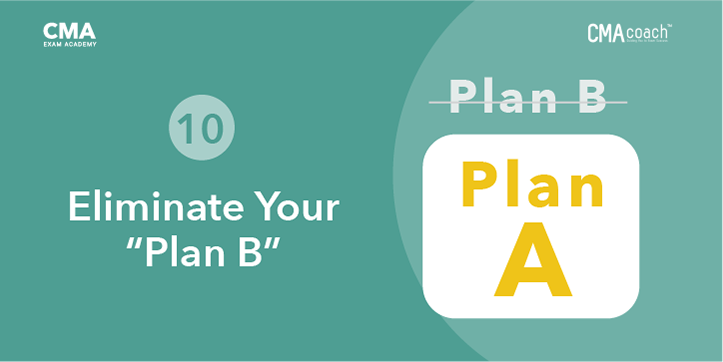 We wear lifejackets on a speedboat "in case" of an emergency, but when it comes to taking the CMA exam, having a life preserver can only sink you.
Knowing that you have a Plan B or back up plan can be detrimental to your study efforts and mess with your mindset.
Once you become fully invested in the process and aware that there is no alternative, you will be a million times more likely to work harder at accomplishing your goal.
CMA Review Course You Can Count On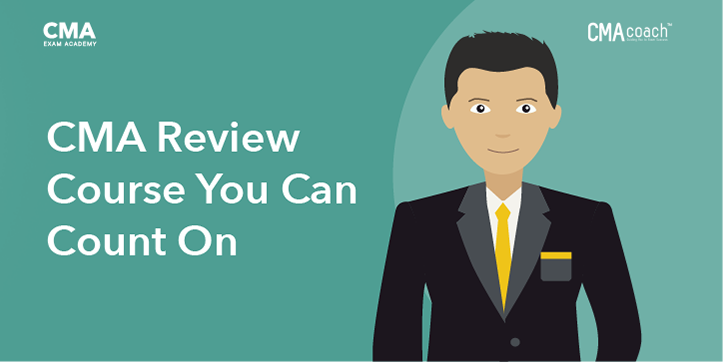 Are you feeling motivated to dive into the CMA exam yet?
I bet you are!
So let's address the elephant in the room – how can my strategies and CMA Exam Academy guarantee to help you achieve success?
I know what you're probably thinking… "Sounds too good to be true. Why would Nathan offer that?"
The truth is that my team and I believe in our CMA review course that much.
In fact, we've had people come to us after failing with other BIG name programs, that are finally able to pass using our methods.
We think that you'll benefit so much from this different method of teaching and understanding, that we will guarantee you'll pass the CMA exam on your first attempt, or we'll pay you back all of what you paid us.
We have put in years of effort to make these courses, so our only requirement for this guarantee is that you completed all of the course material before your official exam date.
Feeling confident that we're the right fit for you? Explore our course options here.
Got questions? Drop them in the comments below.
Rooting for ya!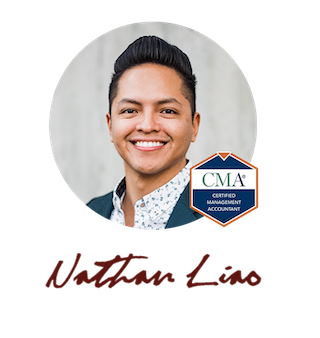 Hi, I'm Nathan Liao (aka the CMA Coach)! For the last 10 years, over 82,000 accounting and finance pros came knocking at my door seeking guidance and help. If you're also aiming to conquer the CMA exam on your very first try—without wasting away time or money—you've found your ultimate guide. Dive in deeper to discover more about me and the dedicated team that powers CMA Exam Academy. Click here and let's embark on this journey together!