Studying for the CMA exam is no joke, and the textbooks are proof of that — they're hefty. Learning some simple speed reading tips will help you get through your CMA study materials faster, absorbing information more efficiently.
The best CMA exam prep includes textbooks, online study materials, study prompts, answer explanations, a test question bank, and more. It goes without saying that there is a lot of reading involved. The faster you read, as long as you don't compromise retention, the better you'll be at sticking to a study plan.
To that end, here are some speed reading tips to help you learn from textbooks not just faster, but more effectively. These four approaches to learning how to speed read will help you study for the CMA exam and anything else you want to learn in the future.
Want to watch instead of reading? You can learn these tips and a lot more about studying for the CMA exam on my YouTube Channel.
4 Speed Reading Techniques
Experts widely agree that there are four primary speed reading techniques. The ultimate goal of speed reading isn't actually about speed at all. Especially when you're using speed reading to study for the CMA, you need to master one of these skills to maximize retention.
Speed reading isn't skimming. Instead, it's a way to dissect written, visual copy in a way that enables fast understanding. You should be able to recall information you speed read just as well as you would traditional reading.
This is not a skill you will master overnight. But, through careful practice, you can plan ahead and conquer some speed reading skills to accelerate your progress through CMA studies.
1. The Pointer Method
The pointer method was developed in the 1950s. Evelyn Wood used what is known as "meta-guiding," or more commonly, "hand pacing," to learn to read 2,700 words per minute. To put this into perspective, the average person reads about 250 words per minute.
This approach is inherently tactile: you use your hand or a piece of paper to follow each line of text. The goal of doing this is to force your eyes to move faster by pacing with your hand.
It takes a lot of practice to train your eyes to move at the same speed as your hand, and you have to focus completely the entire time.
2. Scanning
Scanning is a second speed reading method that is not the same thing as skimming. Instead, it is a well-developed technique by which you train your brain to identify key components of text.
For example, you sift through a block of content, line-by-line, very fast, and learn to notice numbers, names, trigger words, and key concepts. In contrast to the tactile Pointer Method, this is a completely visual approach that requires a lot of brainpower and mental discipline.
Some people use scanning as part of a mind mapping approach to studying, which is its own approach to large-scale memorization and retention.
3. Chunking
An advanced speed reading approach, chunking moves beyond lines. Instead of using the natural delineations of line-by-line pointing or scanning, chunking requires you to manually divide text into blocks.
Rather than seeing line by line, you take in whole groups of words.
This is a method that can work well with your CMA textbooks, which are commonly already divided up by paragraph.
4. Rapid Serial Visual Presentation
The last speed reading technique I'll talk about is rapid serial visual presentation, or RSVP. Not to be confused with your party response, RSVP is a way to optimize peripheral reading.
You achieve competence in this speed reading approach using digital tools. Apps for RSVP are particularly effective, two popular ones being Spritz and Velocity. You can use these platforms to train your brain to find the most important parts of a body of text, with minimal eye movement.
Believe it or not, your eyes jumping from one side of a page to another is a huge time waster. By minimizing this, and pulling out the important information, you can cut your reading time down significantly.
Tips for Speed Reading: CMA Exam Studies, Faster and Better
Ultimately, the goal of speed reading is to help you progress through material faster. When it comes to preparing for the CMA exam, this is particularly important.
The topics on the CMA exam are dense and complex. Ideally, you work on these speed reading skills well before you begin studying, but it's never too late to use them to speed up.
Similar to how a great coach or mentor helps you focus on what's most important, speed reading can help you hone in on high-value concepts, and work your way to subject mastery much faster.
Have you used speed reading techniques before? Comment below and tell me how they worked for you!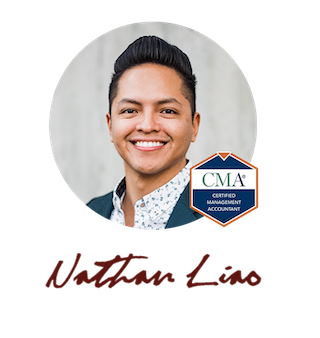 Hi, I'm Nathan Liao (aka the CMA Coach)! In the past 8 years, over 37,000 CMA candidates came knocking at my door seeking guidance. And just like them, I'm here to show you how you can pass the CMA exam on your first attempt without wasting money or time. Click here to learn more about me and the awesome team behind CMA Exam Academy.