Your Test Prep Built by CMAs for Future CMAs
"I'm a Certified Management Accountant and soon you will be too."
Hi! My Name Is Nathan Liao
I'm thrilled you're here—because we're a lot alike, you and me. We're both looking to make a difference at work and at home by increasing our knowledge, influence and income.
Which means neither of us can avoid one super important key to all of this… being a CMA. As a professional, I bet you know first-hand how competitive and challenging it is to move up the ladder in the corporate world. To wonder how long does it take to become a CMA.
The only thing standing between you and where you deserve to be in your career and life is the CMA designation. Well, not anymore. I created this program, what I believe is the best CMA review course around, after passing the CMA exam in 2010 to help you do the same but in less time while saving more in the long run. My scores were 420 in Part 1, and 360 in Part 2. Both on my first attempt.
You can read more about my CMA journey here: Nathan Liao, CMA.
I know what it's like to hit the CMA textbooks hard for the Exam while trying to balance a full-time job, a side business, family commitments, friends, a mortgage, travel, etc.
Whatever your circumstances, I can probably identify with them. This test prep was built with your busy schedule in mind.
---
Why I Created This Academy
Helping candidates through my cmacoach.com blog was an absolute success, but I kept getting emails each day from candidates who wanted me to teach them the CMA subject matter.
Self-study courses are super frustrating because candidates feel alone in the process. I know it because that's what they tell me and also because that's exactly how I felt. There's a reason why 65% of candidates who self-study fail the exam each year.
In this online program, I coach each candidate through my video lectures and weekly accountability follow-ups and check-ins. This has proven to be the key to my students' outstanding success, and to attaining their dream of a Certified Management Accountant salary!
Today, everything I do—from my CMA Exam Academy prep course to my Youtube videos and weekly blog articles is about helping professionals like YOU get results, not brain freeze, from the exam.
I believe that the CMA designation is crucial to career success—but I don't believe it needs to be stressful or take up most of your life to prepare for the exam.
---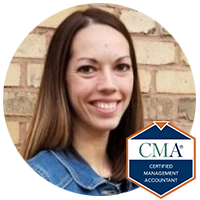 Cassie Sweeney, CMA
---
Cassie is a Certified Management Accountant who works with the Academy to provide student support to current CMA candidates. Cassie graduated from the Pennsylvania State University in 2011 with a bachelor's degree in Business, specializing in Accounting. She has nearly a decade of experience working in the manufacturing industry as a management accountant and has recently delved into the nonprofit sector. Cassie earned her CMA in 2017 and is passionate about helping others work toward that same goal. She resides in the United States with her husband, Tyler, daughter, Layla and dog, Brooks. Cassie enjoys good food and a good book, spending time with her family, and is an avid long-distance and trail runner.
Bhadresh Bhatt, CMA
---
Bhadresh is a Certified Management Accountant with over 14 years of experience in FP&A and management accounting. After graduating with a bachelor's degree in financial accounting, Bhadresh earned the Diploma in International Financial Reporting from ACCA in 2015 and then his CMA in 2017. Bhadresh is passionate about supporting those who are working towards the CMA credential. He enjoys good food, spending time with his family, and fitness training.
our students are from all over the world
so...what should you do next?
And thank you for stopping by.
Here's to de-stressing and simplifying your CMA exam prep work… for good!
Rooting for you!