Like a lot of other CMA candidates, I was worried about how to study for the CMA exam and what CMA review course would help me pass.
After all, you don't want to spend thousands of dollars on the course material, devote months to studying, and then not pass the exam. This is too big of a risk for you to take!
With that in mind, I wanted to share my tips on how to study for the CMA exam; from what to look for in CMA test prep materials, how to create a study plan that works for you, as well as all my best CMA study tips, tricks and techniques.
5 Tried-and-True Tips on How to Study for the CMA Exam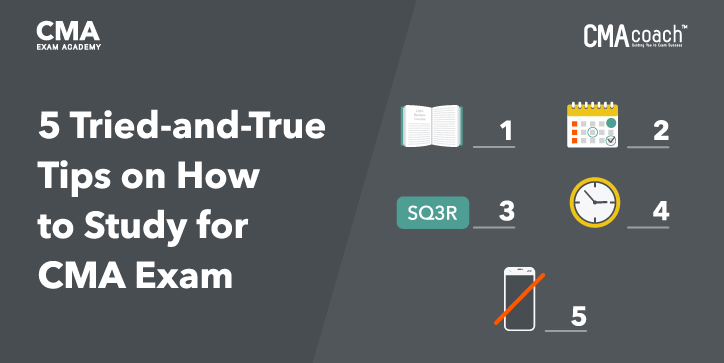 Being a certified CMA will surely open lots of doors for you, but becoming one isn't that easy. Following our five study tips will help you better organize and prepare yourself for this endeavor:
1. Choose a CMA Review Course
You've finally made up your mind about pursuing the CMA designation, but now you're wondering how to study for the CMA exam?
By enrolling in a CMA review course!
Choosing a high-quality CMA review course can dramatically improve your odds of passing the CMA exam on your first try.
These review courses are designed to walk you through all the core concepts, but the best review courses also offer CMA exam tips and coaching support to truly help you maximize your study time.
Look for a CMA review course that provides all the CMA study materials you need, from textbooks, video tutorials, and test banks with practice exams, to one-on-one coaching and an effective study plan.
Which brings me to my next point…
2. Follow a Study Plan
To plan ahead is to prepare for success. An in-depth study plan can ensure you cover all essential material and keep you on track.
Choose a study plan that is flexible to your current lifestyle. For example, if you are preparing for the CMA exam while juggling a full-time job and family, you need to have a plan that will lead you to success.
Perhaps, this will require evening and weekend study sessions for several more weeks than someone who does not have a full-time job or family commitments.
[spp-optin]
3. Use the SQ3R Technique
By far, the best study technique I have found is the SQ3R technique. It helps you retain over 80% of what you study by using a simple method.
S – Survey the material/concepts you are about to study. Surveying can be as basic as skimming through the headings and sub-headings of the chapter you are about to study.
Q – Question yourself. For example, ask yourself what the key points are or what formulas do you need to memorize. This will help you connect the dots as you make your way through the material.
R – Read. Actively read the material, and keep your questions at the forefront of your mind. Another technique of active reading is to highlight or make notes as you go along.
R – Recite. After reading a section, close your textbook and try to recite as much information back as you can remember.
R – Review. Go back to your textbook and review your highlighted points and notes to drive it all home.
4. Determine How Long to Study for the CMA Exam
So how long should you study for the CMA exam?
On average, you'll want to dedicate about 16 weeks of studying to each part of the exam the maximize your chances of passing the test. This is the amount of time my own CMA study course is designed for, and it's worked really well for my students over the years.
When I was preparing for the CMA exam, I dedicated three months of my time to CMA preparation. Now, that the CMA exam format has changed, I highly recommend four months of CMA exam prep.
Every day after work, I went to Starbucks with my iPad and IMA book and studied for approximately 3-4 hours. Every hour I took a 10-minute break to stretch my legs.
During the weekends, I went to Starbucks and studied for 10 hours in total: 3 hours in the morning, 4 hours in the afternoon, and three more hours in the evening. Again, I took a 10-minute break every hour.
After I had studied a particular section, I would take the corresponding online practice test. If my score was below 80%, I went back to study my weakest topics.
I repeated that process until my score was 80% or more. Only then would I continue with the next section.
In total, I studied about 30 hours per week! I had to do this to figure out what was the best way to study in order to pass the exam.
If you follow along with my CMA Exam Academy review course, you are only required to study 8-10 hours per week.
Why?
Because I took my experience and systematized it to streamline the process for you!
5. Create a Conducive Study Atmosphere
A very underrated, but useful tool for passing the CMA exam, is to create an atmosphere that is conducive for your studying needs.
Clear away distractions and block out the noises so you can focus 100% on studying for the CMA exam.
That means shutting off your cell phone, signing out of social media, and decluttering your desk or study table.
Which CMA Exam Part Should You Take First?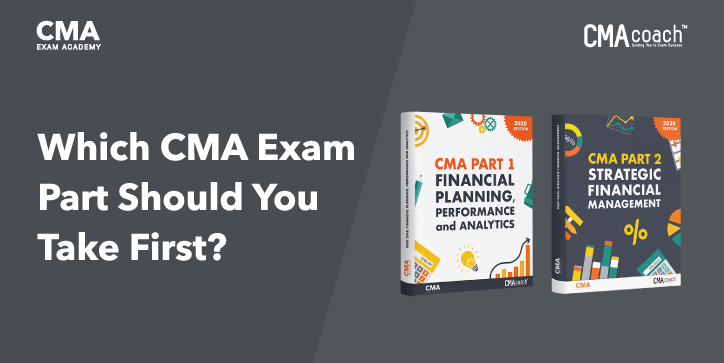 The CMA exam is written in two separate parts. You are not required to take Part One before Part Two, so how do you decide which part to actually take first?
It may sound counterintuitive, but the first exam I took was Part 2. I had been told it was the easiest part. By excelling and passing this part of the exam, I was able to move confidently toward completing Part 1 of the CMA exam.
If, however, you have experience in manufacturing, Part 1 may be less difficult for you than it was for me.
In order to make the right decision for you, I highly recommend that you take the time to read my full breakdown of CMA Part One and CMA Part Two. These posts contain everything you need to know in terms of Content Specification Outlines and exam formatting, so you can determine which CMA exam part may be most natural for you to start with.
My Bulletproof Recommendation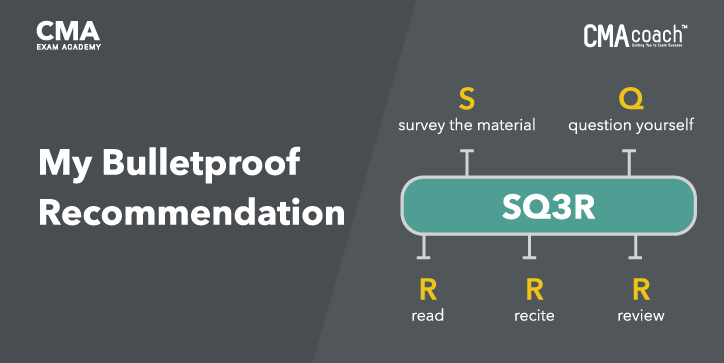 If you are truly looking for success when it comes to your CMA test prep, then I highly recommend following all of my CMA exam tips above.
Choose a course and study plan that is flexible enough for your life, and harness the power of my SQ3R study technique.
Once you've put in the hours, it's time to choose what part of the exam will allow you to thrive.
Register for that exam window and then work your butt off until the big day.
If you are looking for self-study supplemental resources to aid your progress, check out all the CMA review course tools available to you.
Or if you prefer instructor-led courses and want access to one-on-one coaching, check out my Complete CMA Coaching Course.
Here's to your exam success!