Like a lot of other CMA candidates, I was worried about how to study for the CMA exam and what CMA review course would help me pass.
After all, you don't want to spend thousands of dollars on the course material, devote months to studying, and then not pass the exam. This is too big of a risk for you to take!
With that in mind, I wanted to share my tips on how to study for the CMA exam; from what to look for in CMA test prep materials, how to create a study plan that works for you, as well as all my best CMA study tips, tricks, and techniques.
Originally published in 2020, this article was updated and republished on October 13, 2023.
7 Tried-And-True Tips on How to Study for the CMA Exam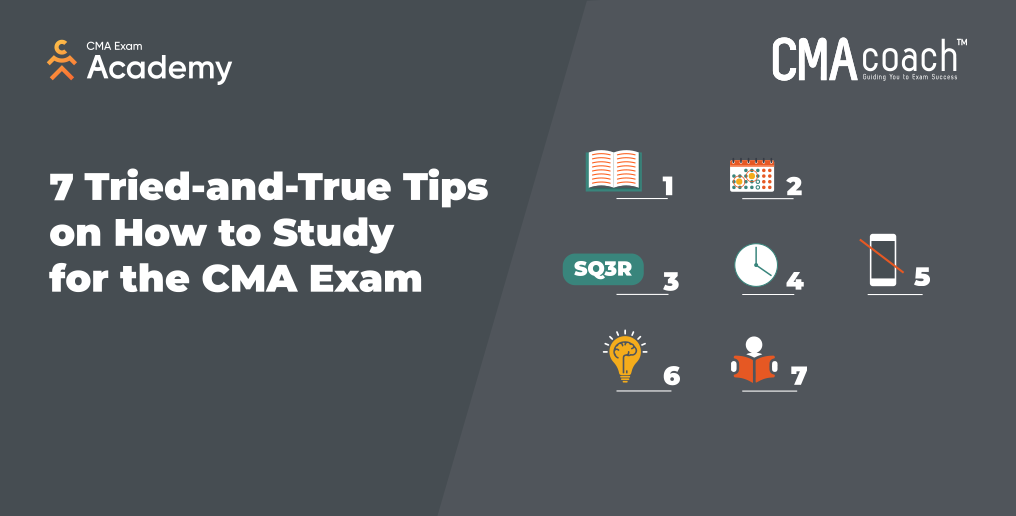 Being a certified CMA will surely open lots of doors for you, but becoming one isn't that easy. Following our five study tips will help you better organize and prepare yourself for this endeavor.
How to prepare for the CMA Exam:
1. Choose a CMA Review Course
You've finally made up your mind about pursuing the CMA designation, but now you're wondering how to study for the CMA exam?
By enrolling in a CMA review course!
Choosing a high-quality CMA review course can dramatically improve your odds of passing the CMA exam on your first try.
These review courses are designed to walk you through all the core concepts, but the best review courses also offer CMA exam tips and coaching support to truly help you maximize your study time.
Look for a CMA review course that provides all the CMA study materials you need, from textbooks, video tutorials, and test banks with practice exams, to one-on-one coaching and an effective study plan.
Which brings me to my next point…
2. Follow a Study Plan
To plan ahead is to prepare for success. An in-depth study plan can ensure you cover all essential material and keep you on track.
Choose a study plan that is flexible to your current lifestyle. For example, if you are preparing for the CMA exam while juggling a full-time job and family, you need to have a plan that will lead you to success.
Perhaps, this will require evening and weekend study sessions for several more weeks than someone who does not have a full-time job or family commitments. I get it. You're busy. But studying for the exam is an investment in yourself – it's worth dedicating time to.
We'll discuss how much time you need to dedicate to studying later, but for now, let's start with the basics.
First: determine how many topics you need to cover from your textbook.
Then divide the number of topics by the total number of weeks you have set aside to study.
Finally, divide that figure by the number of days per week you'd ideally like to spend studying.
The final total should give you a general idea of the number of topics you need to cover in each session. Armed with this information, you'll be able to structure your study sessions effectively.
If you're the type of person who likes to get your studying done in one long session, then you could plan to dedicate every Sunday to cover multiple topics. If you struggle to stay focused for long periods, try to set aside an hour or two at the beginning and end of every day to study a single topic at a time.
Be mindful of your unique learning style, but remember that studying for the CMA exam requires a good deal of organization. It's important to make a study plan to ensure you cover all the material before exam day.
3. Use the SQ3R Technique
By far, the best study technique I have found is the SQ3R technique. It helps you retain over 80% of what you study by using a simple method.
S – Survey the material/concepts you are about to study. Surveying can be as basic as skimming through the headings and sub-headings of the chapter you are about to study.
Q – Question yourself. For example, ask yourself what the key points are or what formulas do you need to memorize. This will help you connect the dots as you make your way through the material.
R – Read. Actively read the material, and keep your questions at the forefront of your mind. Another technique of active reading is to highlight or make notes as you go along.
R – Recite. After reading a section, close your textbook and try to recite as much information back as you can remember.
R – Review. Go back to your textbook and review your highlighted points and notes to drive it all home.
4. Determine How Much CMA Exam Study Time You Need
So how long should you study for the CMA exam?
On average, you'll want to dedicate about 16 weeks of studying to each part of the exam the maximize your chances of passing the test. This is the amount of time my own CMA study course is designed for, and it's worked really well for my students over the years.
When I was preparing for the CMA exam, I dedicated three months of my time to CMA preparation. Now that the CMA exam format has changed, I highly recommend four months of CMA exam prep.
Every day after work, I went to Starbucks with my iPad and IMA book and studied for approximately 3-4 hours. Every hour I took a 10-minute break to stretch my legs.
During the weekends, I went to Starbucks and studied for 10 hours in total: 3 hours in the morning, 4 hours in the afternoon, and three more hours in the evening. Again, I took a 10-minute break every hour.
After I had studied a particular section, I would take the corresponding online practice test. If my score was below 80%, I went back to studying my weakest topics.
I repeated that process until my score was 80% or more. Only then would I continue with the next section.
In total, I studied about 30 hours per week! I had to do this to figure out the best way to study in order to pass the exam.
If you follow along with my CMA Exam Academy review course, you are only required to study 8-10 hours per week. You may have noticed that is 7-12 hours less than the average recommended time of 15-20 hours per week.
Why?
Because I took my experience and systematized it to streamline the process for you!
And the results speak for themselves – while the global average pass rate last year was 45%, the CMA Exam Academy pass rate was 88.7%.
5. Create a Conducive Study Atmosphere
A very underrated, but useful tool for passing the CMA exam, is to create an atmosphere that is conducive for your studying needs.
Clear away distractions and block out the noises so you can focus 100% on studying for the CMA exam.
That means shutting off your cell phone, signing out of social media, and decluttering your desk or study table.
6. Learning Styles and Studying for the CMA Exam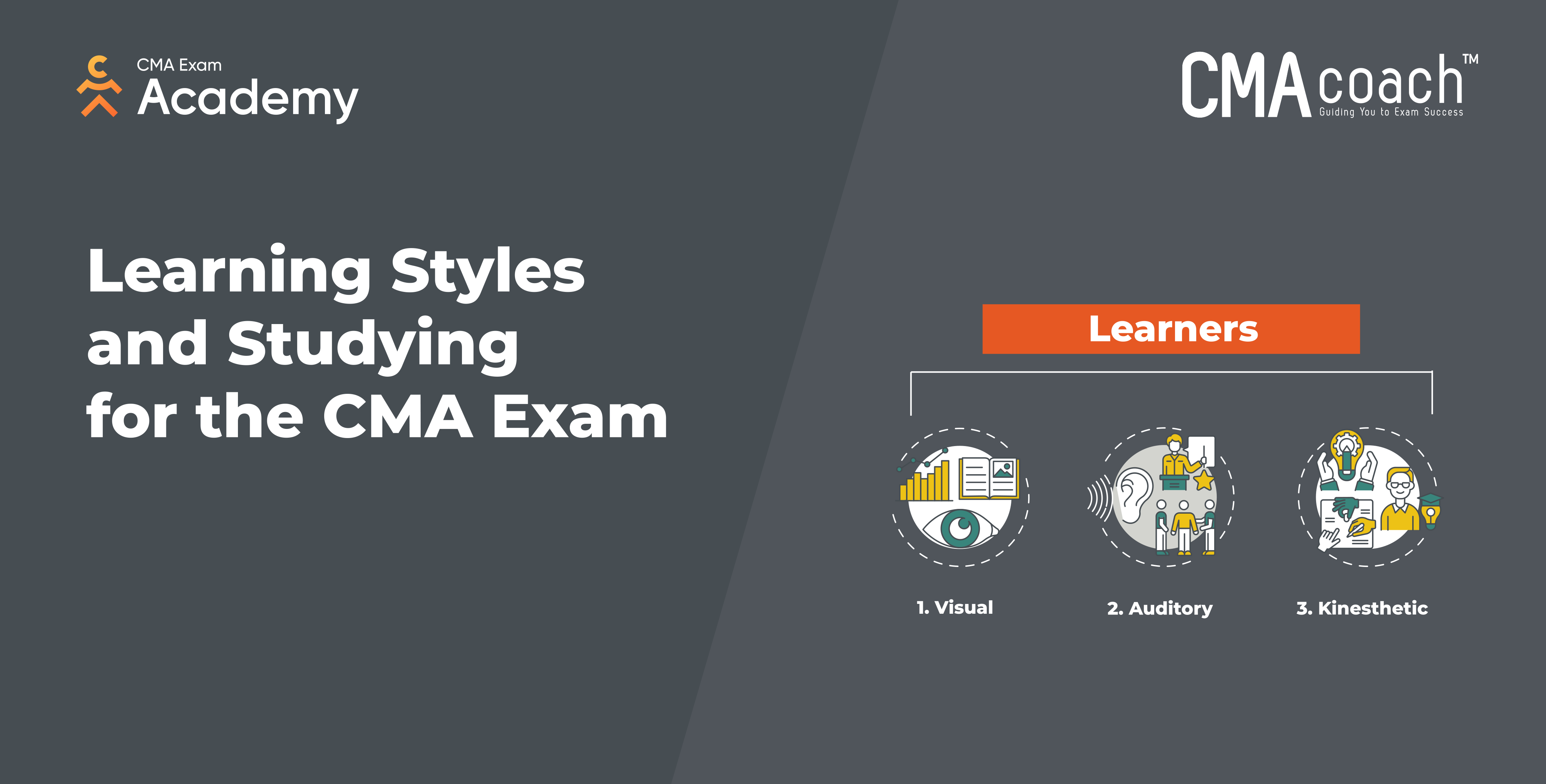 Not everyone learns the same way. This means that your best bet for passing the CMA exam is to find the right study situation for you. That means choosing both the materials and study habits that best fit your learning style.
So, it's pretty important to know what your learning style is. There are three main types of learners:
Visual learners: Learn best by what they see, have good visual memory, and like to read.
Auditory learners: Learn best by what they hear, have a good auditory memory, and like to listen to content.
Kinesthetic learners: Learn best through experiences, have a good spatial memory, and like to interact with content.
Here are some tips for studying for the CMA exam based on your learning style:
If you are a visual learner, you want to rely heavily on textbooks, practice tests, answer explanations, and other written information. Reading this content over and over will help you retain the information.
If you are an auditory learner, you want to watch videos and listen to audio lectures to prepare for the CMA exam. It's also useful to repeat things you're trying to memorize over and over, out loud, to yourself.
If you are a kinesthetic learner, you may want to use a physical textbook and flashcards, and spend a lot of time writing or rewriting notes.
Every type of learner can succeed on the CMA exam.
7. Establish the Mindset and Habits for Effective Studying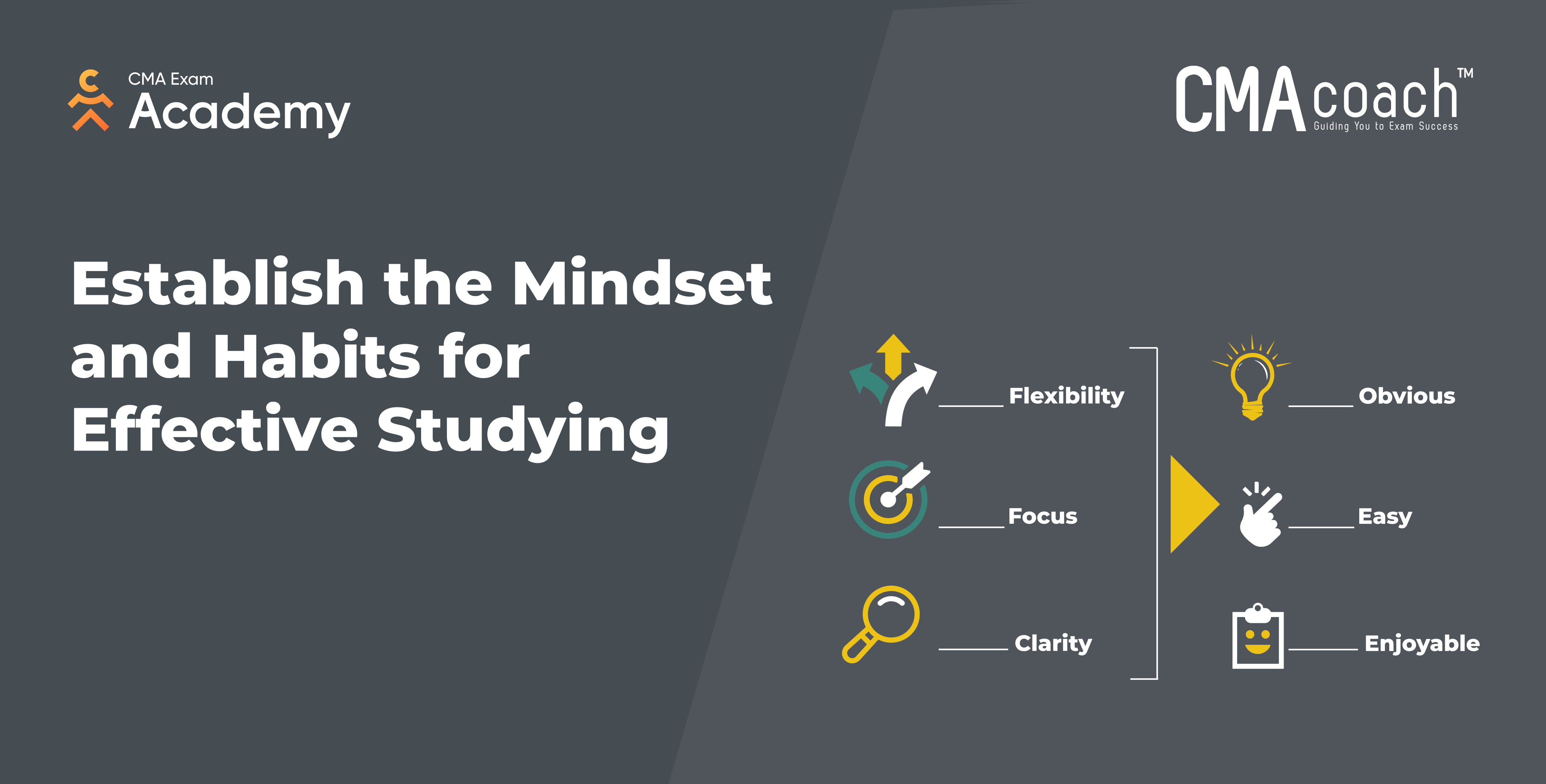 Studying for the CMA requires a certain mindset and effective habits. Depending on your previous academic history or experience, you might know what it takes to face a challenge like the CMA exam.
But you should also know that there are research-backed methods that can get you in the right frame of mind, and with the right assortment of habits, to succeed.
First, the mindset. There are a few qualities of a healthy study mindset that you should develop:
Flexibility: A flexible mindset is sometimes called a growth mindset. It means that your brain is open to new ideas. The opposite is a fixed mindset, where you have rigid ideas and are unwilling to adapt. With the CMA, you'll encounter tons of new ideas. A flexible mindset is key to taking them in.
Focus: There's no way around your need to focus during this season of your life. Having a single-minded focus on your goal will motivate you like nothing else. Keep your eyes on the prize.
Clarity: You need to have clarity around your "why." Why do you want to pass the CMA exam and become a CMA? Get crystal clear and put that picture in your head as a chief motivator when the going gets tough.
Second, let's talk about your habits. You already live life with plenty of habits, some of which you may not even realize. You perform habitual behaviors on instinct, and building new habits around studying is mission-critical.
Setting new habits requires doing three things: making the habits you want to perform obvious, easy, and enjoyable.
Obvious: Put CMA study reminders, study tools, and more in your immediate line of vision or environment. You won't forget something that's right in front of your face.
Easy: If you have to expend immense effort to get to your study location or materials, you'll find plenty of excuses. Make it absolutely effortless to "hit the books."
Enjoyable: Don't be afraid to "habit bundle," or pair your CMA studying with something you enjoy, like a comfy chair, your favorite coffee, or peaceful music.
Building the right mindset and establishing the right habits is a surefire recipe for success.
Example CMA Study Schedule
By studying the CMA exam structure and developing a comprehensive understanding of the strategies that best support a student's success, I have developed an optimal study plan for passing the exam in one try.
The plan spans over 16 weeks and could save you up to 84 hours of study time. This potential for acceleration provides CMA Exam Academy students with the opportunity to complete both parts of the exam in less than a year.
Make sure to do the overview and assignments for each module as you work your way through them.
Which CMA Exam Part Should You Take First?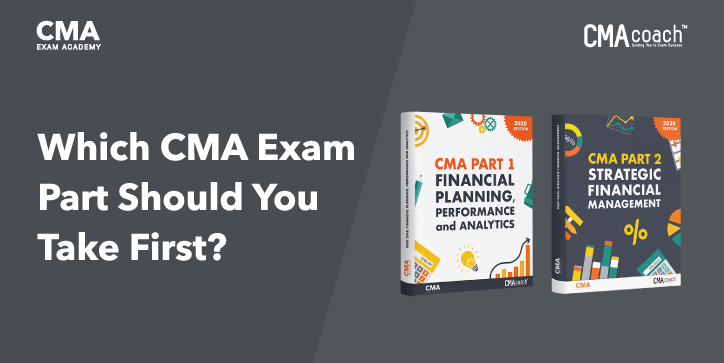 The CMA exam is written in two separate parts. You are not required to take Part One before Part Two, so how do you decide which part to actually take first?
It may sound counterintuitive, but the first exam I took was Part 2. I had been told it was the easiest part. By excelling and passing this part of the exam, I was able to move confidently toward completing Part 1 of the CMA exam.
If, however, you have experience in manufacturing, Part 1 may be less difficult for you than it was for me.
In order to make the right decision for you, I highly recommend that you take the time to read my full breakdown of CMA Part One and CMA Part Two. These posts contain everything you need to know in terms of Content Specification Outlines and exam formatting, so you can determine which CMA exam part may be most natural for you to start with.
FAQ About Studying for the CMA Exam
Let's discuss some commonly asked questions about studying for the CMA exam.
How many hours should I study for the CMA exam?
The IMA recommends 150 to 170 hours of studying per exam part for self-studiers. This is because self-studying requires a significant amount of planning and schedule creation.
To reduce the number of hours spent studying, candidates should enroll in a review program. CMA Exam Academy can save students up to 84 hours of review time. This is because our students follow a 16-week program that requires only 8-10 hours of studying per week.
What is the best way to study for the CMA exam?
Following a study plan is the best way to ensure you learn all the necessary information efficiently. The CMA Exam Academy review course also includes one-on-one coaching opportunities, engaging video lectures, physical copies of textbooks, and a personalized test bank.
My students have an 88.7% pass rate (significantly higher than the global average of 45%), which is why I back the course with a guarantee.
Is self-studying enough for the CMA exam?
Each year, approximately 17,000 candidates sit the CMA exam. And over half of them fail.
Self-studying is a risky strategy. If you are diligent about creating and sticking to your study plan, it may be enough. But enrolling in a trusted review course could increase your chances of passing by over 43%.
How many students pass the CMA exam on their first attempt?
The global pass rate for the CMA exam was 45% in 2021. In comparison, students who completed the CMA Exam Academy review course and took the exam enjoyed a pass rate of 88.7%.
How do I start studying for the CMA exam?
The best way to begin studying is by enrolling in a review course. This will streamline the planning and scheduling phase of studying and ensure you cover all the important material.
If you chose to self-study, you should begin by ordering textbooks and setting a study schedule that suits your lifestyle.
My Bulletproof Recommendation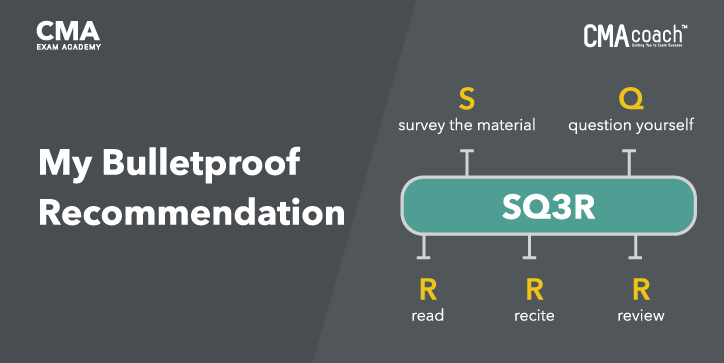 If you are truly looking for success when it comes to your CMA test prep, then I highly recommend following all of my CMA exam tips above.
Choose a course and study plan that is flexible enough for your life, and harness the power of my SQ3R study technique.
Once you've put in the hours, it's time to choose what part of the exam will allow you to thrive.
Register for that exam window and then work your butt off until the big day.
If you are looking for self-study supplemental resources to aid your progress, check out all the CMA review course tools available to you.
Or if you prefer instructor-led courses and want access to one-on-one coaching, check out my Complete CMA Coaching Course.
Here's to your exam success!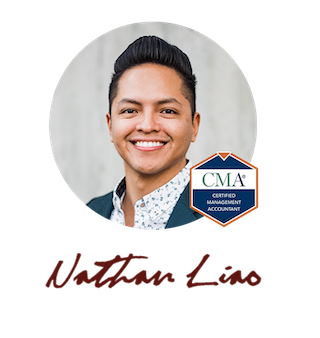 Hi, I'm Nathan Liao (aka the CMA Coach)! For the last 10 years, over 82,000 accounting and finance pros came knocking at my door seeking guidance and help. If you're also aiming to conquer the CMA exam on your very first try—without wasting away time or money—you've found your ultimate guide. Dive in deeper to discover more about me and the dedicated team that powers CMA Exam Academy. Click here and let's embark on this journey together!