If you're just delving into the fun and exciting world of finance and accounting, then you may be pretty new to the CMA certification.
What is the CMA? It's a certification, with an exam you'll need to take and pass, that will qualify you to become a "certified management accountant" — a subspecialty of accounting associated with strategic and managerial roles.
More so, you may be wondering what a CMA course is since I talk about it so frequently.
It is my firm belief that there are no stupid questions, so if you've been asking yourself "what is a CMA course," then this post is for you. I will be diving into what it is, why you need it, and what makes one review course better than others.
What is a CMA Course?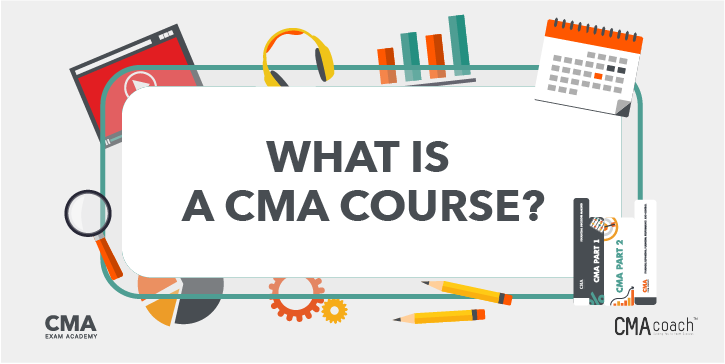 What is a CMA course? Simply put, a Certified Management Accountant (CMA) course is an online course that you can take to help better prepare yourself for the CMA exam. You'll learn and study the ins and outs of managerial accounting techniques and strategies, in a structured format.
In order to earn your CMA certification, you must pass the CMA exams, fulfill 2 years of professional experience and sign up for an IMA membership.
The CMA exam is comprised of two parts which candidates can take during the allotted testing windows. There are four windows each year and it's up to the CMA candidate's discretion when they sit for the exam.
Unfortunately, the global pass rates for the exam are pretty low. In fact, the pass rate for Part One is only 35% and 50% for Part Two.
While some candidates may find these statistics discouraging, I do not.
Why?
Because with the right kind of review course I believe anyone can earn their CMA certification on the first try.
When it comes to choosing the right management accounting course, you have several options, however, there are certain study materials and tools you should be looking for.
Here I am going to break down what to look for in a high-quality CMA course so you get the most bang for your buck.
What to Look For in CMA Courses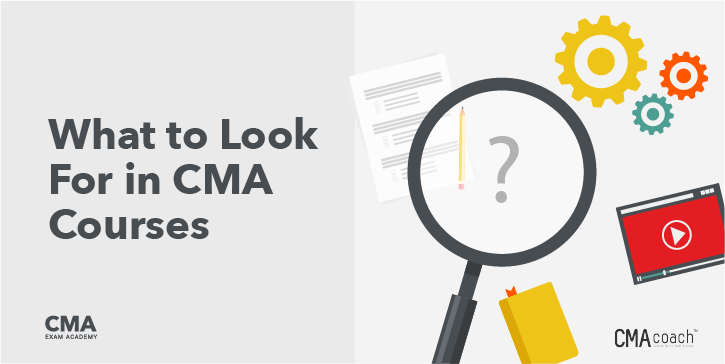 Choosing a review course is largely dependent on your individual learning style, but there are core items that should be non-negotiable.
The following items are must-haves in solid CMA courses.
Instructor-Led One-on-One Coaching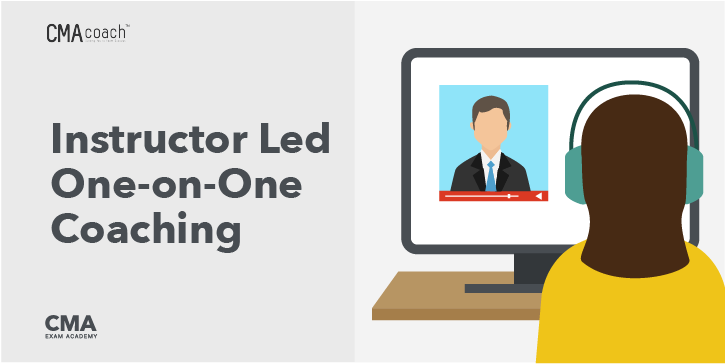 Most online review courses are designed to be self-study. This means candidates have to teach themselves the material outlined in the course.
For many candidates, this can be incredibly stressful, especially when they don't understand a concept.
Unlike self-study courses, instructor-led programming walks you through topic by topic. When questions pop up you have the opportunity to dive even deeper into them.
On top of all this, instructor-led coaching holds you more accountable than self-study courses. Rather than having to dig deep for the motivation to study, an instructor can help you streamline your focus.
Support and Accountability Check-Ins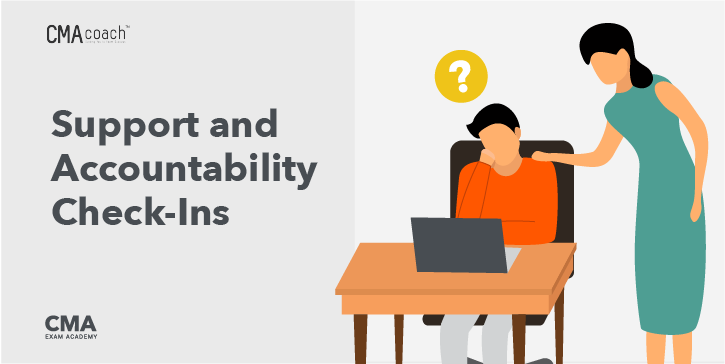 When you commit yourself to earning your CMA certification it can be tough. The amount of studying and preparing required can take you away from your family and friends.
More often than not, people struggle to find adequate moral support.
A great review course should include some level of support. This can be anything from regular accountability check-ins, study groups or simply encouragement when you're feeling overwhelmed.
Progress Reports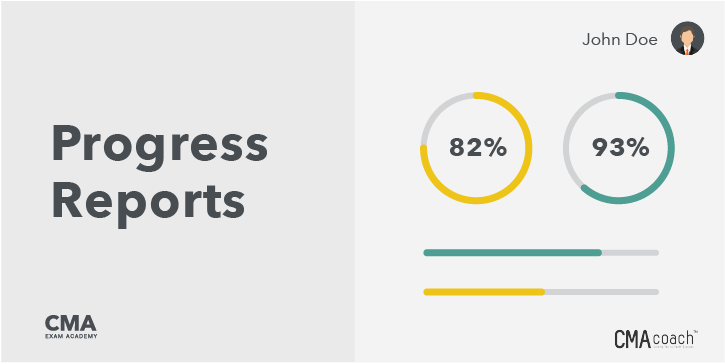 How will you know if your studying is paying off if you don't receive any progress reports?
The reality is, you won't.
Regular progress reports outlining your strengths and weaknesses can really help you streamline your study efforts.
After all, why spend hours studying concepts you already understand rather than the ones you're struggling with?
In addition to that, CMA courses are often created around a certain study plan. You are meant to complete core subjects at specific times.
Progress reports can serve as reminders that you are falling behind or maybe even ahead of the game (woohoo!).
Bite-Sized Video Tutorials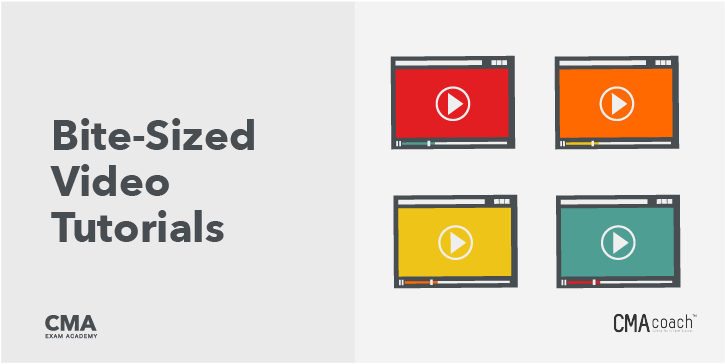 What is CMA course biggest mistake I see? Perhaps the most common mistake is super long, overly complicated tutorials.
Great review courses, like CMA Exam Academy, offer bite-sized video tutorials. Each tutorial is broken down in easy to consume sizes so you can tackle one topic at a time.
And don't be confused with the term bite-sized. Though short, each tutorial contains every important detail you will need to understand a concept so you don't get caught off guard on exam day.
Multiple-Choice Questions and Essay Practice Questions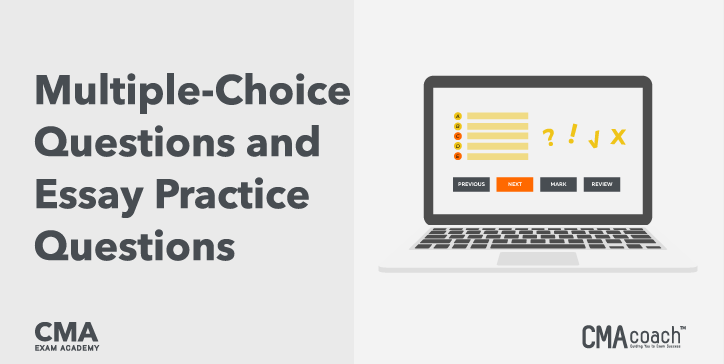 If you are unfamiliar with the format of the CMA exam, then you may not be aware that it is mostly comprised of multiple-choice questions. For each part of the exam, you are allotted 4 hours total – 3 hours time to complete 100 multiple-choice questions and 1 hour to complete 2 essay questions.
Many people struggle with multiple-choice questions, so having access to thousands of practice questions can be incredibly beneficial.
The difference between an okay review course and a great one can be found in the test bank. Test banks are a great tool to challenge your knowledge with questions that are structured and formatted just like the ones found on the actual CMA exam.
CMA Exam Academy's test bank contains 100% unique CMA questions, as well as actual test questions from previous exams to offer you the real exam day experience.
We included timed practice tests to put you under the pressure of the clock, and thanks to our innovative PassRate Technology, you will know you're ready for the real exam when you reach 86% and above on your test bank dashboard.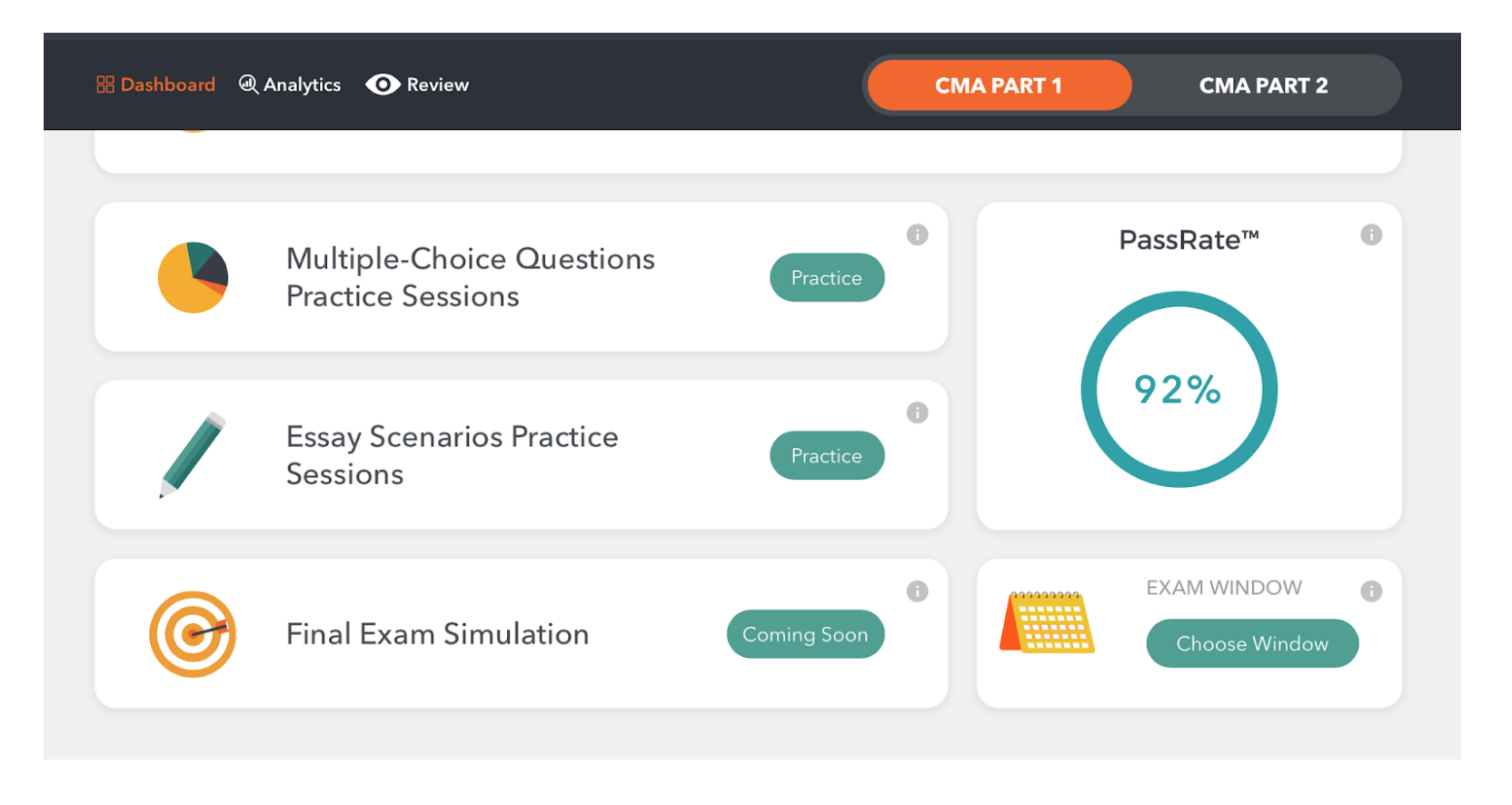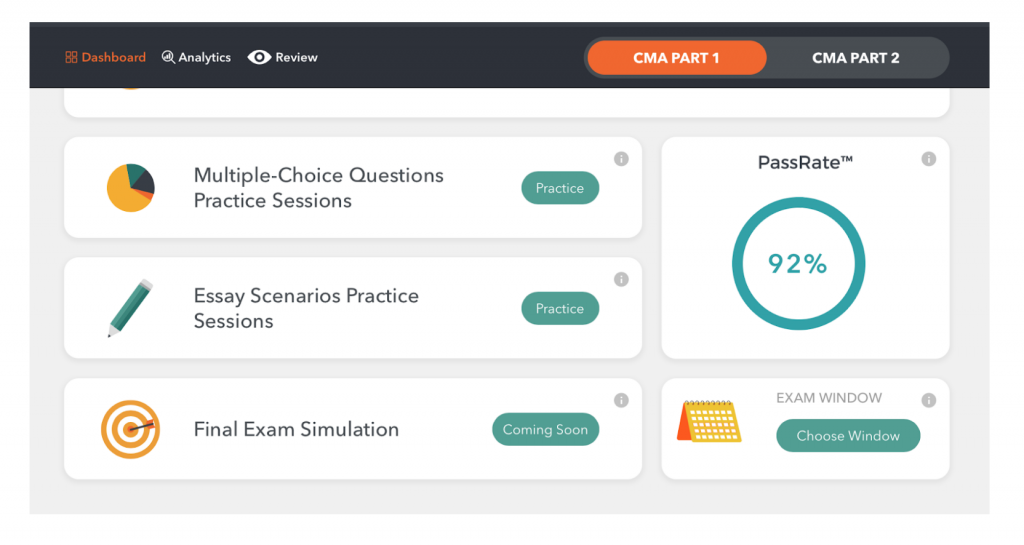 Mock Exams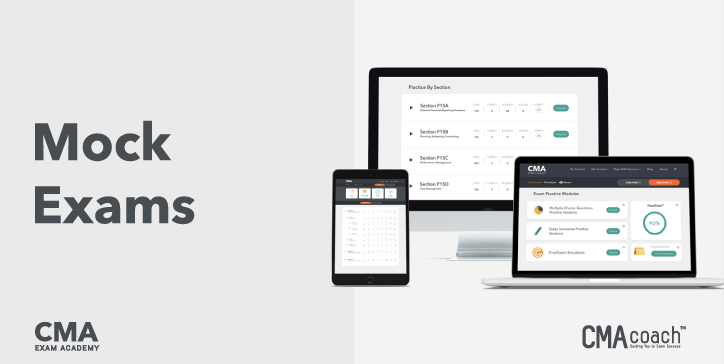 The absolutely best way to prepare for the exam is to run through a mock exam. Mock exams mimic the structure and format that you will find on the day of your actual exam. Taking Certified Management Accountant practice tests periodically will help you know when you are ready.
In addition to getting familiar to the exam format, you will be timed so you can start to feel comfortable with the time crunch.
Textbooks (Hard Copy or E-book)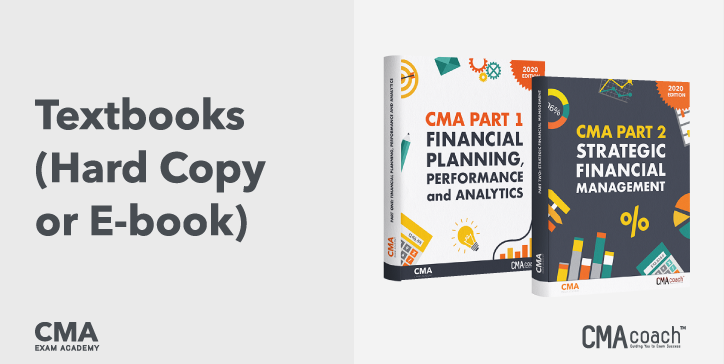 Hands down every review course should come with a textbook containing all the material needed to pass the exam.
Whether you opt for hard copy or e-book is up to you.
When I was preparing for the CMA exam, I found it really useful to have a textbook that was easy to understand. Not all textbooks are designed the same. Some are laced with complicated accounting jargon and require you to have an extensive accounting background, and since many CMA candidates do not, this can be overwhelming and confusing.
The textbooks at CMA Exam Academy are written in simple, easy to understand terms which makes the material easy to grasp even for candidates with no prior accounting background.
Formula Guide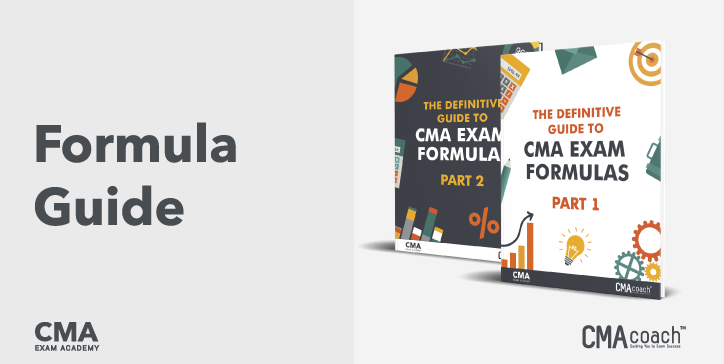 In order to pass the exam you will need to know all the formulas used by accountants and financial positions.
If you don't know every formula you can get tripped up and lose a lot of points on your exam.
Study Hacks or Exam Prep Guides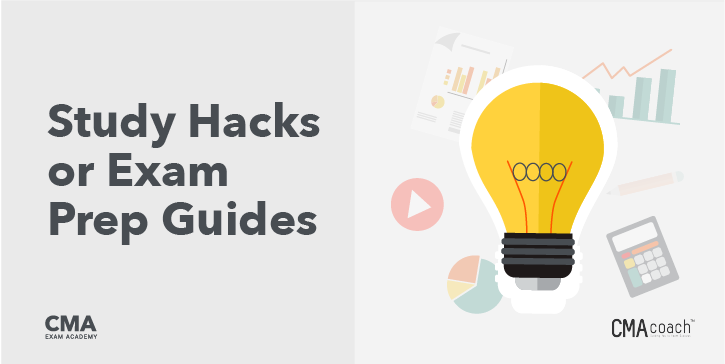 I like to be organized and discovered that using a course with a clear study plan really helped me take my studying to the next level. A clear study plan gave me the structure I needed to make sure I was covering all the essential concepts and material.
Look, I get it. Some of us simply aren't planners. We lack time management skills and the ability to stick to a study plan.
So in my opinion, choosing a review course that offers a proven study plan and effective study hacks can come in handy.
Audio Lessons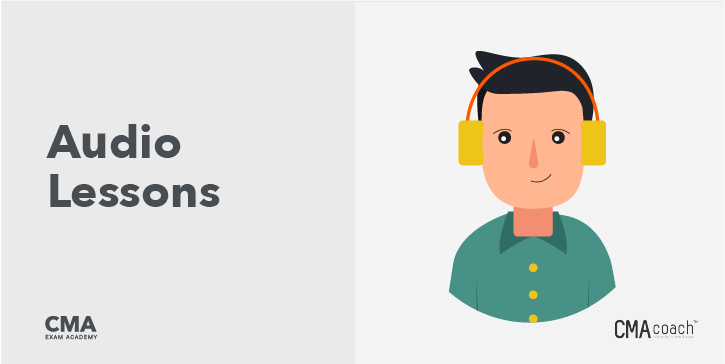 Want to study on the go?
Washing dishes, folding laundry, commuting to work?
The truth is, most candidates live busy lives and are trying to balance work, family and studying.
Audio lessons are a great way to study on the go.
When it comes to audio lessons, you want to make sure that the material covered in audio files is as detailed as any video tutorial.
What Your CMA Course Needs to Cover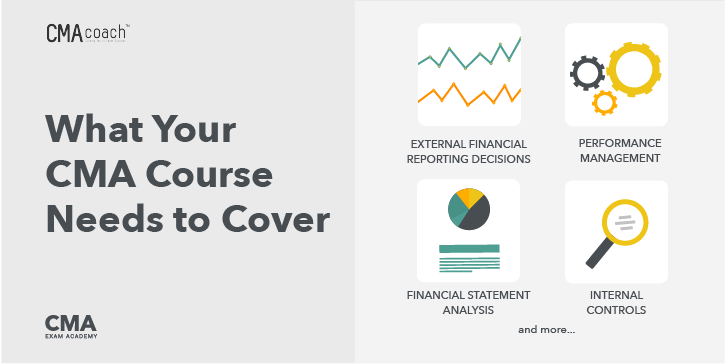 Not all CMA courses are built the same, but there are fundamental concepts and topics that your course must cover if you want to pass the exam.
For starters, the CMA exam is a two-part exam and each part covers different material.
Part One of the CMA exam covers:
External Financial Reporting Decisions – 15%
Planning, Budgeting and Forecasting – 20%
Performance Management – 20%
Cost Management – 15%
Internal Controls – 15%
Technology and Analytics – 15%
Part Two of the CMA exam covers:
Financial Statement Analysis – 20%
Corporate Finance – 20%
Decision Analysis – 25%
Risk Management – 10%
Investment Decisions – 10%
Professional Ethics – 15%
It is important that any CMA review course you choose covers each of these ICMA Learning Outcome Statements (LOS) topics in depth.
What are the CMA Course Fees?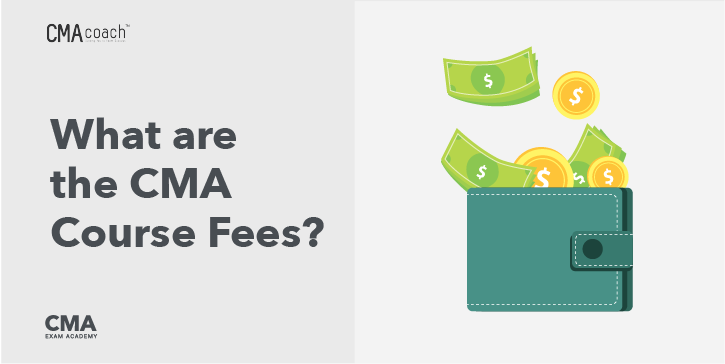 I'm not going to sugar coat it — cma review courses are an investment. The price for a review course varies depending on which provider you go with and how extensive the program is.
For example, you can purchase the textbook alone and try to self-teach yourself for as little as $200 per part. Full blown review courses that offer everything I mentioned above can range from $699 to $1795.
Like I said, this is an investment. But definitely one that can make the difference between passing or failing.
If you're having a hard time swallowing the thought of spending almost $1800, there is one option to consider: asking your boss to cover the cost.
Let's say you already have a job in the finance and accounting arena and want to rise the ranks of your current company. Why not ask your boss to consider covering the fee or at least partially?
There are some tactful ways to approach this subject, but as long as you go into it with the goal being to improve your knowledge and further the company itself, they may just go for it.
I wrote a post on how to make the ask — have a read here.
In my experience, I have found that a program containing all of the suggested materials above will give you the best possible chance of passing on the first try.
Ultimately, it is your personal learning style that will determine what CMA course is right for you, but at least now you have a strong foundation to help you make that decision.
When it comes down to it, you don't want to waste your time furthering your career. You want the quickest, most efficient path and choosing the right CMA review course can help immensely.
Don't settle for a second rate CMA course. Learn more about CMA Exam Academy's products and resources, and how my trusted review course can lead you to CMA success.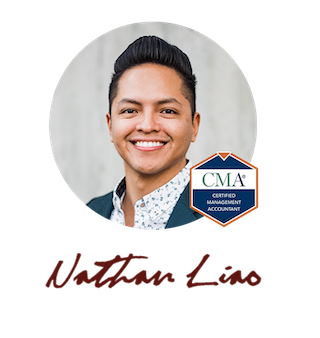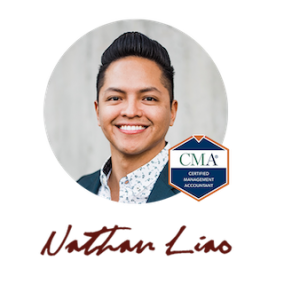 More from Nathan
CMA Review Course – My Study Secrets
Certified Management Accountant Course
Preparing for the CMA Exam as a Busy Parent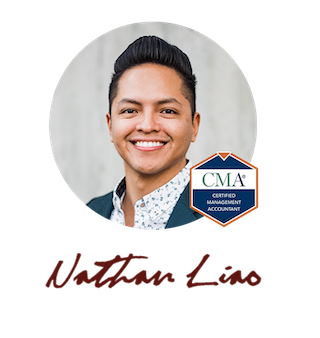 Hi, I'm Nathan Liao (aka the CMA Coach)! For the last 10 years, over 82,000 accounting and finance pros came knocking at my door seeking guidance and help. If you're also aiming to conquer the CMA exam on your very first try—without wasting away time or money—you've found your ultimate guide. Dive in deeper to discover more about me and the dedicated team that powers CMA Exam Academy. Click here and let's embark on this journey together!