It's time for some real talk.
If you read my post on the cost of earning your CMA designation then you are intimate with the actual cost of the CMA certification test, not to mention CMA test prep.
It's not cheap.
And the financial burden of CMA exam costs can weigh on those who are already living on a tight budget and afraid of stepping even slightly outside of their means. Even if it means stepping out will help them improve their financial situation in the long run.
If you're working full time and don't qualify for student discounts, there is one other option you should consider…
Ask your boss to pay for your CMA certification test, as well as the test prep materials or courses you'll need to pass the CMA exam.
While this option may seem bold and terrifying, I want to start by reminding you that you are not asking for a personal handout.
Becoming a CMA can greatly benefit your company and if you play your cards right it won't take long to persuade your boss of this fact.
Not sure how to broach the subject? Let me walk you through the ultimate game plan.
Before you even make the ask, you'll want to cover a few quick steps so you are truly prepared.
Originally published in 2018, this article was updated and republished on May 27, 2022.
Asking Your Boss to Pay for the CMA Exam
I want you to start by reflecting on your time with your current company. Think about everything from your attendance and attitude to overtime logged and additional responsibilities you may have taken on.
How do you honestly think you would measure up?
If you absolutely believe your boss would give you a glowing review then you are one step closer to asking them to help you pay for your CMA certification test.
If, however, you feel uncertain about your performance now is the time to step up. Ask to mentor the new hire or pick up an extra shift to showcase your dedication. Whatever your weakness is, focus on that area and really start bringing your A game to the office each day.
Research the CMA Costs and Benefits for Your Employer
One of the first questions your employer is likely to ask is how much the CMA accounting certification process is going to cost them.
The exam itself is the least of the costs associated with becoming a certified management accountant. The biggest expense will be test prep.
You'll need certain things for CMA test preparation, like CMA exam prep books and other CMA study material. These costs can definitely add up fast.
Guesstimating the cost shows lack of preparation and probably won't make your boss feel good about investing in you.
Instead, come with an exact figure. This means doing your homework.
The most basic costs of earning your CMA are:
Registration Fee for CMA Exam Part 1

Registration Fee for CMA Exam Part 2

*Included as a free bonus for all

CMA Exam Academy students
After you purchase study materials and CMA review courses, the total cost can be closer to $2,150.
Additional costs may include travel and/or accommodation on exam day. These sort of fees are definitely on the negotiable side of things, but it doesn't hurt to come in with a solid number.
Remember to be realistic with your ask. If you intend to ask for travel and accomodation don't expect your boss to throw down cash for a 5 star hotel and an excessive room service bill.
Before you start planning your pitch, be sure to do some research to convince your employer of its value. Specifically, gather together material that you can present to your employer on why earning your CMA will benefit the company – not just your own career.
If your employer is not familiar with IMA and the CMA designation then you'll definitely want to outline exactly what sort of knowledge and skills this certification brings to the table, as well as a possible framework for incorporating this knowledge into the team framework.
What's great about IMAnet.org is that they provide several downloadable packages that you can print off and present during your pitch.
For example, the Management Accounting Competency Framework found here.
IMA also provides an email/letter template for employees who want to ask their employer to pay for their CMA certification. Download the template here.
For all the best materials on how to persuade your employer, visit the IMA Employer page now.
The Pitch: Actually Asking Your Boss to Pay for the CMA Exam
Asking for money doesn't come easy to most people. In most cases it's awkward and stressful.
This doesn't have to be the case though.
Like anything in life, practice makes perfect. Practice your pitch with your spouse, family member or even a friend who's willing to be totally honest with you.
Ask them to give you constructive criticism and then run it by them again. The more you test drive the pitch, the more confident you will be when you actually sit down with your boss.
When creating your pitch, make sure you cover your bases in case your employer isn't familiar with the CMA.
You should be able to answer the following questions if they arise:
How is the CMA relevant to your job?
How will studying affect your daily work performance?
Are you planning on staying within the company once you earn your CMA?
Answering these questions confidently can go a long way in convincing your boss to get on board.
Ask Your Company to Pay for the CMA Exam
Once you're confident in both your performance as a high level employee and your pitch it's time to schedule a meeting with your boss or whichever department head is responsible for training budget or employee development.
During your meeting, make sure you highlight why CMA test prep would benefit the company and your current position (which you've perfected during the Pitch section above).
And while you want to highlight your achievements, don't make this meeting all about you.
The goal is to leave them feeling that this is a mutually beneficial exchange.
Use Your CMA to Become a Highly Valuable Team Member
Best case scenario, your company agrees to pay for your CMA test prep.
Now what?
Prove your worth!
Once you've earned your designation, put it to work. You are going to be so much more knowledgeable in cost accounting, budgeting and decision making. Try and apply your new knowledge to better support your boss.
Not sure how to do this? Get creative.
Your CMA knowledge will help you see how your current role fits into your company's big picture. That means you will be more likely to identify areas needing improvement. For example, coming up with a more efficient way to improve your current cost accounting system. Or perhaps it means simply improving how you analyze and communicate financial data.
Discovering new ways to use your CMA designation to benefit the company that invested in you will not only make your employer feel good about their decision, but can help skyrocket your career to new heights.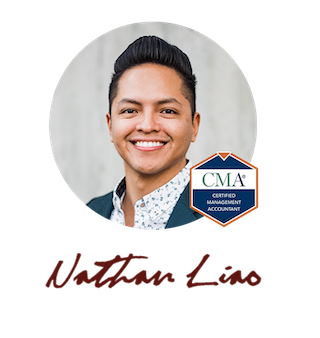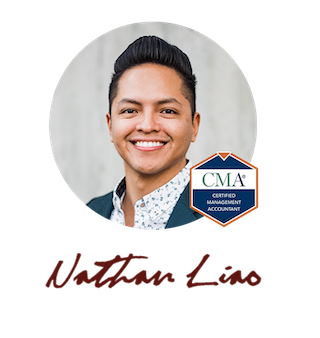 Hi, I'm Nathan Liao (aka the CMA Coach)! For the last 10 years, over 82,000 accounting and finance pros came knocking at my door seeking guidance and help. If you're also aiming to conquer the CMA exam on your very first try—without wasting away time or money—you've found your ultimate guide. Dive in deeper to discover more about me and the dedicated team that powers CMA Exam Academy. Click here and let's embark on this journey together!