This article was updated and republished on September 18th, 2023.
| | |
| --- | --- |
| | |
| | Jan 1, 2024 thru February 29, 2024 |
| | May 1, 2024 thru June 30, 2024 |
| | September 1, 2024 thru October 31, 2024 |
After weeks of preparing for the CMA exam, you finally get the courage to book your appointment.
You pay the exam fee and make your way to the test center during your chosen testing window.
After taking the Certified Management Accountant exam, the last thing you want to do is wait weeks on end to receive your results.
They say patience is a virtue, but even I can attest to how difficult it is to wait for your CMA exam scores.
The amount of anticipation I felt while waiting for my results was overwhelming.
And the truth is, it actually does take quite a bit of time to get your results.
Don't forget, you must pay the CMA entrance fee to secure your spot – you can read about this fee in our article on CMA exam cost.
CMA Testing Dates Summary
The CMA exam is offered during two-month test windows three times per year. The CMA testing date windows are:
January and February
May and June
September and October
You can schedule your CMA exam with Prometric, the IMA testing partner. Remote testing is now available for the CMA exam.
How Long Does It Take to Receive Your Results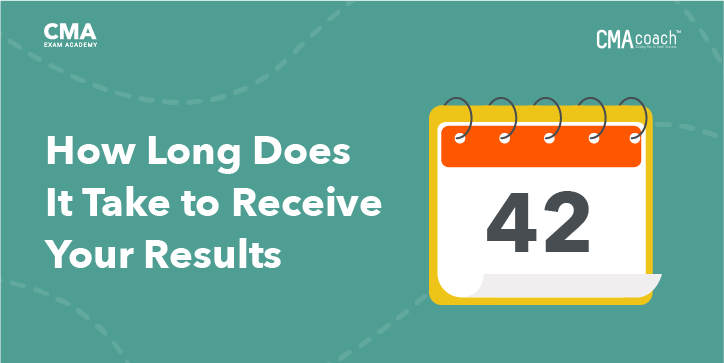 The date in which you take your exam during the exam window will affect when you actually receive your results. The standard length of time is approximately 42 days after the last day of the month in which you took the test.
All multiple-choice questions are graded by computers. The ICMA has an algorithm that grades each question and this portion of the exam is worth 75% of your overall score. Simply put, each answer is either correct or incorrect. There is no wiggle room with this.
In total there are 100 multiple-choice questions on the exam. What you may find interesting is that 10 of these questions are un-scored. This is the same for Part 1 and Part 2 exam MCQ sections.
The ICMA pretests new questions that they would like to introduce on future exams, but before making them official questions, they want to make sure they are actually good questions. By adding these unscored questions they can gather statistics on them and evaluate their reliability.
Unlike the MCQ section, the essay questions are a little more complex and are scored by humans. Obviously, they will need time to grade this portion of the CMA exam, and as you can imagine, this is a very labor-intensive process that takes time.
Once both sections of the exam are graded, they combine the scores of the essays with the multiple-choice questions to arrive at your final CMA exam score.
Psychometricians (essentially statisticians who are specialists at testing) grade your exam on a scale. A score of 360 is considered a passing grade, while 500 would be considered a perfect score. So it's a scientific process, and they're very confident in the reliability and validity of the scores when they do get released.
Predicted Score Release Based on Your CMA Exam Dates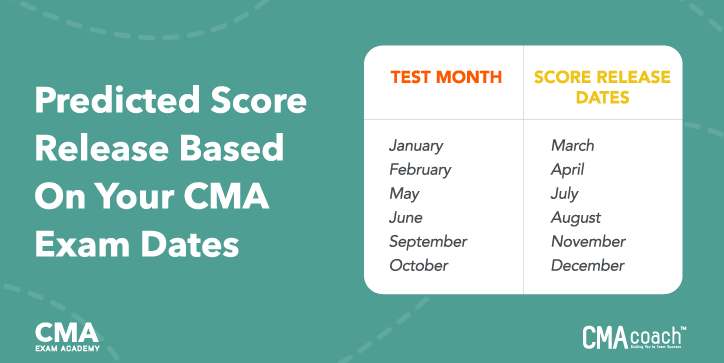 | | |
| --- | --- |
| | Score Release Dates (Predicted) |
| | |
| | |
| | |
| | |
| | |
| | |
One piece of good news! Once your score comes out, you don't have to anxiously stare at your mailbox for weeks wondering when your test results will finally arrive.
You will be able to view your exam results on your Institute of Management Accountants (IMA) profile online as soon as they come out. This is approximately 2-3 weeks before it physically arrives in your mailbox.
You will also get an email with your exam results.
Don't worry if your score doesn't show up on your IMA profile on the exact CMA exam dates listed above.
They are just estimations, after all. It may take a few more days, so be patient.
Other Important CMA Exam Dates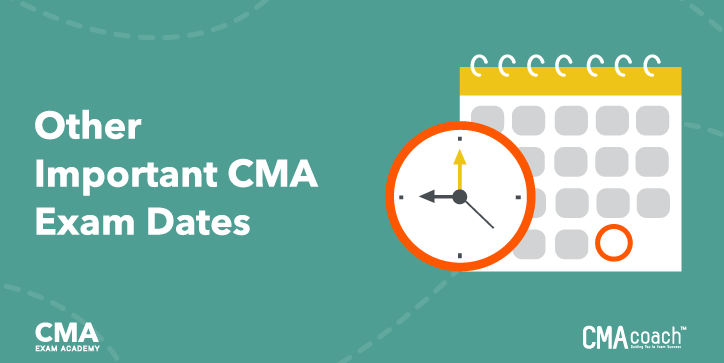 If you missed the big news, there were CMA Exam changes in 2020 that impacted all of the years following. New content was added, including some restructuring and coverage of new topics.
You can learn all about the 2024 CMA exam Content Specification outlines here:
Learn more about the CMA Part 1.
Learn more about the CMA Part 2.
Which brings me to additional CMA exam dates to keep in mind…
The Clock Starts Ticking Once You Register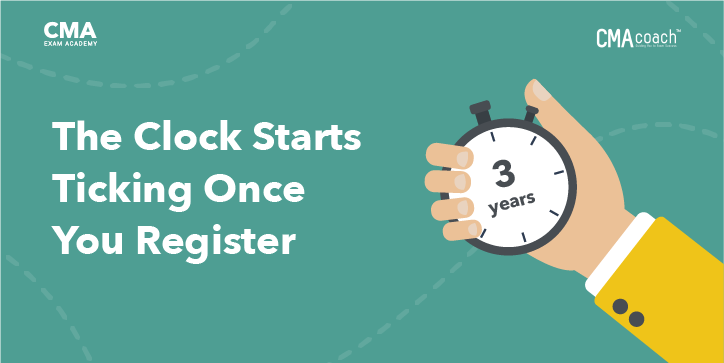 As I mentioned above, the clock starts to tick once you pay your CMA entrance fee. You must register and take both parts of the exam within 36 months of paying your fee.
Complete the Experience Portion
In addition to taking both Part 1 and Part 2 of the CMA exam, you also need to complete the experience portion of the CMA requirements. After passing the exam, you have 7 years to complete this particular requirement to obtain your certification.
You can learn more on our full list of CMA certification requirements.
Best Time to Study for Each Testing Window
When it comes to scheduling your exam, I highly recommend booking your exam date once you are at least halfway through your review course program. It is definitely in your best interest to put in about 4 months of study time, so register for your exam once you have approximately 2 months of studying in and select the next available testing window from this point.
For example, if you plan on taking the exam during the May-June window, start preparing for the exam at the beginning of February and schedule your exam for the beginning of May. This way, if you feel like you need a little more time you can push your exam date into the month of June.
Why?
Candidates are allowed to reschedule their exam date within the same testing window for a small fee of $50, so if you run out of study time you can postpone till June.
You cannot, however, reschedule your exam from the May-June window to the September-October window. It must be rescheduled within the same testing window.
Self-Study or Instructor-Led – Which is Better?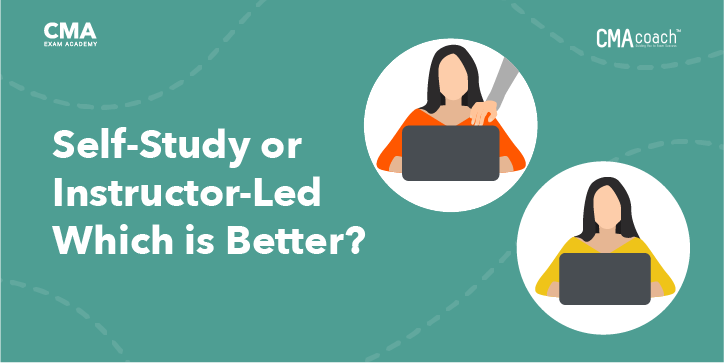 You essentially have two options when it comes to CMA exam review courses – self-study or instructor-led.
Depending on your personal learning style, one method will likely suit you better than the other, but how much time should you set aside for studying per-method?
Self-Study Review Courses
If you intend to self-study, you should begin studying at least 5 months in advance. To ensure you cover all the required content you will need to invest 25+ hours of studying per week.
Studying for the CMA exam will essentially be a part-time job for you.
Why so far in advance and for so many hours each week?
In my experience, self-study courses require more time because you have to work through obstacles by yourself. Instead of having an instructor or mentor to look to when you struggle with certain topics, you have to figure it out all by yourself. This can take significantly longer.
You are also responsible for holding yourself accountable if you use a self-study course. There won't be anyone there to keep you on schedule or update you on your progress, so you have to be your own judge. In all my years of helping candidates prepare for the exam, self-motivation is consistently one of the hardest things for candidates.
Instructor-Led Review Courses
If you are struggling to stick to a study schedule and worry you are going to fall behind in your CMA test prep, then an instructor-led review course may be the best route for you.
In addition to having built-in accountability, a mentor, and a specific study plan to follow, instructor-led review courses offer you progress reports and can help you overcome obstacles much faster than self-study courses.
My flagship course at CMA Exam Academy walks you through the material step-by-step and also provides you with a handy 16-week study schedule to help keep you on track. By studying with CMA Exam Academy you will invest 4 months of your time and 10-15 hours of studying per week. Quite a bit less than a self-study course.
What Should I Do While I Wait?
Let's be honest, waiting to learn if you actually earned your CMA certification can be stressful, but it doesn't have to be.
Now that you've completed the exam, it's probably the first time you've had in months that you aren't totally consumed by studying. Enjoy it!
Spend time with loved ones.
Take a trip.
Have some fun!
You deserve it after everything you've been through with the CMA program.
Maybe relaxing isn't your jam and that's fine too. If you are feeling energized about passing the exam and looking to get a jump-start on your next steps in your CMA journey, then there are a few things you can do to pass the time:
Just remember, you've made it through one of the toughest parts on your road to becoming a CMA! So congratulate yourself, and allow yourself a break!
As always, thanks for reading.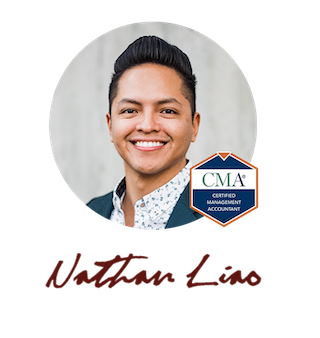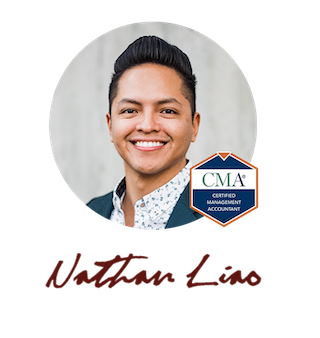 Hi, I'm Nathan Liao (aka the CMA Coach)! For the last 10 years, over 82,000 accounting and finance pros came knocking at my door seeking guidance and help. If you're also aiming to conquer the CMA exam on your very first try—without wasting away time or money—you've found your ultimate guide. Dive in deeper to discover more about me and the dedicated team that powers CMA Exam Academy. Click here and let's embark on this journey together!