There are a lot of unknowns when it comes to taking the CMA exam to become a Certified Management Accountant.
For starters, what is the CMA exam passing score? To pass the CMA exam, you'll need to score at least 360 points.
What kinds of exam questions can I expect?
Do I have to take a CMA course in order to pass?
If you want to become a CMA in the USA, passing marks are a must.
Studying for the exam while working to meet the other Certified Management Accountant requirements is hard enough, so let's take one stressor off your plate: the CMA exam passing score.
Here are the highlights in this article:
Originally published on May 25, 2020, this article was updated and republished on January 09, 2023.
What's the Highest Score on the CMA Exam?
To pass the CMA exam, you must score at least 360 out of 500, or 70% overall, between the multiple-choice questions and the essays. The scores are scaled to ensure fairness and consistency for all candidates. If you fail the CMA exam, you can examine your performance in each topic area using a performance report from Prometric.
Average CMA Pass Rates Globally
The latest CMA pass rates as reported by the IMA are:
45% for Part One (a 10% increase from previous years)
45% for Part Two (a 5% decrease from previous years)
An average of 4,000 CMA certifications are granted in the U.S. each year.
How is the CMA Score Calculated?
Your work on the CMA exam is weighted equally. That being said, there are different versions of the exam. These vary in difficulty. That is why a raw scoring system is implemented.
In other words, if you receive a more difficult version of the test, 65% may be passing. In a different, easier form, 70% may be passing. Percentages are not as important as your final aggregate number.
What you need to know is
The exam is graded positively, with no penalties for incorrect answers.
You need to get at least 50% on the multiple-choice questions to proceed to the essays.
You need an overall passing score between the two sections.
Here's the breakdown of how the CMA score is calculated and how your numbers are crunched:
75% of your grade = multiple-choice questions
90 of the 100 multiple-choice questions are graded. This is because 10 are presented to create future tests and don't impact your exam score. How you answer the remaining 90 impacts 75% of your score.
25% of your grade = two essays
The other 25% of your grade is composed of the two essay sections.
Let's dive deeper into how each of these two categories impacts your final CMA score.
Important facts about CMA multiple-choice questions
All MCQs are equally weighted, meaning whether it's simple or complex, it counts the same.
Incorrect answers do not cause penalties, so your grade doesn't decrease if you answer wrong.
You have to get 50% of the MCQs correct to move on to the essays. If you didn't get to the essays, you have your answer.
Important facts about CMA essay questions
You get points for each correct part of your answer.
You don't lose points for incorrect answers.
As you show your work, numerical or equation errors will only be penalized once.
You get zero points for a blank question. Writing something is better than nothing.
CMA Scoring Process
Multiple-choice questions are graded by a computer. This is done according to an algorithm and is an objective process. Unanswered questions are zero, as are wrong answers, so it's worth taking a shot and answering everything.
Essay questions are graded by statisticians with the Prometric center. While these testers follow a scientific process for scoring your answers, it's important to note that they can interpret your effort in a human way. This means that they can see the logic behind your answers and gauge the level of knowledge you brought to the question.
Knowing this may incentivize test-takers to respond differently. Your score will reflect the accuracy of your content and how well it is organized and articulated.
Read more about the test in the CMA handbook.
When Are CMA Scores Released?
Test results are released a few weeks after your test date. Here is a projection of when you might expect to receive your score:
| | |
| --- | --- |
| | Score Release Dates (Predicted) |
| | |
| | |
| | |
| | |
| | |
| | |
How Many Questions Are on the CMA Exam?
Each part of the exam is comprised of 100 multiple-choice questions (MCQs) and two essay scenarios.
Candidates are given 3 hours to complete the MCQ section and 1 hour for the essay portion. What's great is that if you finish your MCQ section before the allotted 3 hours are up, you can roll your remaining time over to the essay section. Once you have decided to move forward, you cannot go back and change any MCQ, though, so keep this in mind.
As far as scoring goes, 75% of your overall score will come from the MCQ section and 25% from the essay section.
In order to even make it to the essay section, candidates must score 50% or over on the multiple-choice questions. If you score 49% or less, you will have to retake the exam in the next window.
The grades from both sections will be put together to give you your CMA exam passing score.
Common Multiple-Choice Scoring Questions
Let's take a look at some of the most commonly asked questions relating to multiple-choice scoring.
Are multiple-choice questions weighted differently?
No. Unlike other exams, like the CPA exam, for example, each multiple-choice question on the exam is scored equally.
Your raw score is converted to a uniform scoring system between 0-500.
Passing the exam requires getting a minimum score of 360.
Do you lose marks if you answer the question incorrectly?
No. You will not earn any points, but you will not be penalized with a negative mark for answering a question wrong.
If you are running out of time, it is better to guess blindly than not to answer them at all.
Do you need to pass the MCQ and Essay portions to get a CMA passing score?
In order to get a CMA exam passing score, you need to perform well in both the MCQ and essay sections. As I said earlier, you do need to get at least 50% of the MCQ correct in order to move on to the essay portion, but if you score significantly higher on the MCQ section than the essay, you can still receive an overall CMA passing rate.
Scoring the CMA Exam Essay Section
When it comes to the essay portion of the exam, you will have to answer two scenarios. There are typically 4 to 6 questions within each essay scenario. Your responses are recorded using a simple word processor.
Some essay questions may require computational answers, which can be created using the table function on the word processor. You can use the table to show calculations.
If you are not comfortable with this sort of task, I highly recommend getting familiar with the testing environment and doing as many CMA practice questions as possible beforehand. The majority of candidates who struggle with the exam tend to have one thing in common – they did not practice enough. Don't make that exam mistake. Take as many Certified Management Accountant practice tests as you can.
All essay questions are scored by experts and not through a computer algorithm. You will be graded on your knowledge of the exam content and ability to apply concepts clearly and logically in real business situations. Candidates who write English proficiently will get extra points.
Expressing Your Knowledge of the Exam Content
In order to crush both the MCQ and essay sections, you will need to truly understand the exam content. Being able to apply your knowledge and choosing the right question is critical for passing the exam.
The best way to test your knowledge is by using an online CMA test bank like that found in the CMA Exam Academy review course.
It helps you to focus on the material that you are struggling with instead of wasting time on content you already understand.
Apply Concepts Clearly in Business Situations
There is a difference between knowing and understanding the content. You can memorize information, but if you don't know how to apply it in a real scenario, then it cannot help you pass the exam.
Before you begin tackling your essay question, you should start by reading the entire question word by word. Take the time to fully understand what is being asked of you.
Next, identify the concepts that are being tested in that particular essay question. Whether you like mind mapping or writing out lists, make sure you know which key terms you are going to elaborate on in your essay.
Don't overcomplicate your answers. Remember, the goal is to be clear and coherent. This includes using correct English grammar and spelling.
Avoid slang or unnecessary exclamation marks. You should use business writing principles, not colloquialisms.
Structure your essay the way you were taught during your bachelor's degree years – with a clear beginning, middle, and end.
Your first paragraph should introduce how you will be explaining the question. Throughout the middle paragraphs, expand on your points with as many applicable facts as possible.
As always, with the conclusion, make sure to summarize your key points and tie up any loose ends.
The Best Way to Ensure a CMA Exam Passing Score

Want to increase your odds of passing the exam on your first try? The best way to ensure you get a CMA exam passing score is by choosing a review course.
Review courses cover all the material you will be tested on and provide you with additional study resources like formula guides and audio reviews.
CMA Exam Academy offers everything from our unique PassRate technology to one-on-one coaching, weekly support calls, and accountability check-ins, among many other things.
With my 16-week study plan, you can become a CMA in as little as eight months.
If you are interested to learn more about CMA Exam Academy and how I can help you ace the exam, click here.
What if I Failed the CMA Exam?
There is one way to know immediately that you failed the CMA exam. If you answer less than 50% of the multiple-choice questions wrong, you will not be allowed to proceed to the essay portion of the test.
However, if you do but still receive less than a total of 360 points, you will have failed. First, don't feel too bad: you're in good company. Remember that only about 35% of candidates passed part one last year.
If you fail your CMA exam results, you will receive a performance report. This can be immensely helpful. The performance report will provide you with a descriptive level that tells you how you did. You will receive feedback that tells you whether you were:
Satisfactory
Marginal
Unsatisfactory
These are listed from best (closest to passing) to worst (low score). The report will indicate your performance in each content area, giving you the perfect guide for your next round of study.
CMA Exam Academy Resources
Whether or not you pass, CMA Exam Academy has plenty of resources to help you out. If you need coaching to try again, we got you. If you are ready to move on to certification, I can give you info about the next steps.
Just want to get pumped about becoming a CMA? Discover your salary potential as a Certified Management Accountant.
And if you still have a few questions about how to get a CMA exam passing score, pop on down to the comment section and fire away.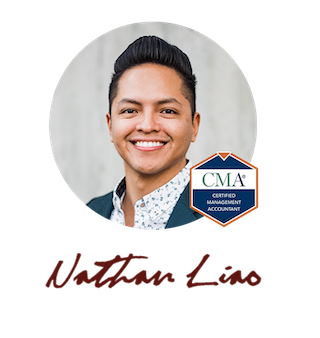 Hi, I'm Nathan Liao (aka the CMA Coach)! For the last 10 years, over 82,000 accounting and finance pros came knocking at my door seeking guidance and help. If you're also aiming to conquer the CMA exam on your very first try—without wasting away time or money—you've found your ultimate guide. Dive in deeper to discover more about me and the dedicated team that powers CMA Exam Academy. Click here and let's embark on this journey together!