If you want to become a CMA, you'll need to pass the CMA exam. Unless you've decided to dive straight into a review course, the starting line is usually taking a Certified Management Accountant practice test.
The first free CMA practice test you ever take will be diagnostic. In other words: how much do you already know? Taking a practice test diagnostically will help you plan how to study for the CMA and create a plan that works for you.
While almost no one will pass a Certified Management Accountant practice test the first time they take it, how you do will give you a great idea of where you're starting out. You'll know how much work it will take to get where you want to go, and what areas to focus on.
Of course, your goal will be to pass the CMA Exam, which you'll only do after you spend a good amount of time studying. To pass both parts of the exam, you'll need to commit to several months of rigorous, focused study. Most people choose a comprehensive CMA course, textbooks, and even work with a CMA coach or tutor. All of this is great, and it will help you memorize, develop test strategies, and learn how to think correctly to perform well on the test.
Even as you spend time reading and working out strategy, CMA practice tests are going to continue to be key. While the first practice test you take will give you a starting line, taking CMA practice tests throughout the course of your studies will basically function as checkpoints.
Taking a test run periodically throughout your studies will help you answer:
How much have you improved?
What are you still struggling with?
Where are you weak or strong?
Getting this gauge will help individualize your studies, so you can be maximally effective with every minute you spend hitting the books or watching your lessons.
Free Certified Management Accounting Practice Test [PDF]
To make sure that you're well-prepared for your CMA exam, I've included this free Certified Management Account practice test as a PDF that you can download and practice taking before you tackle the real deal.
Go through the test slowly and methodically, taking note of the format and paying close attention to any weaknesses and strengths that become apparent. Use these results to figure out how you can improve, and where you should be focusing your efforts.
At CMA Exam Academy, we work with thousands of students every year. Part of our approach to test readiness involves offering all our students unlimited access to practice tests and CMA practice questions. Our course (and any good CMA exam review course) includes an exhaustive CMA test question bank, which is also available as a stand-alone resource. Using both the individual, categorized questions themselves and full-length timed CMA practice tests is a winning recipe for success.
Of course, knowing these are important but doesn't mean you can afford to spend endlessly for them. If you want as much variety and the greatest exposure to test concepts and possible test questions, you should look into additional, free CMA practice materials. And we can help with that.
Want a free CMA practice test in person? All CMA Exam Academy students receive a FREE Prometric CMA Test Drive at a nearby test center.
All of the CMA study materials we provide are authored by experts to create the right level of challenge, accurately reflecting what you'll encounter on the exam. In other words, we understand the underlying logic and concepts that are foundational to the structure and setup of the CMA exam.
With that knowledge, we present concepts to you in a straightforward way, arming you with as many tools and tactics as possible to help you succeed on test day. Our test bank platform includes features to simulate the timed environment model of the real thing.
What's even more important to your success is that many questions in our test bank are official CMA exam questions, retired from past years' exams.
All of this means our students enjoy a more than 90% CMA exam pass rate, compared to the global average pass rate of 45%. Taking the time to write practice tests may seem tedious, but it's the best way to prepare yourself for how hard the CMA exam is.
Read on to learn more about how a Certified Management Accountant practice test can benefit you, along with more free CMA resources to jump-start your journey toward this exciting career.
Certified Management Accountant Practice Test Benefits
CMA practice tests are important at every stage of your studies. Because the CMA exam is divided into Part 1 and Part 2, covering a broad range of subject matter, it can be tempting to compartmentalize. A practice test grounds you, reminding you that even though you're working with a lot of material, there is a limited amount you'll really have to know and apply on test day.
Here are some more benefits to taking CMA practice tests:
Highlighting Your Weaknesses
Taking practice tests at the beginning and throughout your studies is going to shine a spotlight on the stuff you don't know or aren't good at. This is super important.
Many candidates have already met the CMA certification requirements, or are in the process. You may be well-versed in a few areas that may relate to your degree or job experience.
But it's the areas in which you're naturally weak that you really need to put in some time and effort to improve. A practice test will make it abundantly clear where you need to concentrate your efforts.
Confirming Your Strengths
This may sound paradoxical, but in addition to showing you where you're weak, a practice test can show you where you're strong. You may have experience with financial reporting or investment decisions, but a practice test will make it clear whether or not you'll be able to answer detailed questions under pressure.
It may be that your strengths show up in unexpected areas. As you better learn yourself, you'll be able to tailor your CMA studies so you spend the right amount of time on the right things.
Practicing the Actual CMA Exam Format
This may sound like a no-brainer, but the CMA exam isn't just about regurgitating facts or memorization. There are distinct skills that you're going to spend a lot of time working on.
One of those skills is test-taking. How you perform on the test isn't always an exact correlation to your knowledge.
You need to be sure that you can do well in a pressurized environment and when asked things in a very specific way. Practice tests help you with that, giving you the opportunity to hone that unique skill so you're as prepared as possible for the format outlined in IMA's CMA Handbook.
Illustrating Test Readiness with Certified Management Accountant Practice Tests
I recommend that you study for the CMA exam for 16 weeks per part. At the end of the day, you need to strike while the iron is hot. Some subjects you study will be packed into short-term memory. All of the skills you develop will be most ready at a certain point.
Practice tests can showcase that tipping point, letting you know when you are truly ready to take the CMA exam. Our test bank includes a metric called PassRate, which measures your performance over time to indicate when you're test-ready.
More Free CMA Resources
Preparing for the CMA exam is an investment. Like any other investment you make in your professional life, it will cost time and money. It's important that you spend strategically, and not more than you have to.
To make sure our programs are accessible, CMA Exam Academy offers an easy payment plan option. This is aimed to help you take advantage of our study tools and programs, so you can pass the exam and start your CMA career.
Here are some free CMA resources from us that you can check out now:
If you haven't already, download the multiple-choice questions CMA practice test below.
The CMA Exam Academy Blog is chock-full of awesome advice, tips, and test-taking strategies that are going to help you do well on the test.
My CMA Coach YouTube channel offers tons of helpful videos that include titles like CMA Exam Secrets and a CMA Study Plan for Working Professionals.
And don't forget to download my FREE CMA Study Guide!
Thanks for reading!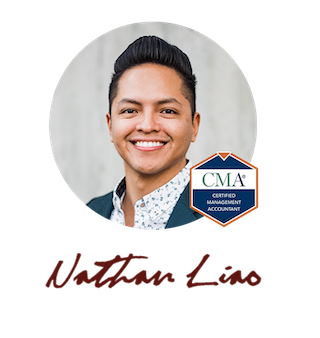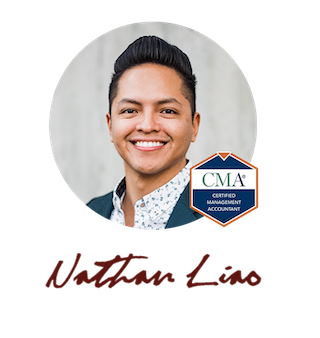 Hi, I'm Nathan Liao (aka the CMA Coach)! For the last 10 years, over 82,000 accounting and finance pros came knocking at my door seeking guidance and help. If you're also aiming to conquer the CMA exam on your very first try—without wasting away time or money—you've found your ultimate guide. Dive in deeper to discover more about me and the dedicated team that powers CMA Exam Academy. Click here and let's embark on this journey together!