Unsure of what the CMA certification requirements are to qualify for your Certified Management Accounting Certification?
Below, I am going to break down what a CMA needs to fulfill, breaking down the CMA requirements to help you better understand the process.
The five Certified Management Accountant requirements you will need to fulfill:
Originally published on Nov. 26, 2019, this article was updated and republished on September 19th, 2023.
Become a Member of IMA to Begin Your Certified Management Accountant Requirements
The Institute of Management Accountants offers several different types of memberships: a regular membership and three discounted options. Let's take a look at which one is best suited for you and the fees associated with each option.
IMA Professional Members
The IMA membership fee to become a professional member is $295 for the first year, then $280 annually. This membership option is available to everyone who is not either a student or academic (see those membership options below).
What's great about being an IMA member, is that you get access to a wide range of benefits available worldwide. With a professional membership, you can take advantage of the IMA's cutting-edge resources to help further expand and hone your knowledge and skills in all areas of management accounting. You can check out a full list of all the member resources available by visiting IMAnet.org.
IMA Student Members
If you are currently a student at an accredited college or university, then the IMA Student membership is for you. It is perfect for individuals looking to kick-start their career in accounting or financial management.
Students have the option of choosing a One- or Two-Year membership. With a low fee of $49 per year (or $98 for the two-year option), student members around the world can have access to all of the IMA resources. Dive into the world of management accounting and discover potential career options while you're earning your degree.
IMA Academic Members
The IMA Academic membership is designed for full-time faculty members of accredited institutions. The membership fee for this option is $160 for the first year, then $145 annually.
Members have access to benefits worldwide. In addition to this, academic members also have access to the IMA's ethics curriculum, webinars, case studies, mentor programs, research grants, and various other teaching resources.
Staff Enrolment Discount Program
Looking to get a bit of a discount on your membership fee?
When your organization signs up five or more staff members, you become eligible for a 15% discount on IMA membership rates.
Similar to the other options, members have full access to all IMA amenities, including CMA certification, continuing education, networking, and more.
This discount is run under one company organizer name and paid as a lump sum each year. When adding new members to the program, fees are calculated on a pro-rata basis.
If a new employee has already paid their IMA membership for the year, no refund will be provided for unexpired months remaining in their current membership.
For full details on eligibility and pricing, click here. If you qualify, the IMA scholarship program can also help with costs.
The CMA Exam Requirements
This may be the most obvious requirement, but worth mentioning. To earn your CMA certification, you must take both Parts One and Two, and pass the CMA exam.
The key to succeeding with this requirement, and passing the CMA on your first attempt, is to give yourself plenty of time to study and prepare. This means choosing a CMA review course and following a study plan to ensure that you complete the entire course before your intended exam date.
Having taken the CMA exam and passed myself, I know that not all review courses are designed the same. Choosing one that offers one-on-one coaching, video tutorials, textbooks, test bank access, and a solid CMA study guide will help you study more efficiently and increase significantly your odds of passing the exam on your first attempt.
Not sure how to choose a course? Check out my comparison of the best CMA reviews.
Register for the Exam
In order to take the exam, you must first register for an exam time during one of the three CMA exam windows available each year:
January/February
May/June
September/October
Exam registrations close on the 15th of the last month of each exam window. So for the January/February exam window, the registration closes on February 15th, for May/June, it closes on June 15th, and for the last exam window, September/October, exam registration closes on October 15th.
You may register on the IMA online store or by calling 800-638-4427 or (201) 573-9000.
After your registration is complete, you will receive your authorization from ICMA. From there, you can schedule your testing appointment at a Prometric Testing Center near you by logging onto www.prometric.com/ICMA.
CMA Exam Format
Each part of the CMA exam is 4 hours in total. You are given 3 hours to complete the multiple-choice section, and one hour to complete the essay section.
Here's what each part of the exam will cover:
Part 1 – Financial Planning, Performance, and Analytics
Duration: 4 hours
Format: 100 multiple-choice questions and two 30-minute essay scenarios
How Is the CMA Exam Part 1 scored?
Key topics are marked differently depending on their category. Here is their breakdown:
External Financial Reporting Decisions – 15%
Planning, Budgeting, and Forecasting – 20%
Performance Management – 20%
Cost Management – 15%
Internal Controls – 15%
Technology and Analytics – 15%
Part 2 – Strategic Financial Management
Duration: 4 hours
Format: 100 multiple-choice questions and two 30-minute essay scenarios
How Is the CMA Exam Part 2 scored?
Financial Statement Analysis – 20%
Corporate Finance – 20%
Decision Analysis – 25%
Risk Management – 10%
Investment Decision – 10%
Professional Ethics – 15%
You must answer at least 50% of the multiple-choice questions correctly to move on to the essay portion of the exam.
It is crucial to keep in mind that while you can move on to the essay section with only 50% of the multiple-choice questions answered correctly, you would need to earn a minimum score of around 65% on the multiple-choice questions and a perfect score on the essay section to actually pass the exam.
Once you have submitted your multiple-choice answers for scoring, you cannot go back.
If you do not answer 50% correctly, you automatically fail the exam part and will need to retake that part of the exam. There is no discount for exam re-write, meaning you will pay the full CMA exam cost to retake that exam part.
Meeting the CMA Education Requirements
There are two ways candidates can fulfill their CMA education requirements:
Earn a bachelor's degree from an accredited college or university
Have a professional certification
Certified Management Accountant Requirements for a Bachelor's Degree
Unlike other accounting certifications, the CMA does not require you to have a bachelor's degree in finance or accounting, which does lower the barrier of entry. Your degree, however, must come from a regionally accredited or Distancing Education Accrediting Commission (DEAC) accredited university or college.
A partial listing of accredited international and US institutions is available at http://univ.cc/world.php.
To verify your eligibility, candidates must have their university or college mail a copy of their transcripts directly to the ICMA. Your transcripts must be notarized, so it is not an option to email or fax these documents.
If you did not attend an accredited school, you could have your transcripts evaluated by an independent agency, such as www.aice-eval.org or http://www.naces.org/members.html.
Have a Professional Certification
In the event that you do not have a bachelor's degree, you can still qualify for the CMA certification requirements by holding a professional certification.
The IMA provides a full list of approved professional certifications on their website for your reference.
Verifying that your professional certification satisfies the education requirement is easy. Have the approving organization mail a confirmation letter to the ICMA stating that you are a qualified member.
What if You Don't Meet the CMA Certification Requirements for Education?
If you have your heart set on becoming a CMA, but don't feel like you meet the above criteria, there is another option: appeal to the IMA.
According to the CMA Handbook, the IMA does consider exemptions to the CMA certification requirements. In order to appeal for this process, you must write a detailed letter to the IMA explaining your situation.
Describe why you do not possess a degree or professional certification, how your experience and other credentials qualify you and be sure to mention any other certifications you may have earned to build yourself a strong case. Email your request to IMA@imanet.org for confirmation.
Meeting the Certified Management Accountant Requirements for Work Experience
As it turns out, understanding the CMA certification requirements for work experience can be confusing to many candidates.
Determining your work experience eligibility doesn't have to be traumatizing. Here are a few simple steps to follow.
Determine if Your Work Experience Meets the CMA Certification Requirements
The CMA Candidate Handbook breaks down work experience relevance nicely by listing off several job titles that would be applicable. It states:
"Qualifying experience consists of positions requiring judgments made employing the principles of management accounting and financial management."
Such employment includes:
Preparation of financial statements
Month-end close, also quarter and year-end close
Auditing (external or internal)
Budget preparation and reporting
Manage general ledger and balance sheets
Forecasting
Company investment decision-making
Costing analysis
Risk evaluation
[Reference: CMA Handbook]
The handbook clearly states that jobs that only use the occasional application of management accounting will not satisfy this requirement.
For example, internships or traineeships and clerical positions do not use management accounting principles enough to be considered relevant work experience.
If you are relatively new to the CMA, then you may not feel like the handbook's definition is clear enough. Simply put, your job tasks must involve internal or external auditing or analysis, handling financial statements and understanding how they affect a company, and being responsible for analyzing and reporting on financial investments.
If your job description covers all of those tasks, then you should have no trouble fulfilling the CMA experience requirements.
Experience Must Include Information Analysis
As I tried to spell out above, analysis is a large part of the work experience requirement. Inputting financial data is not the same as being able to interpret it.
One of the skills that truly sets CMAs apart from their non-CMA counterparts is their unique ability to analyze and forecast. It's these practical skills that allow CMAs to give businesses greater credibility and a higher earning potential.
That being said, if your work experience does not relate to finance and accounting, but instead in a niche like marketing, sales, or Human Resources, then it will not qualify as CMA certification requirements.
Must Be a Permanent Employee
Internships and traineeships are fantastic opportunities to dip your toes into the world of finance and accounting if you are unsure about your path.
Unfortunately, the IMA does not look at these types of employment the same as being a permanent employee.
In order to fulfill your CMA experience requirements, you must complete two consecutive years of full-time employment in an approved role OR four consecutive years of part-time, permanent employment (minimum 20 hours per week).
The route you choose is up to you. Just keep in mind that you must gain this work experience prior to taking the CMA or within seven years of passing the exam.
Here are some job titles to help guide you on your path CMA career path.
Chief Financial Officer (CFO)
Accounting Supervisor
Junior Accountant
Staff Accountant
Financial Analyst
Teacher or Entrepreneur
So, just how difficult is it to receive IMA approval?
In the case of teachers, as long as 60% of your course load is related to finance or accounting above the principles level, you should have no problem in qualifying.
If you happen to be a business owner or entrepreneur, your chances are fairly good as well.
To apply for approval, create a proposal outlining your work experience and why you believe it is applicable. The IMA is happy to take these kinds of situations into consideration and will assess individuals on a case-by-case basis.
IMA's definition of relevance is actually pretty broad, unlike other professional certifications. This could be in keeping in line with their barrier to entry approach. What I mean is, that while you are required to have a Bachelor's degree, the IMA does not stipulate that candidates have to have a Bachelor's degree, specifically in finance or accounting. It would seem they may have a more open approach to determining work relevancy as well.
Submit Proof You've Completed the CMA Requirements for Work Experience
Once you have completed your two years of full-time work experience (or four years of part-time work), it is time to submit proof and become one step closer to earning your certification.
Submitting CMA experience requirements is easy. To start, you must fill out the work verification form, which you can find on the IMA website here.
Once complete, email it back to IMA at ccurtin[@]imanet.org.
If you have any questions while filling out your form, you can use that same email address to contact them or call toll free at 1-800-638-4427.
CMA Certification Requirements for Continuing Education (CPE Units)
The work does not stop once you have received your CMA certification. That's right; CMAs are required to complete 30 hours of Continuing Professional Education (CPE) each year in order to maintain their certified status.
There is a broad range of subjects that qualify for CPE, but they must relate to topics covered by the ICMA's examination.
For example, subjects may include accounting, financial management, economics, business applications of mathematics and statistics, and ethics.
Note: A minimum of 2 hours of ethics as part of your 30 hours of continuing education are required every year.
If you earn more than 2 hours of ethics CPE in one year, you may carry forward up to two hours to the following year.
Recording Your Continuing Education Credits
The reporting year for CPE begins January 1 of each new year. If you earn more than 30 hours at that time, you can carry forward up to 10 hours to the following year.
For example, if you took 45 hours of CPE courses this fiscal year, you can transfer 10 hours of that time to next year's CPE requirements.
The best way to record your CPE credits is by organizing your transcripts under your IMA member profile. You can do this by logging into IMAnet.org, and under your "My Profile" section, choose "Transcript Information" on the left sidebar.
You can earn CPE by taking college or university courses, QAS self-study courses, attending professional meetings, speaking as a lecturer or teacher in a program, and many other options.
For a full list of options that fulfill the CMA CPE requirements, please visit IMAnet.org.
Still Have Questions About CMA Certification Requirements?
Here are the answers to some questions you may still have about Certified Management Accountant requirements.
Can I Take the CMA Exam Without Experience?
You can begin to pursue becoming a Certified Management Accountant before you've completed your CMA education or experience requirements. Once you become a member of the IMA, you will be eligible to enter a CMA study program and take the CMA exam. In addition to passing both parts of the CMA Exam, you will have to complete a bachelor's degree or show a comparable professional certification in order to get your CMA. You will also need to accomplish two years of continuous work in accounting. You can easily start the path toward becoming a CMA before you have much under your belt, just know that you'll have a few years of work to put in before you can get your CMA certificate.
What Are the CMA Requirements?
To meet all of the CMA requirements, CMAs must have completed a bachelor's degree or similar qualifying professional degree. They'll also need two years of continuous professional experience in management accounting or financial management. On top of that, they will need an IMA membership and have passed a two-part exam.
Is a CMA Certification Worth It?
On average, accounting professionals who have a CMA certification earn 31% higher salaries than people who don't have a CMA. This is actually superior even to people who have a CPA. The CMA certification is worth it because of income potential alone. In addition to that, having a CMA opens a lot of doors in all kinds of companies. CMAs are considered leaders and are qualified to make important financial decisions for businesses.
How Hard Is the CMA Exam?
The CMA exam is a difficult test, evidenced by its 45% global passing rate. Given in two parts, each of which covers a broad range of accounting topics, it is recommended that you study for at least 16 weeks per part if you hope to pass the CMA exam.
Which Degree Is Best for CMA?
Most people who aim to get a CMA will pursue a bachelor's degree in economics, business, accounting, or finance. You have to finish your bachelor's degree from an accredited college or university before you can become a CMA. Meeting the CMA education requirements is just one of the steps you need to take to become a CMA.
Fulfilling all of your CMA certification requirements may seem like a daunting task, but will be worth it in the end.
And CMA Exam Academy can help you achieve this.
Offering unparalleled support and coaching, along with video-based tutorials and next-level practice test banks, it can help you pass the CMA exam on your first try.
Have more questions regarding the CMA certification requirements? Pop them in the comment section below.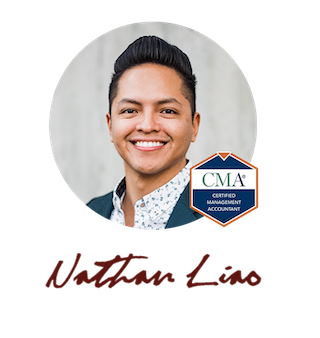 Hi, I'm Nathan Liao (aka the CMA Coach)! For the last 10 years, over 82,000 accounting and finance pros came knocking at my door seeking guidance and help. If you're also aiming to conquer the CMA exam on your very first try—without wasting away time or money—you've found your ultimate guide. Dive in deeper to discover more about me and the dedicated team that powers CMA Exam Academy. Click here and let's embark on this journey together!