In order to become a Certified Management Accountant, there are certain requirements you must meet.
As it turns out, understanding the CMA certification requirements for work experience can be confusing to many candidates, but it's vital for choosing between CMA vs CPA as your best option for moving your career forward.
Below I am going to break down the CMA experience requirements for the Work portion to help you better understand what you need to do.
Understanding the CMA Certification Requirements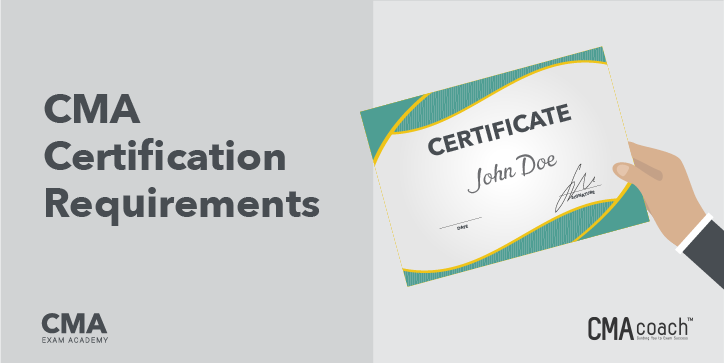 Determining your work experience eligibility doesn't have to be traumatizing. Here are a few simple steps to follow.
Determine If Your Work Experience is Relevant
The CMA Candidate Handbook actually breaks down work experience relevance nicely by listing off several job titles that would be applicable. It states:
Qualifying experience consists of positions requiring judgments regularly made employing the principles of management accounting and financial management. Such employment includes:

Preparation of financial statements
Financial planning and analysis
Monthly, quarterly and year end close
Auditing (external or internal)
Budget preparation and reporting
Manage general ledger and balance sheets
Forecasting
Company investment decision making
Costing analysis
Risk evaluation
The handbook clearly states that jobs that only use the occasional application of management accounting will not satisfy this requirement.
For example, internships or traineeships and clerical positions do not use management accounting principles enough to be considered applicable work experience.
If you are relatively new to the CMA then you may not feel like the handbook's definition is clear enough. Simply put, your job tasks must involve internal or external auditing or analysis, handling financial statements and understanding how they affect a company, and be responsible for analyzing and reporting on financial investments.
If your job description covers all of those tasks then you should have no trouble fulfilling the CMA experience requirements.
Experience Must Include Information Analysis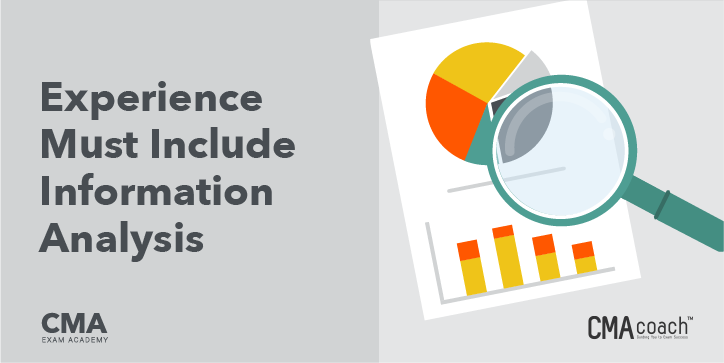 Like I tried to spell out above, analysis is a large part of the work experience requirement. Inputting financial data is not the same as being able to interpret it.
One of the skills that truly sets CMAs apart from their non-CMA counterparts is their unique ability to analyze and forecast. It's these practical skills that allow CMAs to give businesses greater credibility and a higher earning potential.
That being said, if your work experience does not relate to finance and accounting, but instead in a niche like marketing, sales or Human Resources, then it will not qualify as CMA certification requirements.
Must Be a Permanent Employee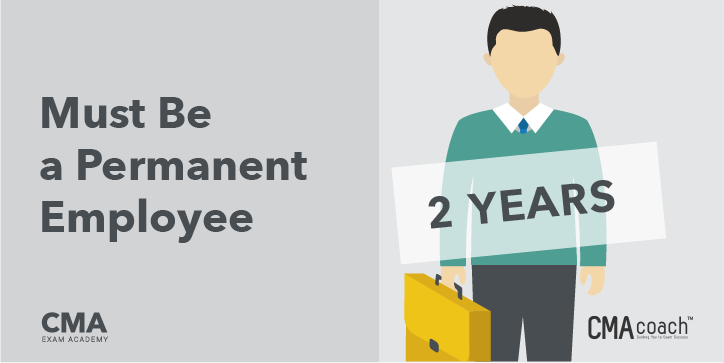 Internships and traineeships are fantastic opportunities to dip your toes in the world of finance and accounting if you are unsure about your path.
Unfortunately, the IMA does not look at these types of employment as the same as being a permanent employee.
In order to fulfill your CMA experience requirements, you must complete 2 consecutive years of full-time employment in an approved role OR 4 consecutive years of part-time, permanent employment (minimum 20 hours per week).
The route you choose is up to you, however candidates are expected to either gain this work experience prior to taking the CMA or within 7 years of passing the exam. Here is a full list of the CMA exam dates.
Potential Career Paths and Their Eligibility
There are several different jobs you could have that would qualify you for the CMA certification requirements. Here are a few:
Chief Financial Office (CFO)
A CFO is a very important executive who is responsible for financial affairs in a company or business.
CFO's have 3 main duties including controllership, treasury and economic strategy and forecasting. These duties essentially mean that the CFO is held accountable for the company's financial situation in every aspect from forecasting to risk evaluation and everything in between that allows a company to flourish financially.
Corporate Controller
Corporate Controllers are responsible for presenting and reporting a company's financial information accurately and in a timely manner. This includes tasks like budgeting, general accounting and reporting, determining financial focus and more.
These tasks are applicable for the work experience requirement because they must be able to analyse and interpret the information when presenting it because higher-ups rely on this information in order to make important financial decisions in a company.
Accounting Supervisor
Accounting supervisors typically oversee all the functions of an accounting department to ensure everything is efficient and compliant.
Other common duties performed include supervising employees, overseeing and maintaining financial records, assisting with audits and developing budgets.
A supervisor's daily tasks cover many of the experience requirements outlined by the IMA.
GET MY FREE 3-PART CMA EXAM VIDEO COURSE
Accounting Manager
Accounting managers are similar to supervisors. They too oversee daily operations in an accounting department and are required to analyze data and create financial reports based on their findings.
Again, all of which are important duties as outlined by the IMA.
Senior Accountant
Senior accountants are responsible for things like reporting costs, productivity, margins, and expenditures. They use their in-depth knowledge of accounting principles to analyze complex reports and make recommendations based on their analysis.
Senior accountants often mentor Junior accountants and oversee their journal entries to ensure accuracy and assist with financial and tax audits.
Unlike Junior accountants, senior accountants typically do not have to perform the administrative tasks associated with these duties.
Junior Accountant
Junior accountants are entry-level accountants who are still learning how to apply their financial knowledge. With the mentorship of senior accountants, they learn how to analyze and interpret data and create reports that will later be used to create financial forecasts.
The daily tasks performed by junior accountants are still eligible for the work experience requirement because they are contributing to analysis, auditing and forecasting of a company, albeit with guidance.
Staff Accountant
Staff accountants work alongside controllers, directors or CPAs. They are mainly responsible for maintaining financial records and reports, as well as general ledgers.
What makes their duties applicable for the CMA experience requirements is that they also prepare and analyze budgets.
Remember, analysis is a key role in experience eligibility.
Financial Analyst
A financial analyst is someone who uses their knowledge and expertise to assess the financial condition of a business. Based on their analysis and reporting, they will determine whether or not said business or asset is worth investing in.
This career path is applicable for the work experience requirement because they analyze, report and forecast.
Receiving IMA Approval – CMA Experience Requirements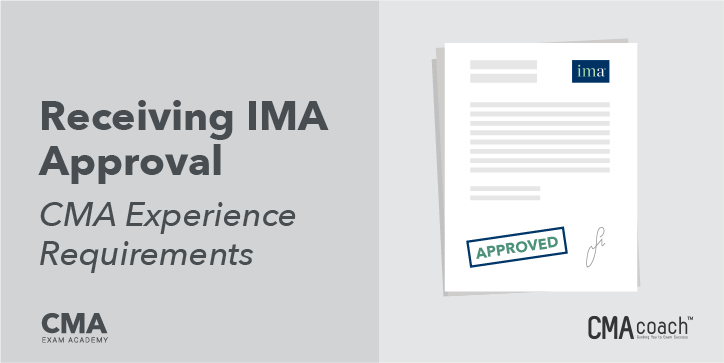 If you are a teacher or entrepreneur and feel your experience is applicable, then you have the opportunity to plead your case to the IMA.
Obviously, the common fear is that you would be denied.
So just how difficult is it to receive IMA approval?
In the case of teachers, as long as 60% of your course load is related to finance or accounting above the principles level you should have no problem in qualifying.
If you happen to be a business owner or entrepreneur, your chances are fairly good as well.
To apply for approval simply create a proposal outlining your work experience and why you believe it is applicable. The IMA is happy to take these kinds of situations into consideration and will assess individuals on a case-by-case basis.
The IMA's definition of relevance is actually pretty broad unlike other professional certifications. This could be in keeping in line with their barrier to entry approach. What I mean is, while you are required to have a Bachelor's degree, the IMA does not stipulate that candidates have to have a Bachelor's degree specifically in finance or accounting. It would seem they may have a more open approach to determining work relevancy as well.
You can find a CMA Experience Requirement Form on the IMA's official website. Complete and submit it to ima[@]imanet.org.
How to Submit Proof of Completed CMA Certification Requirements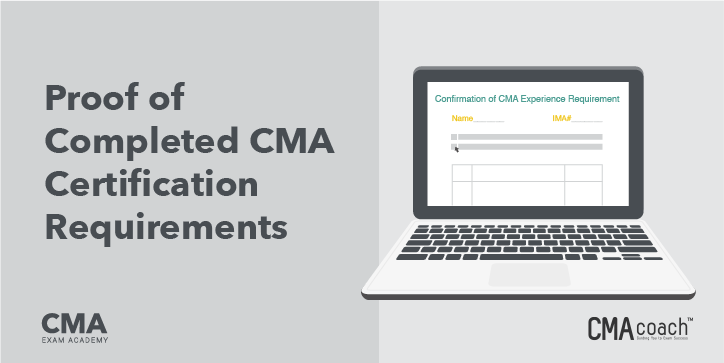 Once you have completed your two years of full-time work experience (or 4 years part-time work), it is time to submit proof and become one step closer to earning your certification.
Submitting CMA experience requirements is easy. To start, you must fill out the work verification form, which you can find on the IMA website here.
Include your member number as a reference when mailing the experience verification.
Once complete, email it back to IMA at ccurtin[@]imanet.org.
If you have any questions while filling out your form you can use that same email address to contact them or call toll free at 1-800-638-4427.
Congratulations, you are one step closer to earning your CMA certification.
If you happened to complete your work experience before taking the exam and are gearing up to study for the CMA exam, I highly recommend checking out CMA Exam Academy.
CMA Exam Academy offers unparalleled support and coaching, along with video-based tutorials to help you pass the CMA exam on your first try.
Have a few more questions regarding the work experience requirement? Pop your question in the comment section below.

More from Nathan
The Ultimate CMA Exam Roadmap
Episode 15 – The Rise of the Certified Management Accountant in the Banking Industry
Certified Management Accountant Certification