CMA scholarships are a great way to save money while achieving your goal of becoming a Certified Management Accountant.
With a scholarship from the Institute of Management Accountants (IMA), you can get access to the CMA program and testing at no cost.
This article will cover all the basics and steps for how to get a scholarship from the IMA.
Want to view this content as a video instead?
Check it out on my YouTube channel.
How to Get a CMA Scholarship from the IMA
As you begin your journey toward becoming a Certified Management Accountant, you'll quickly realize there are costs, both in terms of your time and money.
For most people, the only way to pass the CMA exam is to use a CMA online review course. These are typically authored by CMA exam experts, and come with a host of features, such as videos, CMA textbooks, practice tests or questions and even tutoring or coaching.
They can range in price from a few hundred to a few thousand dollars. Because of the sheer quantity of content on each part of the CMA exam, most people who hope to pass will buy a course.
To offset the cost of studying for the CMA, the IMA offers a CMA scholarship. It's available for people who are in school, either as undergraduates or graduate students.
IMA Scholarship Eligibility
According to the IMA website, more than 1,850 universities and colleges have participated in the CMA scholarship program, and $18 million of scholarships have been provided to help students become CMAs.
The IMA states that the following types of people are eligible for scholarships:
High-performing students, from undergrad through PhD level
People at any accredited university of college anywhere in the world
Two other factors impact eligibility for an IMA scholarship:
Only 10 students from each school can be nominated for an IMA scholarship every academic year
Except for PhD level students, professors must nominate students; no self-nominations are accepted
Nomination Process for CMA Scholarships
There are only two ways to get a CMA scholarship from the IMA: either by having a professor nominate you, or by applying as a PhD student.
Professor-nominated students: To get nominated, ask your professor to fill out this form and submit it to the IMA. The link to grab it is in the video description below.
PhD students: The CMA Doctoral Scholarship program is available to PhD students. Anyone in a globally accredited doctoral accounting program, focused on studying financial management or accounting, can apply here.
What You Get From a CMA Scholarship
CMA scholarship recipients get a comprehensive package that includes
A three year IMA student membership
Entrance fee to the CMA program
An exam support package that has an assessment tool and study materials
Registration fees for both parts of the CMA exam (first attempt only)
Access to an online test bank for two years
The timeline for access starts as soon as a nominee joins the IMA and registers for the CMA program. You get three years to pass both parts of the CMA exam.
IMA Scholarship Options
There are a few types of IMA scholarships, some of which may be helpful toward a CMA certification:
IMA Century Scholarship Award: Provides a CMA scholarship and a monetary award of $7,500
CMA Doctoral Scholarship Program: Requires you to be actively studying in a PhD program
CMA Scholarships: The same program delineated above and requires professor nomination
IMA Doctoral Scholars Program: Provides research dollars up to $10,000 in total, given that you are studying management accounting
For many students, it's immensely helpful to find a little extra financial support or an opportunity to accelerate your path to becoming a CMA.
CMA Scholarship: Last Dates for 2022
The application window for students applying to receive the IMA scholarship open on the 1st of September. Students have until the 30th of June 2023 to submit their application to the board for approval.
While it may seem as though you have plenty of time to wait, I would advise that you apply as soon as possible. If for whatever reason your application is denied, you will need time to budget for the expenses on your own. So, submit your application as soon as possible.
Invest in Yourself: CMA Scholarships, Studies and Success
Becoming a CMA takes time: if you are patient and disciplined, all of the success in the world lies in front of you.
Part of the early days of this journey do require working out how you will pay for the CMA exam, how you will carve out the time to study, and how you will set yourself up for the career you want.
All of these moves should have a strategy behind them.
Want insider tips? Check out The CMA Show: my podcast where I offer free guidance to anyone who wants to become a CMA.
Have more questions about CMA scholarships or other areas of managing this process?
Drop them below and let's talk!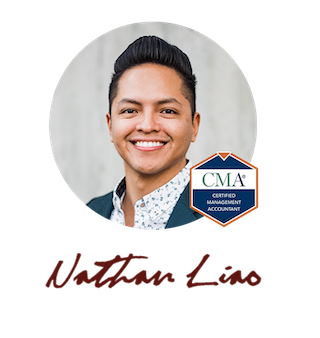 Hi, I'm Nathan Liao (aka the CMA Coach)! For the last 10 years, over 82,000 accounting and finance pros came knocking at my door seeking guidance and help. If you're also aiming to conquer the CMA exam on your very first try—without wasting away time or money—you've found your ultimate guide. Dive in deeper to discover more about me and the dedicated team that powers CMA Exam Academy. Click here and let's embark on this journey together!