Becoming an accounting manager is an essential stepping stone in any ambitious accountant's career journey. The position can help you earn valuable skills that guide you toward a dream job, like CFO, corporate controller, or VP of finance.
But for those at the beginning of their career, landing that first accounting manager role can seem worlds away. I'm here to tell you: it's not as far as you might think.
In my career, I've helped professionals land manager roles at their firms or companies after earning their CMA credentials. There are multiple ways to get there, but some are better than others.
If you want to find the quickest and easiest way to become an accounting manager, you're in the right place. Keep reading, and I'll tell you everything you need to know.
Accounting Manager Requirements
First things first: you'll need to meet some basic requirements if you want to become an accounting manager.
Here they are:
Accounting Manager Education Requirements
Most accounting manager positions require, at minimum, an undergraduate degree in finance, accounting, or a similar field.
Yes, I've met a few accounting managers who substituted an undergraduate education with years of professional experience and credentials such as the CMA, but it's significantly more challenging to choose this route. It also takes much longer, since you'll need significant work experience to compensate.
That said, an undergraduate degree alone isn't enough to help you stand out in a competitive job market.
So, while an undergraduate is considered a minimum requirement, you should also think about additional education like an MBA or a professional certificate like the CMA.
Accounting Manager Experience Requirements
I'd recommend getting at least five years of professional experience before applying for accounting manager positions.
You can earn a lot of this while completing your undergraduate studies – during internships or part-time positions – but at least two of those years should be in a full-time permanent position.
Being a good manager takes more than a comprehensive understanding of accounting and finance. You also need to hone your communication and leadership abilities if you want to impress hiring managers.
Accounting Manager Skills
While you're completing your education and professional experience requirements, you should focus on honing these skills in particular:
Leadership: accounting managers need two primary skill sets. Aside from a broad range of accounting competencies, they need to be good leaders with a demonstrated ability to solve problems, inspire others, and communicate effectively.
Analytical thinking: as a management accountant, you'll be responsible for the work of an entire team of accounting professionals. This means you'll need to be able to analyze data and numbers to understand the implication of figures on a company's ability to achieve its goals.
Attention to detail: managers need to catch errors and notice even the most minor details in the work submitted by their team members.
Planning and forecasting: a key differentiating factor between accounting managers and staff accountants is the manager's ability to analyze information to strategize and plan. Hiring managers will look for professionals with a proven ability to plan and execute strategies that help a company reach its goals.
What Does an Accounting Manager Do?
Accounting managers are the leaders of accounting teams. They manage auditors, staff and junior accountants, interns, and other finance professionals.
Reporting to the CFO or VP of Finance, an accounting manager's ultimate goal is to guide their team toward their company's objectives.
Some of the responsibilities of an accounting manager include:
Developing and collaborating on plans and policies
Projecting and forecasting into a company's future
Creating and analyzing financial reports
Managing a team of professionals
Presenting reports to the C-suite
Working alongside and for the CFO and Controller
I won't sugarcoat it: accounting managers need to possess well-rounded skill sets if they want to impress upper management in their organization. This role can make or break your accounting career, as it's often the first time a professional is allowed to truly demonstrate their leadership and management abilities.
Accounting Manager Salary
The average accounting manager's salary is $79,029, but this is heavily dependent on the skills and experience of the professional, and also industry of choice.
First-time accounting managers can expect a figure closer to $54,000. But, if you work hard and impress your team, you could earn as much as $110,000 when you gain more experience.
One way to improve your chances of earning more as a manager is to pursue a professional certification. Those with a CMA, for example, earn as much as 58% more than non-certified professionals.
Check out my guide to CMA salaries to learn more about your earning potential around the world.
Becoming an Accounting Manager
Here's what you've been waiting for – my step-by-step guide to becoming an accounting manager.
Earn a Bachelor's Degree
If you're at the beginning of your career, start with an undergraduate degree. A bachelor's degree in accounting or finance will only become more necessary as you advance in your career. It's an essential foundation for any driven accounting professional.
If you already have a degree in a subject other than accounting or finance, there is still hope. But more on that at the end of the article.
Get Professional Experience
Next step: find your footing in the workforce.
If you're motivated, you can start this step while completing your undergraduate degree. Get a part-time position at an accounting firm while you complete your studies.
Many options are available for those driven enough to seek them out. I've seen hard-working students land their first management position much earlier than the average, just because they worked hard and impressed their company while they were interns or part-time employees.
Some roles you should consider while you grow your skills:
Junior or staff accountant
Senior Accountant
Financial Analyst
Bookkeeper
Auditor
The wider the variety of your experiences, the better chance you have of impressing a hiring manager, so don't be afraid to try something new.
Pursue Accounting Credentials
Finally, this is the secret ingredient.
So many accounting manager candidates will meet the criteria of a bachelor's degree and five years of work experience. So if you really want to stand out, you need to pursue a professional certification.
Professional certificates like the CPA or CMA are the best way to impress hiring managers and advance your career.
The CMA is my personal favorite option. It's extremely well-regarded all over the world, and when compared to other education options, the ROI is undeniably better. Bonus: your employer might even pay for you to complete it.
Get One Step Closer to Your Dream Career With CMA Exam Academy
Once you check off all these boxes, it's time to apply.
Check out my guide to creating a great resume if you're ready to get started.
If you want to build up your resume, there are many places you can start. My recommendation is the CMA. It's one of the most affordable, respected, and accessible professional certifications out there.
Is the exam process easy? Not at all. But the hard work required to pass is a major reason why the certification is synonymous with excellence.
That said, there are ways to improve your chances of passing the exam on your first try.
Check out my CMA 16-Week Accelerator program. It's designed to save you hours of study time and is guaranteed to help you pass. My students have a pass rate nearly double the global average, so you know you're in good hands.
As always, drop your questions in the comments below or reach out to me for more information. I'd love to help you take the next step toward your dream job.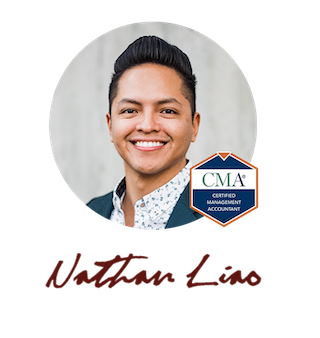 Hi, I'm Nathan Liao (aka the CMA Coach)! For the last 10 years, over 82,000 accounting and finance pros came knocking at my door seeking guidance and help. If you're also aiming to conquer the CMA exam on your very first try—without wasting away time or money—you've found your ultimate guide. Dive in deeper to discover more about me and the dedicated team that powers CMA Exam Academy. Click here and let's embark on this journey together!