In the last episode, I dove into the core differences between the IMA CMA and the Certified Public Accountant certifications because so many people have asked me why I chose one over the other. Have you wondered about the CMA vs MBA?
CMA and MBA are two radically different designations. MBA is a Master's degree, which takes two years of formal schooling to acquire. In contrast, the CMA is a certificate obtained by passing an exam. You can get your CMA in as little as two months if you already meet some of the Certified Management Accountant requirements.
Here I wanted to compare another popular accreditation — the Master of Business Administration, or MBA as it is more commonly referred to.
You may be wondering why I am spending time discussing other career paths, but I believe it's important for every candidate to choose the path that is best suited for them. The only way you can do that is to know your options.
So, ready to find out some differences between the CMA vs MBA? Just click the play button at the top of the page, download this in iTunes or listen on Stitcher.
Like what you hear? Give us a 5-star rating or leave a review!
Here's What You'll Learn in this Week's Episode:
What the MBA is exactly
What is CMA Certification
Your earning potential as a CMA vs MBA
The eligibility requirements that may make you think twice about your choice
Which accreditation will lead you down the career path of your dreams
Resources:
CMACoach.com — The most comprehensive online resource for CMA candidates

The Ultimate Guide to the CMA Exam — Listen in for your

FREE download

discount code

CMAExamAcademy.com — The best online, Instructor-led CMA review course

Payscale.com — Comparing salary earning potential for all career paths
Like what you heard? Be sure to share it with your friends, family or coworkers and join me for brand new episodes every week.
Let's check out other designations: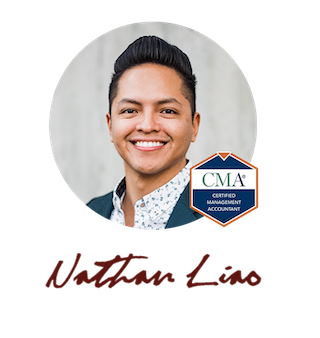 Hi, I'm Nathan Liao (aka the CMA Coach)! In the past 8 years, over 37,000 CMA candidates came knocking at my door seeking guidance. And just like them, I'm here to show you how you can pass the CMA exam on your first attempt without wasting money or time. Click here to learn more about me and the awesome team behind CMA Exam Academy.