As you know, the CMA exam is comprised of two parts. Each part is designed to test your knowledge and understanding of core competencies in management accounting.
And what you also may know is that many people struggle to pass the CMA exam. In fact, candidates have traditionally struggled the most with Part 1, with CMA pass rates averaging as low as 45% over the past few years.
This may be because CMA accounting candidates do not fully understand what is expected of them from each part of the exam.
To help you prepare like a rockstar, I will be breaking down everything you need to know about CMA Exam Part 1. Don't worry; I will be dissecting CMA exam part 2 as well — stay tuned!
Skills Required to Pass CMA Part 1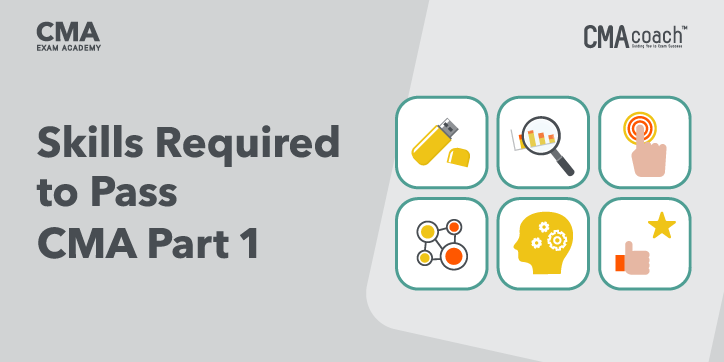 The Institute of Certified Management Accountants prepares Content Specification Outlines (CSOs) that list the topics candidates will be tested on. Each subject is designated a "level"; A, B or C. These levels refer to the degree of coverage expected in each topic.
For example, Level A requires knowledge and comprehension. Level B requires knowledge, comprehension, application, and analysis. Level C requires six outlined skill levels, including knowledge, comprehension, application, analysis, synthesis, and evaluation.
Fun fact: the CMA exam tests you at a skill level C for all areas; meaning you must fully understand all the material.
What exactly do these skills require of you?
Knowledge: Ability to recall material you previously learned
Comprehension: Ability to interpret and explain material
Application: Ability to demonstrate the use of material in a situation
Analysis: Ability to break down material or recognize relationships between components and identify critical elements
Synthesis: Ability to form hypotheses from different parts of material to create new operations
Evaluation: Ability to criticize, justify and come to conclusions on material
CMA Exam Part 1 Syllabus
Part 1 of the CMA certification test covers Financial Planning, Performance, and Analytics.
This 4-hour long exam is comprised of 100 multiple-choice questions and two essay questions. I prefer to call these essay "scenarios," as each question requires you to present written and quantitative responses.
Six topics are covered in CMA Part 1:
External Financial Reporting Decisions 15%
Planning, Budgeting, and Forecasting 20%
Performance Management 20%
Cost Management 15%
Internal Controls 15%
Technology and Analytics 15%
Content Specification Outlines for Part One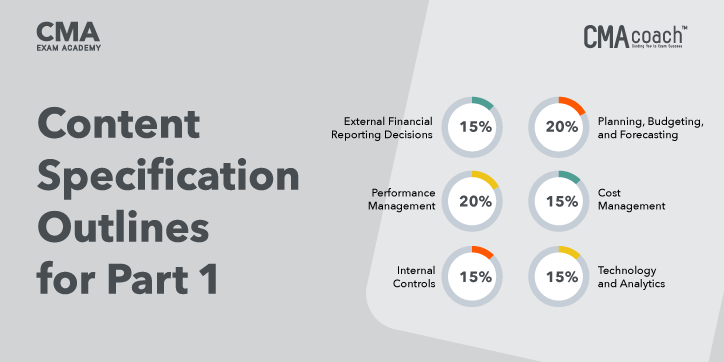 Now that you know what topics are going to be covered, let's talk a little bit more about what precisely you need to know.
External Financial Reporting Decisions
Making up 15% of the exam material, you will be tested on Financial Statements, and Recognition, Measurement, Valuation, and Disclosure.
In terms of Financial Statements, you should be comfortable with:
Balance Sheets
Income Statements
Statement of Changes in Equity
Statement of Cash Flows
Integrated Reporting
For Recognition, Measurement, Valuation, and Disclosure, you need to understand:
Asset Valuation
Valuation of Liabilities
Equity Transactions
Revenue Recognition
Income Measurement
Significant differences between U.S. GAAP and IFRS.
Please note that you will be required to understand how Financial Statements and Recognition, Measurement, Valuation, and Disclosure relate to one another. This should be reasonably straightforward, especially if you have any accounting experience.
Planning, Budgeting, and Forecasting
This section makes up 20% of CMA Part 1 and covers six areas of competency.
1. Strategic planning
In this section, you will need to understand everything that goes into strategic planning, such as :
Analysis of internal and external factors affecting strategy
Long-term mission and goals
Alignment of tactics with long-term strategic goals
Analytical techniques and Strategic planning models
Characteristics of successful strategic planning process
2. Budgeting Concepts
Not to be confused with budgeting methodologies, budgeting concepts includes:
Operations and performance goals
Characteristics of a successful budget process
Resource allocation
Other budgeting concepts
3. Forecasting techniques
Make sure you brush up on the following to tackle this section:
Regression analysis
Learning Curve analysis
Expected value
4. Budgeting methodologies
There are many different ways to budget. Make sure you understand the difference between:
Annual business plans (master budgets)
Project budgeting
Activity-based budgeting
Zero-based budgeting
Continuous (rolling) budgets
Flexible budgeting
5. Annual profit plan and supporting schedules
Planning is essential, and this concept covers the following types of budgets:
Operational
Financial
Capital
6. Top-level planning and analysis
This section will dive into topics like:
Pro forma income
Financial statement projects
Cash flow projections
Performance Management
Making up 20% of your Part 1 exam, this section covers three main areas:
Cost and Variance Measures
Comparison of actual to planned results
Use of flexible budgets to analyze performance
Management by exception
Use of standard cost systems
Analysis of variation from standard cost expectations
Responsibility Centers and Reporting Segments
Types of responsibility centers
Transfer pricing
Reporting of organizational segments
Performance Measures
Product profitability analysis
Business unit profitability analysis
Customer profitability analysis
Return on investment
Residual income
Investment base issues
Key performance indicators (KPIs)
Balanced scorecard
To nail this part you should understand the ins and outs of actual vs. planned results, how to use flexible budgets to analyze performance, and be able to analyze cost expectations
Additionally, you will need to know the different types of responsibility centers and how to analyze profitability and return on investment using key performance indicators.
Cost Management
For 15% of the mark, you must be able to complete calculations related to various costing methodologies.
The core concepts covered are:
Measurement concepts
Cost behavior and cost objects
Actual and normal costs
Standard costs
Absorption (full) costing
Variable (direct) costing
Joint and by-product costing
Costing Systems
Job order
Process
Activity-based
Life-cycle
Overhead costs
Fixed and variable overhead expenses
Plant-wide vs. departmental overhead
Determination of allocation base
Allocation of service department costs
Supply Chain Management
Lean resource management techniques
ERP – Enterprise Resource Planning
Theory of constraints
Capacity management and analysis
Business Process Improvement
Value chain analysis
Value-added concepts
Process analysis, redesign, and standardization
Activity-based management
Continuous improvement concepts
Best practice analysis
Cost of quality analysis
Efficient accounting processes
Internal Controls
This section can be tricky because the concepts covered are mostly conceptual. Candidates may struggle to find the right answer when there are several that seem correct. Worth 15% of the exam, make sure you pay attention to the below topics when studying to make sure you understand them.
Governance, Risk, and Compliance
This topic covers risk control and policies for safeguarding assurances internally, as well as external audit requirements and corporate governance. Specifically:
Internal control structure and management philosophy
Internal control policies for safeguarding and assurance
Internal control risk
Corporate governance
External audit requirements
Systems Controls and Security Measures
This section covers all sorts of controls from network to backup controls, as well as business continuity planning. Here's the full list:
General accounting system controls
Application and transaction controls
Network controls
Backup controls
Business continuity planning
Technology and Analytics
The final 15% of CMA Part 1 covers information systems, data governance, technology-enabled finance transformation, and data analytics.
Obviously, the focus is on analytics and how accounting technology plays a part in it, so be sure to understand accounting information systems, data policies and procedures, process automation and applications, and business intelligence. Here's the full breakdown:
Information Systems
Accounting information systems
Enterprise resource planning systems
Enterprise performance management systems
Data Governance
Data policies and procedures
Life cycle of data
Controls against security breaches
Technology-Enabled Finance Transformation
System Development Life Cycle
Process automation
Innovative applications
Data Analytics
Business intelligence
Data mining
Analytic tools
Data visualization
How to Pass CMA Part 1 Multiple-Choice Questions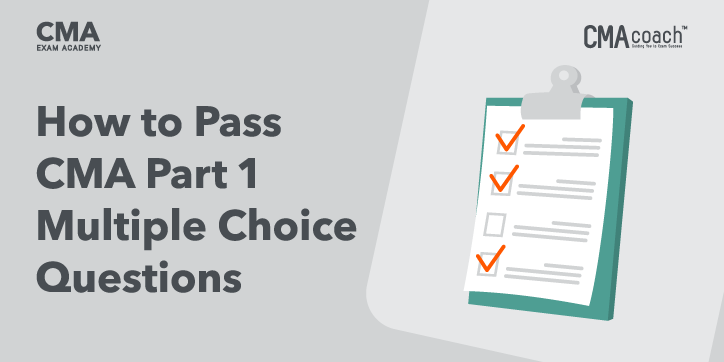 It has been my experience that some people love the CMA exam multiple-choice questions (MCQ), while others get flustered and make silly mistakes.
If you are the latter, then you may want to follow these quick tips for crushing the MCQ section, and it all starts with understanding the structure.
MCQs are often devised of 3 parts; the question stem, the correct answer, and of course, distractor answers.
The question stem refers to the necessary details being asked of you to answer the question. This stem is often surrounded by irrelevant information, so make sure to identify the stem before considering your options.
Make sure to identify any negative statements, such as "except" or "false," that may confuse you while answering
It goes without saying that the correct answer choice is the right choice, but sometimes it may not be so clear when your distractor questions may seem to be good choices also.
You will likely come across questions that propose a combination of correct answers, for example, "all of the above" or even something like "Answers 1, 3 and 4 is all correct." In these scenarios go back to your stem question and underline and qualifiers that may help lead you to the right answer.
Please note that you must get at least 50% of the multiple-choice questions correct in order to move on to the essay section, so take your time and be thorough.
Understanding the Essay Section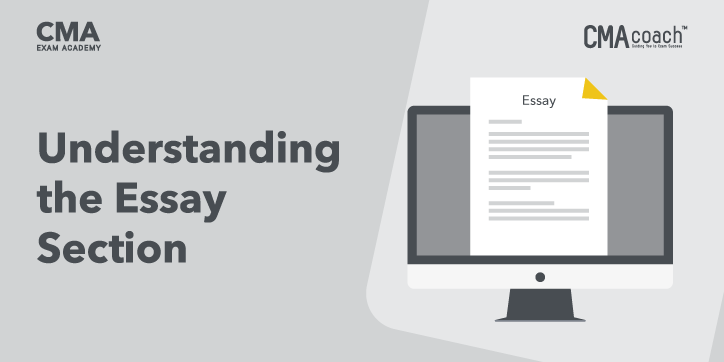 As I mentioned earlier, the essay section is made up of two questions or scenarios. You will be expected to answer multiple questions that comprise this scenario, and you will likely have to perform calculations in addition to writing paragraphs.
The essay section is graded by experts and not done by computers, so it is best to write as much as you can on a topic to maximize your points.
The same goes when writing out calculations. You can receive partial points for a calculation even if you make a mathematical error, simply by showing your work. A few points are better than none.
Passing the CMA Exam Part 1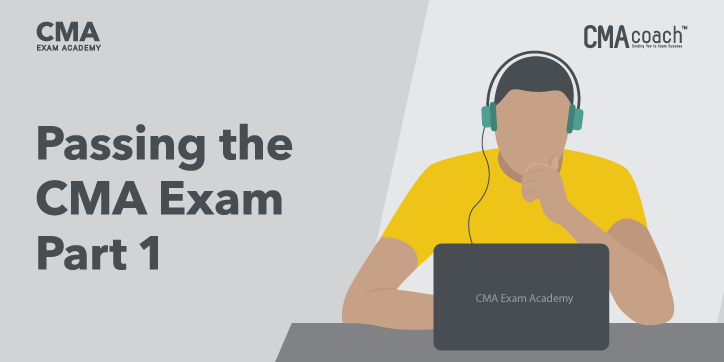 I know I've given you a lot to digest, but don't feel overwhelmed. Part 1 of the CMA exam requires you to have a clear understanding of core concepts and be able to identify the subtle differences between them.
One of the best ways to gain confidence before taking the exam is to follow a study plan and take advantage of practice exams.
High-quality CMA review courses like CMA Exam Academy give candidates the framework for studying for success.
By investing a reasonable amount of time in your studies and taking several practice exams to identify your strengths and weaknesses, you will be well on your way to passing CMA Part 1.
If you aren't sure where to begin, hit me up in the comment section below. I am here to help you crush the exam on your very first try!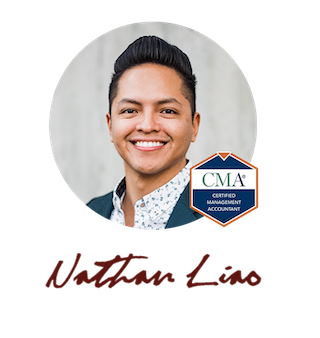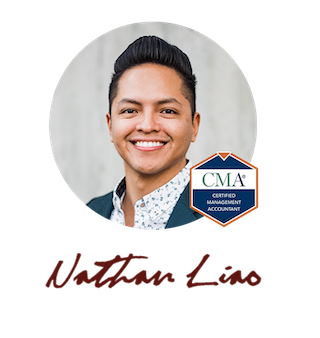 Hi, I'm Nathan Liao (aka the CMA Coach)! In the past 8 years, over 37,000 CMA candidates came knocking at my door seeking guidance. And just like them, I'm here to show you how you can pass the CMA exam on your first attempt without wasting money or time. Click here to learn more about me and the awesome team behind CMA Exam Academy.