Becoming a Certified Management Accountant (CMA) means you have to pass the CMA exam. This is a two-part test that covers 12 areas of knowledge. It can take four hours to complete the exam. The Institute of Management Accountants recommends studying for 150-170 hours per part.
That's the hard news. The good news is that the IMA also reports that CMAs will earn back approximately $1,700 for every hour they spend studying. What does all of this mean? It means that, when you're ready to take the plunge and commit to this process, you're starting a journey that will have long-term benefits. It also means that you need to commit in a big way.
How to Pass the CMA Exam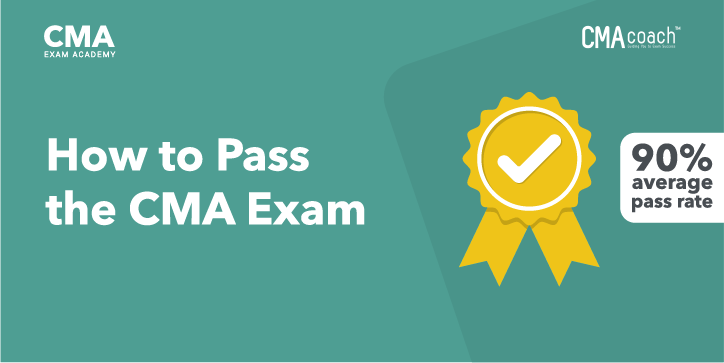 Because studying for the CMA is a challenging process, you need to know all of the ins and outs before you begin. It's vital that you have a roadmap to help you study (tap here to get one).
What you really want to know is: what is the key to passing the CMA exam? Read on to learn all of the basics and strategies you'll want to leverage to pass the CMA exam on the first try.
At CMA Exam Academy, our average pass rate is above 90%, compared to the global average CMA pass rate of 45% (45% for Part 1 and also 45% for Part 2). Our students frequently pass the CMA exam on their first try because they use these expert tips:
It's not about how many hours you study. Some people make the mistake of studying for five or more months. This translates into retention issues. There's only so much information you can remember. You should limit your length of study to about four months for each part of the CMA exam.
If you are self-studying, you should study for 25 hours a week. If you are taking an instructor-led course, you can slash your study time to only 15 hours a week.
Use a test bank during the entire course of your study, rather than waiting until the end. Practice exams aren't just about test readiness. They increase your speed and accuracy. On average, you have 1.8 minutes to answer a question. This means that how quickly and correctly you can answer each question could be the key to your success.
Accountability is key. It's human nature to procrastinate, especially if the material is difficult to understand. Having built-in accountability is essential to your success. This support system is one of the primary benefits of taking an instructor-led course like ours at CMA Exam Academy.
How to Score the Most Points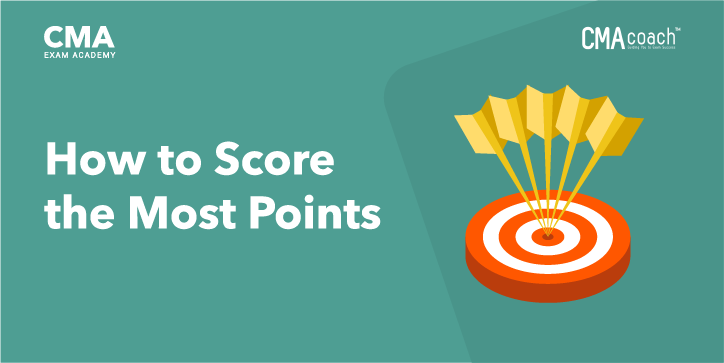 Do you want to know how to score points on the CMA exam, even with incorrect answers? Here are the best strategies and tips to achieve that outcome.
First, remember that the CMA Exam is made up of two sections.
Section 1: 100 multiple-choice questions
Section 2: two CMA essay scenarios
Let's look at each of these sections and what you need to perform well.
Multiple Choice Questions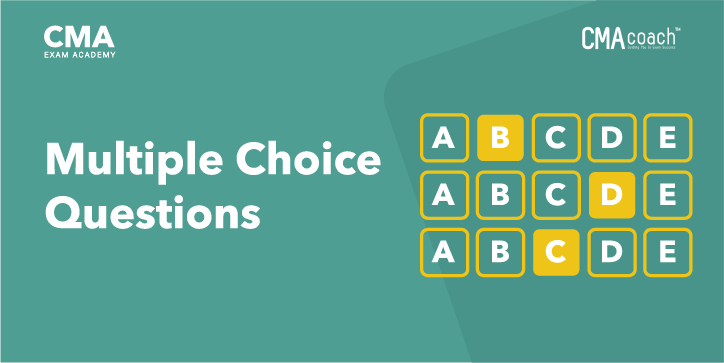 Confidence is key. No matter how much you've practiced, you will not know what to expect for all of the multiple-choice questions. But, if you've practiced correctly, the core knowledge will be there. Don't stress.
Prioritize answering questions. Answer easy questions first and return to difficult ones. This will give you time to think. Warning: don't jump to the essay section until you actually have answered all of the multiple-choice questions.
Stay organized. As you prioritize questions, you will be answering them out of order. Keep careful track of which questions you are returning to.
Answer every question. As time runs out, don't linger on a single question or skip questions. Answer them all, using your best guess if necessary, as a last resort.
Use all of the time. If you finish early, review your answers or move on to the essay section. Don't wait around.
Practicing multiple-choice questions is a vital part of CMA test preparation. You may use test banks that you purchase or find online to practice answering questions that are similar in style and substance to the actual exam. This will help you establish a process. Practice tests will help you establish the right pacing so that you easily work through the multiple-choice questions on exam day.
Essay Questions and Scenarios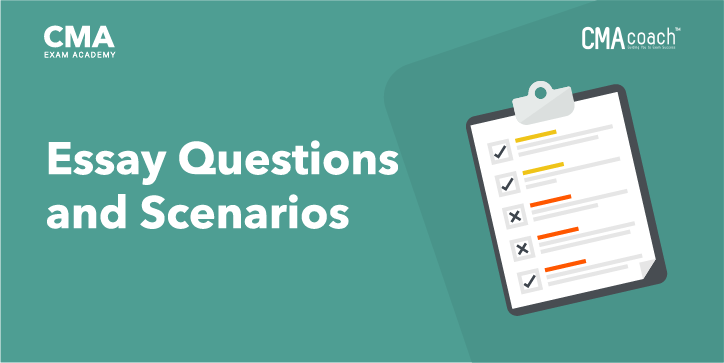 Show your work. You can earn partial credits for recorded notes that include your work and assumptions. Keep in mind that even if your final answer is incorrect, you can still earn partial credit with this displayed work, which will demonstrate that you do in fact understand the subject matter.
Plan well. There will be three to six questions for each essay scenario. You can scroll between questions and scenarios within this section. This means that you can preview all of the material and plan your time accordingly.
Pay attention to directions. The verbs included in the instructions will clue you in to the outcome goal. This means that if an essay says to "compare or contrast," you shouldn't spend time on definitions. Limit your answers to what the question specifically asks for.
Read it all. Don't skim over the question. Read it and re-read it if necessary so that you fully understand what they're asking for and what's required in your answer.
Use standard English. This is important for organizing your content in a clear way. Graders will pay attention to your writing skills.
Don't ramble on. Be brief and concise. Get right to the point. You can use bullet points.
Don't skip a question. Never leave something blank. If you don't have enough time, at the very least include an outline of your intended response.
Use all of the time. Just like with the multiple-choice question section, use every minute of the allotted time. Have extra time? First, review your answers. Then, your extra time should be used to refine grammar and punctuation and make any corrections.
CMA Exam Academy
When you're ready to prep for the CMA, the CMA Exam Academy is here to provide expert coaching, instruction and dramatically reduce your study time. Go here to check out more info on what we can offer.
Need more specific answers?
Click here to read about how to prepare for the CMA Exam as a busy parent.
Click here to read about how to prepare for the CMA Exam while working full time.