The Best CMA Study Materials – Study Strategies and Exam Hacks
Preparing for the Certified Management Accountant (CMA) exam is no joke. It takes time, planning and a lot of self-motivation if you plan on succeeding.
Luckily for you I have plenty of experience when it comes to CMA exam prep and know exactly what the ICMA is looking for.
Below I am breaking down everything you need to know when it comes to CMA exam review. I'll be touching on everything from the best CMA review courses to study strategies and exam hacks so you can be prepared on the big day.
Choosing the Best CMA Prep Course
When it comes to choosing the right review course, there are certain study features you should not compromise on.
Here are a few essential study materials you should expect from the CMA courses of your choice.
One-on-One Coaching Support and Accountability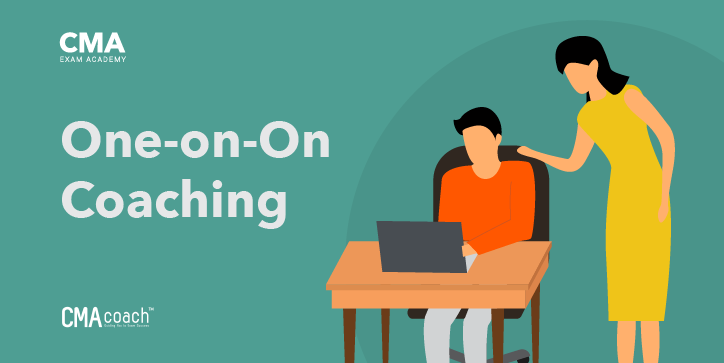 I can't stress enough how important one-on-one coaching is if you want to pass the exams. A dedicated coach offers not only years of coaching experience, but insider insights and a level of accountability that self study online cma classes do not offer.
By far the best aspect of one-on-one coaching is how it can help you streamline your study efforts. A coach will identify your strengths and weaknesses so you can focus your efforts so you don't waste precious study time on material you are already proficient in.
Video Based Training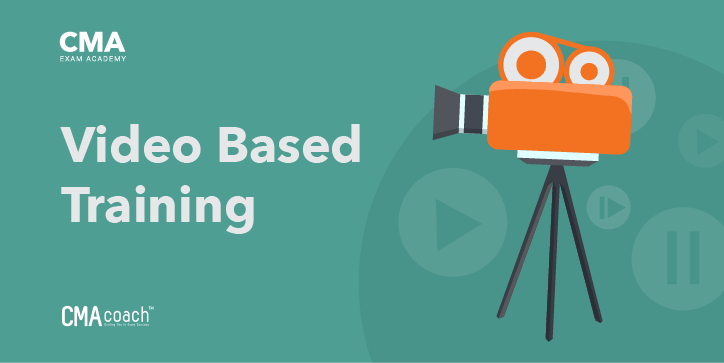 Everyone's learning style is a little bit different, but I have found that video based training is a great addition to every candidates test preparation.
Unlike CMA online courses that only offer textbooks as a study aid, video coaching can help drive home certain concepts.
In my experience, people who do not retain information from reading/writing benefit greatly from this audio/visual learning technique, especially when videos are bite-sized and easy to digest.
CMA Study Plan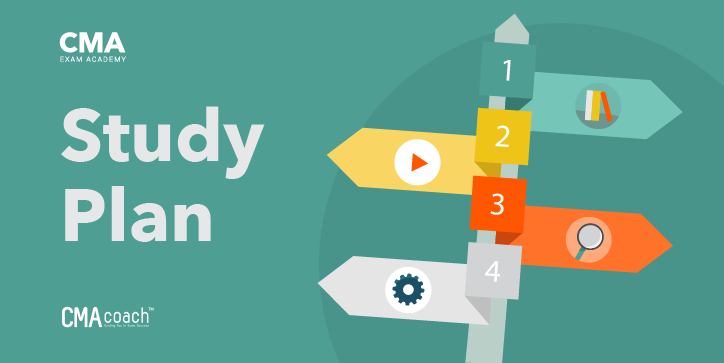 Most candidates require a certain level of guidance and structure when it comes to their prep. If that sounds like you then you should look for a review course that offers a CMA study guide, or a weekly plan like my CMA Exam Academy review course.
Study plans break up the material in smaller portions so you know exactly what to focus on each week. If you stick to these plans you will be more than prepared when exam day rolls around.
Supplemental Resources
In order to earn this professional certification, candidates are required to have a bachelor's degree. Unlike other accounting-based certifications like the CPA, the CMA exam does not require you to have a degree in accounting or finance which means many candidates have limited background experience in this niche.
If this is the case for you, then choosing a review course with supplemental resources can help give you a wider understanding of this field.
Formula guides and audio reviews for the on the go studying are key. Flashcards can also be a great addition to your study essentials.
Exam Pass Guarantee or Your Money Back
Let's be honest, investing in a CMA review course is just that — an investment. Choosing a course with an exam pass guarantee can give you peace of mind.
GET MY FREE 3-PART CMA EXAM VIDEO COURSE

CMA Exam Hacks
When it comes to actually taking the CMA exam, you will be required to take and pass both Part One and Two. Each part of the exam is comprised of a multiple choice question (MCQ) and an essay section. In order to move onto the essay portion of the exam, you must get at least 50% of the MCQs correct.
By familiarizing yourself with the exam format and understanding how each section of it is graded can greatly improve your odds of passing.
Below I'm dissecting the MCQ and essay sections to help you gain a better understanding of what's to come.
CMA Exam Multiple Choice Questions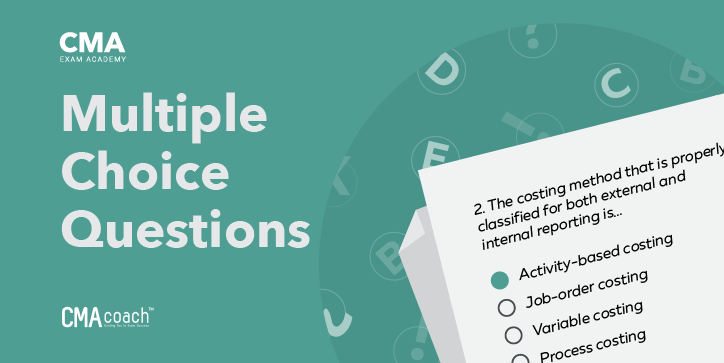 The MCQ portion of the exam contains 100 questions and makes up 75% of your total grade.
Questions are computer-based and you have three hours to complete it. Any time you have remaining can be carried over to the essay portion of the exam. Unlike other types of exams, each answer is graded equally so it is better to answer all questions even if you don't know the answer.
Analyze Each Question
Every MCQ contains a 'stem'. The stem includes the actual question and the details you will need to answer it. When reading each question be sure to identify this stem so you know which information is important.
From there, think of the answer before even reading the 4 answer options. This will help minimize the "background noise" and allow you to eliminate answers you know are completely wrong.
There will always be only ONE correct answer. The remaining three are considered distractors. Each one may seem plausible, so beware of this.
Be Careful of Negatives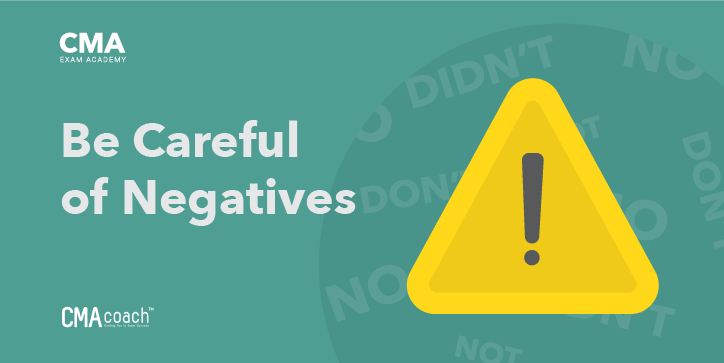 Many stem questions will contain a negative to throw you off and make you second guess yourself. You will also come across several answers with negative words and this will make them stand out more to you.
Don't be fooled by this. Instead, take your time to analyze the actual question like I described above and work from there.
Time Yourself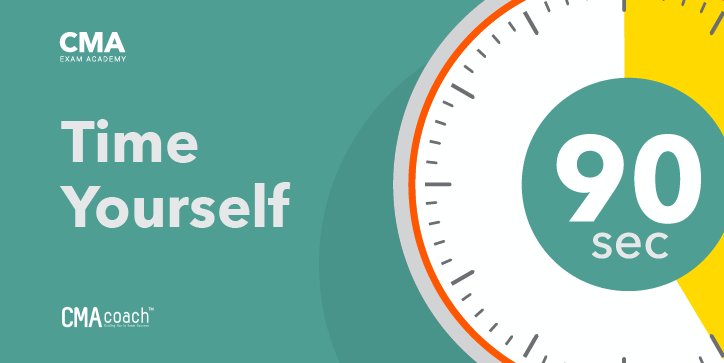 You only have 3 hours to complete all answers, which means you have approximately 90 seconds per question.
If you find yourself struggling with a question, move on and come back to it at the end. You don't want to waste minutes upon minutes on just one question. As I said above, each question is graded equally so spend your time answering questions you feel confident in and then come back and make an educated guess on those you aren't sure about.
It's better to tackle material you know first and then work from there.
CMA Exam Essay Questions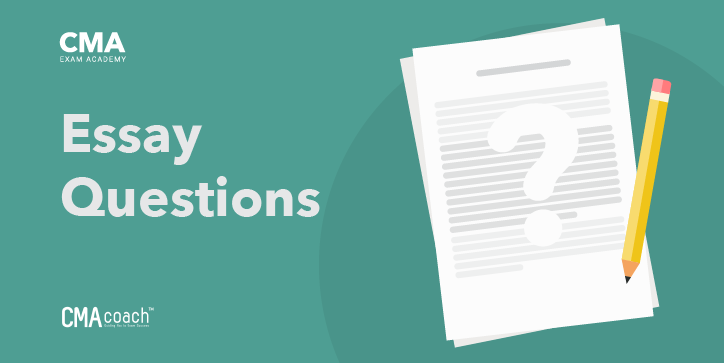 The essay portion of the CMA exam is comprised of two essay scenarios. Within each scenario, you will be required to answer 4-6 questions. Unlike the MCQ section, the essay portion of the exam is graded by experts rather than a computer algorithm. You will be tested on your knowledge of the content and your ability to apply it clearly in a business setting.
Here are a few strategies to keep in the back of your mind during the exam section.
Express Knowledge and Apply Concepts Coherently
Like I said above, you must be able to prove your understanding of the material, which means you have to do more than regurgitating memorized information. This means you will have to explain and apply core concepts.
There is a helpful trick for making sure you answer each essay correctly and it starts by reading the question word for word. Before you even begin writing your answer, make sure you take the time to understand what is being asked of you.
Once you understand the question, identify core concepts. This is where mapping out your answer comes in handy. You want to make sure you elaborate on each concept and explain key terms. This doesn't mean you have to write complicated answers. In fact, just the opposite.
Clear, concise answers are always best. And be sure to use proper English!
Using a Formal Essay Structure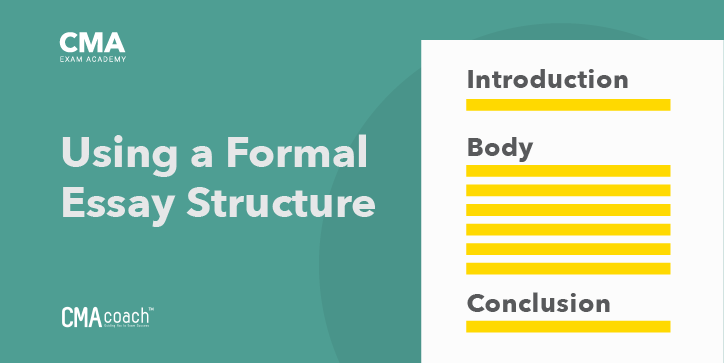 It is just as important to use correct grammar and spelling as it is to structure your essay properly. This means writing it out with a clear beginning, middle, and conclusion.
Your introductory paragraph should identify what the question is and explaining how you will answer it; ie. identifying the concepts you will be breaking down in your middle paragraphs.
Expand on your key points throughout the middle paragraphs and then tie everything together in your conclusion.
Study Strategies and Motivational Tools
The reality is, most candidates spend months studying for the CMA exam. With so much material to cover, it takes time, organization, and dedication to cover it all.
Unfortunately, this is what most candidates struggle with the most.
To maximize your study efforts, here are a few strategies I've found helpful over the years.
Create a Study Plan
If you aren't following a study plan already then now's the time to pull out your day planner and create one.
The CMA Exam Academy provides candidates with a 16-week study plan that breaks down topics and concepts weekly. This works twofold. Not only does it keep your study efforts organized, but it can reduce the overwhelm you may feel regarding how much material you need to cover.
By breaking down your studying to bite-sized sessions, you can consume information easier and are more likely to retain it. Overloading your brain with material can sometimes be detrimental to your study efforts.
Use the SQ3R Technique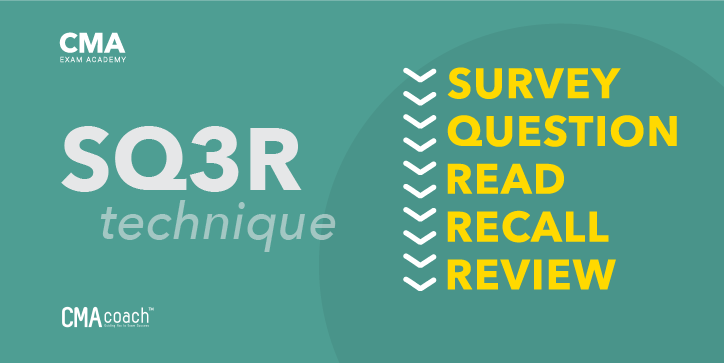 If it's been a while since you last had to prepare for a major exam then you may be out of practice when it comes to studying. If this is the case then I highly recommend using the SQ3R study technique.
SQ3R stands for Survey, Question, Read, Recite, Review. Here's how it works:
Survey – Skim through the material by reading the introduction, chapter summary, and any headings and subheadings. This shows you how the material will be structure so you can anticipate what the content is all about.
Question – Ask questions like "What are the core concepts of this chapter?" or "Which formulas are required for this section?" By asking yourself questions you will be engaging with the material and making things a little more interesting.
Read – It seems obvious that you would have to actually read the material, but being an active reader is different than being a passive reader. Active reading involves highlighting or underline key concepts and phrases. Use a notebook to summarize concepts in your own words, committing them to memory in a way you know you understand.
Recite – Read a few pages and then take a minute to go back to the questions in step 2 and see if you can answer them. If you can't, go back over the reading material until you can.
This is quite possibly the most frustrating step, but it also happens to be the step that challenges you to commit the material to memory the best.
Review – Once you have completed your chapter go back through and review all the notes and text you highlighted. This step helps you solidify the material to your memory.
Don't get me wrong, this process may seem long, but I assure you it works. In fact, studies have proven that this technique helps people retain 70-80% of what they study.
Practice Exams
Hands down the number one study strategy I suggest is taking practice exams over and over again. Practice exams are designed just like the actual exam that you will take at a Prometric Centre.
Mock exams give you the opportunity to get familiar with the exam structure and how to deal with the stress of having a time constraint.
The more practice exams you take, the more likely you are to feel comfortable on the day of the exam.
Motivation Strategies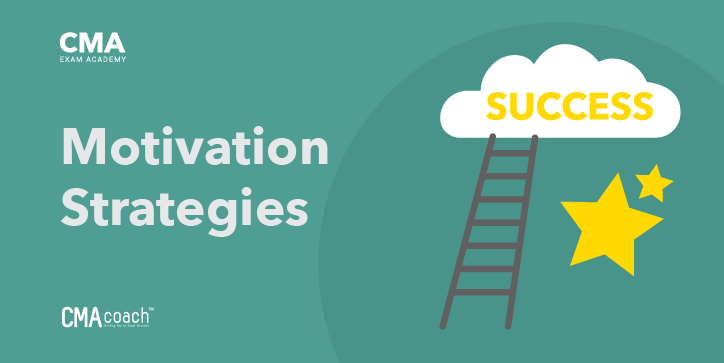 A large part of preparing for the CMA exam is keeping yourself accountable and avoiding falling into a rut of procrastination. Easier said than done, I know!
There are several ways you can de-clutter your life and make room for the CMA exam prep. Here are a few of my go-to's:
Ask yourself how important this exam is for you. A little introspection can go a long way in keeping you on track.
Get rid of your Plan B. Having a "plan B" or contingency plan can reduce your odds of following through on things. There's nothing better than having no fall back plan to light a fire under your butt.
Create deadlines or milestones. Celebrating small successes like completing X number of chapters by a certain date gives you something to work towards and can be motivating.
Surround yourself with supportive friends and family. Trust me, you will need it and it can make a world of difference when you're starting to feel overwhelmed.
Don't forget to schedule downtime for yourself. All that studying can fry your brain so be sure to set aside some time to relax and recharge so you can come back at it even stronger.
For even more motivation techniques, click here.
I have all the faith in the world that you can succeed and earn your CMA certification. All it takes is the right tools and a plan that you are willing to stick to.
If you have any more questions regarding your CMA review or how you can improve your odds at passing on the first try don't be afraid to drop them in the comment section below.
All the best,

More from Nathan
CMA Exam Multiple Choice Questions Demystified
CMA Review Course – My Study Secrets
How Hard is the CMA Exam? Understand CMA Exam Difficulty