Preparing for the Certified Management Accountant (CMA) exam is no joke. It takes time, planning, and a lot of self-motivation. Starting out with the best CMA study materials will boost your chances of passing the CMA exam on your first try.
It makes sense that the test is tough because the CMA accounting certification is a distinction that sets you apart. As a certified management accountant, you can become the CFO of a company or work in business accounting. How you study for the CMA exam is the beginning of all these possibilities. And it will take some work.
That's why I have put together this resource for you. I have plenty of experience when it comes to CMA exam prep, having passed the exam and coached many others. I know exactly what the IMA is looking for.
This article breaks down everything you need to know when it comes to materials for your CMA exam prep. I'll be touching on everything from the best CMA review courses to study strategies and exam hacks so you can be prepared on the big day.
Originally published in 2017, this article was updated and republished on Nov. 17, 2020.
CMA Study Materials
For most people, CMA study is going to require a solid set of materials in the form of a CMA course. This is the best way to ensure that you are covering all of the subject matter and have a reliable strategy for test day.
CMA study materials may include video lessons, textbooks, practice tests, and exam question banks. All of these will add up to a rigorous and thorough exposure to the right knowledge, so you can get the right score.
Read on to learn more about the different kinds of CMA study materials and which ones you might find essential for your exam prep.
CMA Textbooks
One vital study resource for CMA exam prep is textbooks. As far as CMA study materials go, written material is the best way to get all of the subjects laid out in black and white.
Even if you aren't primarily a text-based learner, textbooks provide an accessible source of information that you can go back to time and again, as well as a place to look up specific answers to your questions.
There are a lot of great CMA textbooks, usually sold as an accompaniment to a complete study program. Often, CMA books will come in separate parts, one for Part 1 of the CMA exam and a second for Part 2 of the CMA exam. These are usually hefty books, with several hundred pages of content, and most students think they're worth the investment.
If you are self-studying for the CMA exam, a textbook becomes even more essential. With a great book, you'll avoid the error of omitting subjects you may not realize are highly important to passing the CMA exam.
Any way you study, a CMA textbook is pretty much a must-have.
Check out the CMA review books published by CMA Exam Academy for in-depth coverage of everything on the exam, in an easy to understand format.
CMA Test Banks
Practice tests are an essential addition to your CMA study materials. Taking a full Certified Management Accountant practice test as an early diagnostic is a pretty standard way to start your studies. This gives you a baseline understanding of the areas you're most likely to pass easily or most need to work on.
As you continue to study for the CMA, test banks will provide you with real CMA exam questions from previous years. These retired questions will mimic the style and substance of the actual test questions.
It's probably obvious, but the bigger the test bank, the better. Large CMA test banks give you exposure to the largest variety of question types, so you can practice harder and know more.
You may get a test bank as part of a course you buy, or you may be able to buy a test bank separately. Either way, it's an important part of preparing for the exam and your CMA study materials must include a high number of practice questions.
That's why our CMA Test Bank includes thousands of practice questions and essay scenarios for both parts of the exam.
CMA Audio Lectures
Almost all CMA courses now come with audio and video content. You may be able to buy a course that has live-streamed content or downloadable content.
Whichever format you prefer, and whatever your learning style, getting exposed to the same information a few different ways is always valuable. This means that, in addition to reading your CMA textbook, you should listen to audio lectures and watch CMA video lectures. Many people find that this repetition in various formats will enhance your understanding and ensure retention.
Note: If you're buying a CMA course online, it may be helpful to preview the audio or video offered by a test prep provider. Not all audio and video course content is created equal. You would hate to make a sizable investment in a course, only to find that you dislike the presenter or instructor's style of teaching.
See if they have a CMA YouTube channel or a free preview period before you actually buy the program.Or take up their free trial first.
CMA Exam Formula Guides
On the CMA exam, formulas are the key to performing calculations. You will need to memorize a sizable number of formulas with complete accuracy and recall.
On test day, the last thing you want is to be grappling with a faded memory of how to actually complete an equation or solve a problem.
Formula guides are a small, add-on supplement that can cover all of the important formulas you'll need for test day. Adding this kind of resource to your study materials can go a long way toward helping you pass the CMA exam.
A CMA Exam Formula Guide is included with our CMA courses, but you can also buy it separately to supplement your studies.

CMA Study Guide
The reality is, most candidates spend months studying for the CMA exam. With so much material to cover, it takes time, organization, and dedication to cover it all.
Unfortunately, this is what most candidates struggle with the most.
To maximize your study efforts, here are a few strategies I've found helpful over the years.
Don't forget to download your free CMA study guide for the full step-by-step process.
Create a Study Plan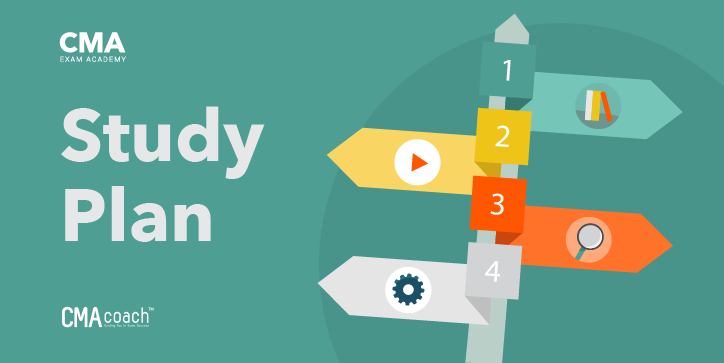 If you aren't following a study plan already, then now's the time to pull out your day planner and create one.
The CMA Exam Academy course provides candidates with a 16-week study plan that breaks down topics and concepts weekly. This works twofold. Not only does it keep your study efforts organized, but it can reduce the overwhelm you may feel regarding how much material you need to cover.
By breaking down your studying into bite-sized sessions, you can consume information easier and are more likely to retain it. Overloading your brain with material can sometimes be detrimental to your study efforts.
Use the SQ3R Technique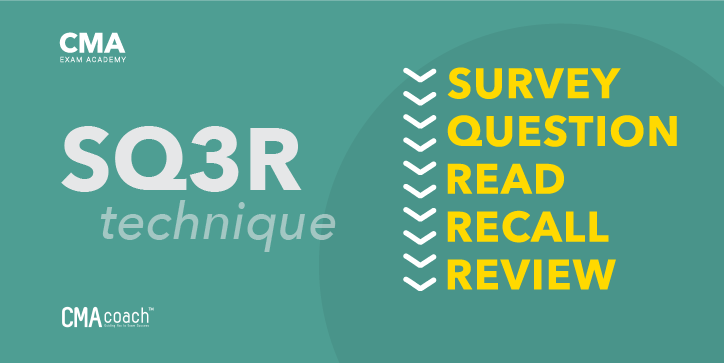 If it's been a while since you last had to prepare for a major exam, you may be out of practice when it comes to studying. If this is the case then I highly recommend using the SQ3R study technique.
SQ3R stands for Survey, Question, Read, Recite, Review. Here's how it works.
Survey: Skim through the material by reading the introduction, chapter summary, and any headings and subheadings. This shows you how the material is structured, so you can anticipate what the content is all about.
Question: Ask questions like, "What are the core concepts of this chapter?" or, "Which formulas are required for this section?" By asking yourself questions, you will be engaging with the material and making things a little more interesting.
Read: It seems obvious that you would have to actually read the material, but being an active reader is different than being a passive reader. Active reading involves highlighting or underlining key concepts and phrases. Use a notebook to summarize concepts in your own words, committing them to memory in a way you know you understand. See my speed reading tips to enhance your reading rate, comprehension, and memory retention.
Recite: Read a few pages and then take a minute to go back to the questions in step 2 and see if you can answer them. If you can't, go back over the reading material until you can.
This is quite possibly the most frustrating step, but it also happens to be the step that challenges you to commit the material to memory the best.
Review: Once you have completed a chapter, go back through and review all the notes and text you highlighted. This step helps you solidify the material to your memory.
This process may seem time-consuming, but I assure you, it works. In fact, studies have proven that this technique helps people retain 70-80% of what they study.
Stay Motivated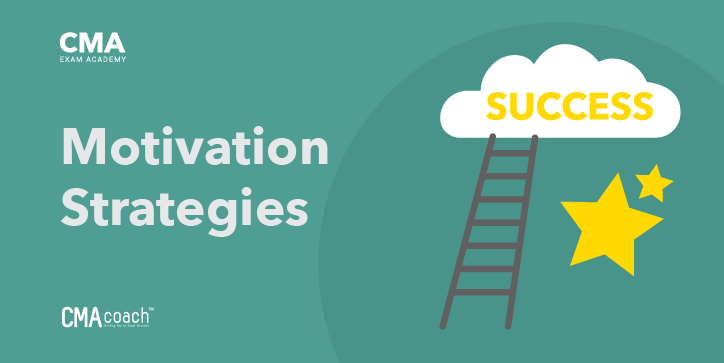 A large part of preparing for the CMA exam is keeping yourself accountable and avoiding falling into a rut of procrastination. Easier said than done, I know!
There are several ways you can declutter your life, make room for the CMA exam prep, and keep your motivation high throughout the process.
Here are a few of my go-to's:
Ask yourself how important this exam is for you. A little introspection can go a long way in keeping you on track.
Get rid of your Plan B. Having a "plan B" or contingency plan. This can reduce your odds of following through on things. There's nothing better than having no fallback plan to light a fire under your butt.
Create deadlines or milestones. Celebrating small successes like completing X number of chapters by a certain date gives you something to work towards and can be motivating.
Surround yourself with supportive friends and family. Trust me, you will need it and it can make a world of difference when you're starting to feel overwhelmed.
Don't forget to schedule downtime for yourself. All that studying can fry your brain, so be sure to set aside some time to relax and recharge so you can come back at it even stronger.
CMA Exam Hacks
When it comes to actually taking the CMA exam, you will be required to take and pass both Part One and Part Two. Each part of the exam consists of a multiple-choice question (MCQ) and an essay section. In order to move onto the essay portion of the exam, you must get at least 50% of the MCQs correct.
By familiarizing yourself with the exam format and understanding how each section of it is graded, you can greatly improve your odds of passing.
Below I'm dissecting the MCQ and essay sections to help you gain a better understanding of what to expect on the CMA exam.
CMA Exam Multiple Choice Questions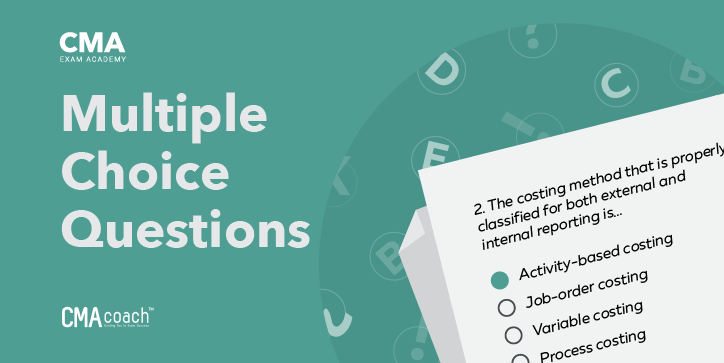 The MCQ portion of the exam contains 100 questions and makes up 75% of your total grade. Questions are computer-based and you have three hours to complete it. Any time you have remaining can be carried over to the essay portion of the exam.
Unlike other types of exams, each answer is graded equally so it is better to answer all questions even if you don't know the answer.
Analyze Each Question
Every MCQ contains a 'stem' consisting of the question and all the details you will need to answer it. When reading each question, be sure to identify this stem so you know which information is important.
From there, think of the answer before even reading the 4 answer options. This will help minimize the background noise and allow you to quickly eliminate answers you know are wrong.
There will always be only ONE correct answer. The remaining three are considered distractors. Each one may seem plausible, so beware of this.
Be Careful of Negatives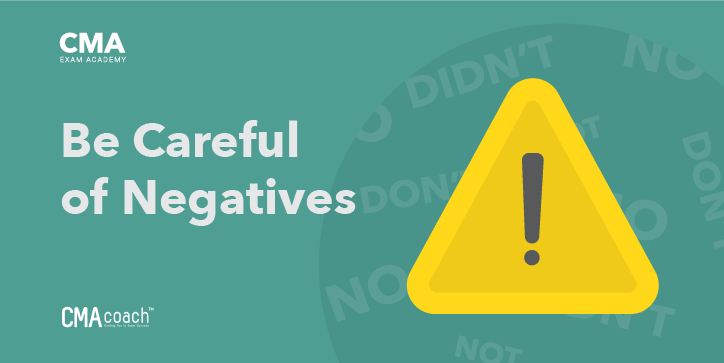 Many stem questions will contain a negative to throw you off and make you second guess yourself. You will also come across several answers with negative words, and this will make them stand out more.
Don't be fooled by the negatives. Instead, take your time to analyze the actual question, as I described above, and work from there.
Time Yourself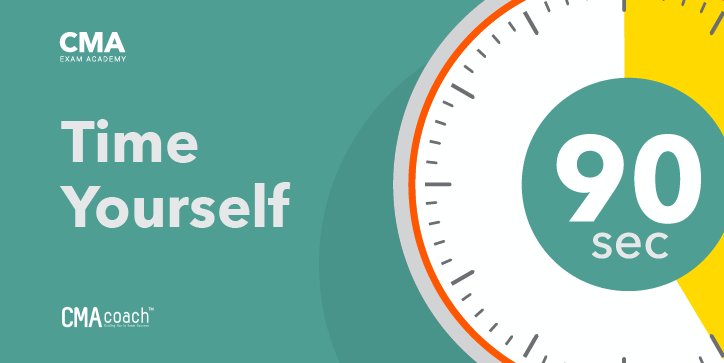 You only have 3 hours to complete all answers, which means you have approximately 90 seconds per question.
If you find yourself struggling with a question, move on and come back to it at the end. You don't want to waste minutes upon minutes on a single question.
Remember, each question is graded equally, so spend your time answering questions you feel confident in. Then, come back and make an educated guess on those you aren't sure about.
It's better to tackle material you know first and then work from there.
CMA Exam Essay Questions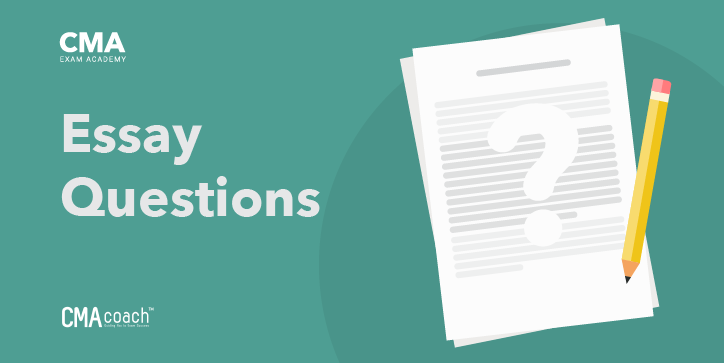 The essay portion of the CMA exam is comprised of two essay scenarios. Within each scenario, you will be required to answer four to six questions.
Unlike the MCQ section, the essay portion of the exam is graded by experts rather than a computer algorithm. You will be tested on your knowledge of the content and your ability to apply it clearly in a business setting.
Here are a few strategies to keep in the back of your mind during the exam section.
Express Knowledge and Apply Concepts Coherently
Like I said above, you must be able to prove your understanding of the material, which means you have to do more than regurgitating memorized information. This means you will have to explain and apply core concepts.
There is a helpful trick for making sure you answer each essay correctly and it starts by reading the question word for word. Before you even begin writing your answer, make sure you take the time to understand what is being asked of you.
Once you understand the question, identify core concepts. This is where mapping out your answer comes in handy. You want to make sure you elaborate on each concept and explain key terms.
This doesn't mean you have to write complicated answers. In fact, just the opposite. Clear, concise answers are always best. And be sure to use proper English!
Use a Formal Essay Structure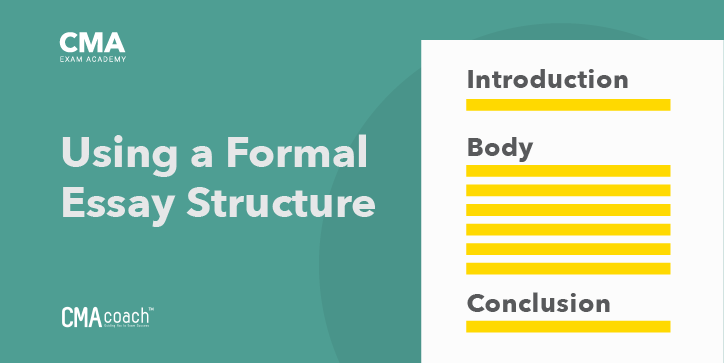 It is just as important to use correct grammar and spelling as it is to structure your essay properly. This means writing it out with a clear beginning, middle, and conclusion.
Your introductory paragraph should identify what the question is and explain how you will answer it. This is where you identify the concepts you will be breaking down in your middle paragraphs.
Expand on your key points throughout the middle paragraphs, then tie everything together in your conclusion.
How to Choose the Best CMA Study Materials
Before you buy a CMA course online, you need to establish the criteria that you care about. For instance, you may heavily favor video-based content and prefer not to read as much. Conversely, you may be an avid reader who tunes out with audio or video materials.
Spend some time thinking through how you've prepared for tests in the pasts: what has or hasn't worked?
Once you have established that personal preference, consider the logistics. How much time do you have, and what is your budget? Those two factors will impact your decision.
Some CMA study materials are self-paced, others offer accelerated tracks, and still others come with individualized coaching (which may speed up your progress). All of these approaches impact the price. Knowing what you want and how much you want to spend can narrow down your options.
Once you've collected the general idea of your personal preferences, timeline, and budget, you can make a shortlist. Most CMA study programs will have online materials that give you a feel for the author, instructors and coaches.
Some will offer free previews or trials. Explore them all further in-depth and let that inform your final decision. We've put together a best CMA review course comparison available to help you find the best fit.
Frequently Asked Questions about CMA Study Materials
Here are some answers to frequently asked questions about CMA study materials.
What is the Best CMA Study Material?
The best CMA study materials are the ones you will use. That said, there are 15 or so top test prep companies that provide CMA study guides, textbooks, video courses, practice tests and more. Great CMA study programs will provide comprehensive materials for both Part 1 and Part 2 of the CMA exam and come with options to add supplemental materials and one-on-one tutoring or coaching.
Where Can I Get Study Materials for CMA?
Most people buy CMA study materials online, and most CMA study courses offer online learning. This means that you should be able to get digital downloads and even live-streaming of the relevant course content. While a few students may prefer an in-person experience, most love the flexibility of online courses. This gives you the ability to study on-the-go or when you have time, optimizing test readiness and accelerating your study timeline.
How Do I Prepare For the CMA Exam?
Purchasing a comprehensive CMA study program is the most efficient way to prepare for the CMA exam. Most courses include a study plan, official CMA questions from previous years, practice tests, CMA textbooks, video or audio instruction, supplemental study materials, and a CMA coach or tutor. All of these will add up to success, if you commit yourself to learning and reviewing everything you're offered.
Have more questions? Comment below and I'll be happy to bring my expertise to your situation. I've helped thousands of students pass the CMA exam — I can help you, too!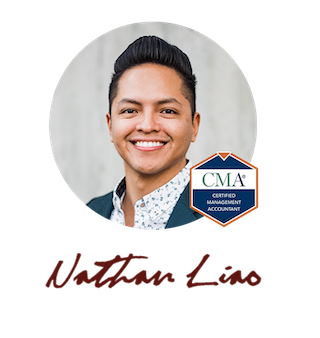 More from Nathan
CMA Exam Multiple Choice Questions Demystified
CMA Exam Study Secrets
How Hard is the CMA Exam? Understand CMA Exam Difficulty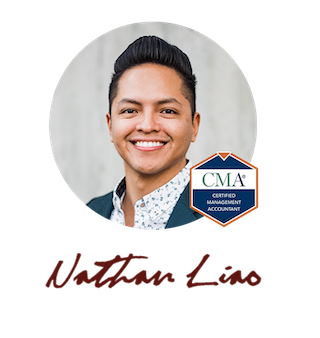 Hi, I'm Nathan Liao (aka the CMA Coach)! For the last 10 years, over 82,000 accounting and finance pros came knocking at my door seeking guidance and help. If you're also aiming to conquer the CMA exam on your very first try—without wasting away time or money—you've found your ultimate guide. Dive in deeper to discover more about me and the dedicated team that powers CMA Exam Academy. Click here and let's embark on this journey together!