When you make the decision to pursue your CMA certification, the first major struggle you face could be choosing a study method – should you go the more traditional classroom route, or should you enroll in a CMA online course?
Consider the low CMA pass rate, and the overall difficulty of the exam, intensive study is a must if you're planning to take the test on one of the upcoming CMA exam dates.
Online learning and classroom learning each has its own set of benefits and setbacks – pros and cons list if you will. Let's take a look:
CMA Online Learning Pros:
Flexibility
One major benefit of online learning is its flexible nature.  Online classes are designed to fit into the chaos of life wherever they may be, meaning you can schedule your test prep life where it works for you while still keeping your family and work-life priorities.  Work in segments between breakfast and grocery shopping, read up while the kids are down for a nap, or listen to a lecture on the drive to work.
For busy people with a lot going on, online CMA study material might be the best fit.
As an added bonus, studies show that learning in shorter bursts, also known as Spaced Learning, actually promotes better absorption of the subject material!
Spaced Learning
The University of Surrey Business School in England conducted an experiment with 600 of its students. They were divided into three groups. All covered the same material for a module on advertising but in different ways. Group A had the traditional academic input of lectures. Group B self-studied the material, and group C was spaced-learners.
For the spaced learners, this meant their hour-long 'lecture' involved short bursts of intensive learning, with short breaks lasting 10 minutes each where they would do something completely unrelated to their studies.
After a week, all 600 students were tested and the results for knowledge acquisition showed that the spaced learners remembered 20% more than students who had the traditional experience, and 23% more than those who self-studied.
In other words, students who took regular breaks over an hour remembered a fifth more than those who sat through an hour-long lecture.
Convenience
Many times, you can begin your CMA online class whenever it is convenient for you.  No waiting for your instructor or class to start as you would in a traditional classroom setting. Plus, no commute sucking up even more of your precious time.  Bonus: zero traffic!
Portability
Study anywhere!  At the coffeehouse (my favorite), on the beach listening to the ocean waves, or right from the comfort of your living room couch.  The world is your classroom!
Accessibility
Through the pages of the world wide web, a whole new world of learning materials can be right at your fingertips. Access your online textbook and online test bank anywhere and erases the constraints of commuting.  Live in Dubai but want to enroll in a CMA online class taught in the United States? Not a problem with online learning!
No Rushed Learning
CMA online learning programs are often completed slower than their classroom counterparts due to less overhead costs. Classroom instructors need to pay rent for the space they use so classes are often rushed and no longer than 6 to 8 weeks.
If you have been reading my articles, you know I'm a huge advocate for a 16-week study program as a minimum. There's so much to cover in a CMA online class that anything less than 16 weeks doesn't cut it.
Affordability
Online Learning is affordable! Often the exorbitant cost of enrolling in a traditional class just doesn't fit the budget. Fortunately, you'll find that many online learning programs offer quality courses at more reasonable prices – much cheaper than what you'd pay to sit in a classroom when you also take into account drive time, gas, etc.
Online Learning Cons
Responsibility
If you suffer from low motivation, are not the most organized person, or simply have lazy study habits, it can be difficult to stay on track with a self-study CMA online course.  While people are often drawn to the move at your own pace aspect of a self-study online course, they may not realize the added responsibility that this type of course setup entails.
With your average self-study CMA online course, no one is there to remind you of assignment due dates or pick you up when you fall off the pace.  The only person who can get you motivated and going in the right direction is you. For many people, self-motivation and direction are substantial obstacles that can seem near impossible to overcome.
Remember that the exam pass rate for those who self-study through online learning or other methods is less than 45%. So I'll stress the point that you'll have to be super motivated and organized in order to study and pass the exam by self-study alone.
This is one of the biggest reasons why I launched the CMA Exam Academy – to remove the burden of responsibility off your shoulders by providing direction, weekly assignments, accountability, and a proven study system.
Isolation
It's not uncommon for online students to feel distant from instructors and completely cut-off from peers.  When opting for a self-study online learning route, you may miss out on socializing with classmates, and face to face interactions with teachers, as well as networking opportunities.
Those who join my CMA online course get to interact with fellow classmates in our private group and also connect with me via live weekly calls. I know how important it is to stay connected to a community so investing time in face-to-face interaction with my students is super important.
Frustration
I get emails almost daily from people feeling frustrated with their self-study CMA online program. They have no one to turn to for help. They feel alone and have a hard time grasping the content in their textbooks.
I can relate to them because I felt the same way.  Having no one but Google to ask for help is both incredibly frustrating and time-consuming.
In my instructor-led course, students don't have this issue. I'm always available to help them and answer their questions as fast as possible so minimize learning frustration.
Technical Difficulties
We've all experienced it – slow internet connection, computers crashing, blackouts, cats leaping onto keyboards in the middle of an online exam… For most, technical issues are just an annoying part of everyday life, but if you consider yourself technologically challenged, or simply don't have access to a decent computer or internet connection, online learning may be more challenging.
CMA Classroom Learning Pros
Community
When in a classroom surrounded by peers, you get that face-to-face human experienced that is not easy to replicate digitally.  There's more opportunity for natural conversation and relationship building. It's difficult to feel this sense of community from a self-study CMA online course.
Clarification
When you take an in-person course and the instructor is standing in the flesh right in front of you, any questions you may have can be immediately answered (or at least right after class).
Organization
The highly organized structure of a traditional classroom course can be a great help to students who need a little extra nudge to stay on track. The instructor will likely enforce schedules for everything from when to study what, to lecture times, assignment deadlines, and test dates.
When I was creating CMA Exam Academy, I knew that I had to include this type of organization in the courses to help students stay on track, which has proven to be very successful with my students.
Classroom Learning Cons
Rigidity
A classroom course lacks the flexibility of CMA online learning.  You have to take the time to drive to a specific location every week at the same time and day. There's no flexibility to study anywhere or when it's most convenient for you. Which leads to my next point…
Inconvenience
To go to class you have to get dressed, leave the comfort of your home, and endure a sometimes long and traffic-filled commute to sit for hours at a time in a chilly classroom.  Such things can make CMA online learning – which could even be accomplished in your pajamas sitting on your bed – sound so much more appealing.
Expense
Often times the exorbitant expense of enrolling in a classroom course is the main reason why students opt for a more economical online course.
Rushed Learning
Most traditional CMA classes don't last longer than 6 to 8 weeks, and like I pointed out above, there's no way someone can absorb the content matter in that amount of time and pass the exam. I've seen it time and time again. It just doesn't work.
The point of the CMA is not to cram or learn just to pass the exam. Candidates want and need to take this knowledge and apply it in the workplace. That's how they prove their worth and capacity to hold managerial positions and earn a fat raise and promotion.
To take the exam for the sake of just passing is not worth it. It may look good on paper and may land you a job. But if you can't remember what you've studied, how will you be able to perform as a management accountant?
How to Choose?
Now that you know several pros and cons, you may find yourself drawn to and deterred by many aspects of both CMA online and classroom learning. So how do you choose?
That's where the CMA Exam Academy comes in:
Having undergone the CMA exam study process myself, I understand first hand the benefits of both live class and self-study, which is why I created the CMA Exam Academy. This program combines the best of both worlds.
I took a classroom CMA course once and by the end of it, I decided I didn't want to pursue this designation. Years later, I changed my mind and began with a self-study course instead. It was grueling. So I decided to create a CMA online course that would bring the best of both worlds into one platform.
CMA Exam Academy has all the amazing qualities of such a course as mentioned above: flexibility, convenience, portability, accessibility, efficiency, and affordability.
On top of all that, it's also an answer to many of the qualms students have when choosing between an online and in-person course:
One-on-One Coaching in Real-Time:
You won't miss in-person instruction with CMA Exam Academy's one-on-one coaching. It's like having a private tutor, minus the stress of scheduling and expense! One-on-one coaching with a CMA like myself is incredibly helpful. It gives you the opportunity to work alongside someone who understands the exam experience and can answer your most pressing questions, and clarify any confusion.
Accountability Check-Ins and Assignment Tracking
It's the hard truth – self-motivation is one of the most difficult obstacles for many when taking a self-study online course.  That's why I've incorporated Accountability Check-Ins and Assignment tracking into the CMA Exam Academy online program, to take a bit of that responsibility off your shoulders.
Keeping to a schedule and having someone to report to is a great way to stay on track. An accountability partner can motivate you to stay focused when you feel demoralized or tempted to procrastinate.
Textbooks and Test Banks
What course whether online or in a classroom is complete without textbooks?  After all, textbooks are where you will learn most of your material, so choosing the right one is essential.   The CMA Exam Academy's textbooks are up to date and easy to follow along, making them the perfect study aid.
I believe that having access to an online test bank is also critical.  This is where the CMA Exam Academy goes above and beyond your average test bank software.  I built The CMA Exam Academy's test banks using Adaptive Learning technology with thousands of practice questions giving you valuable insight into the exam design.
By studying with these test banks, you'll discover your personal strengths and weaknesses regarding CMA exam topics. Having this knowledge will improve your focus as you move forward in your studies.
Exam Formula Guides
Yet again, the CMA Exam Academy goes about and beyond by providing you with a handy reference guide for every key formula you need to know to pass the CMA exam. This is often one of the most challenging aspects of the exam, so having these guides for reference is a lifesaver.
Video Lectures
With the CMA Exam Academy, you won't be forced to learn exclusively through reading like some self-study online courses.  My video and audio lectures deliver substantial subject material to you in a format you can both see and hear which may better suit your personal learning style than simply reading alone.
One major advantage of CMA video lectures is that you can see on-screen formulas and answers which may help you better absorb the material. Plus, being able to hear and see the instructor lecturing can give you more of that classroom feel.
Audio Review
This is one of the areas where CMA Exam Academy beats classroom learning any day.  My audio reviews allow you to listen on the go. Just pop in a set of earbuds and learn as you travel or tackle household chores.  So much more convenient than being tied to a computer or lecture hall seat.
Private Study Group
Many students fret over the decision to enroll in a self-study CMA online course because they would miss the sense of community they get from traditional classroom courses.  If this sounds like you, don't worry! There's no need to enroll in a classroom course!
This is exactly why I incorporated Private Study Groups in the CMA Exam Academy.  So that you can get all the benefits of an online course while still feeling part of a community.
Through these private study groups, you can take comfort and find motivation in the fact that you're surrounded by people who are sharing in your experience. The CMA Exam Academy's private study groups are there to provide you with connections to other students on their CMA exam journey, so you can share ideas and study strategies with like-minded individuals and stave off the loneliness that accompanies a typical online course.
Plus, inside our private group, I host weekly live calls to answer all your questions and connect with you on a personal level.
Outstanding Exam Pass Rate
The CMA Exam Academy boasts an outstanding candidate pass rate above 80%!
To learn more about our specific exam pass rates by exam window, click here.
Alas, there is one con mentioned above that the CMA Academy can't fix, and that's technical difficulties.  Technology is technology after all. But as long as you have access to a decent computer with a stable internet connection, your good to go!
If you've struggled with the decision over which learning method to go for,  I hope this article points you in the right direction. Got questions? Drop them below and let's get the conversation started.
Rooting for ya!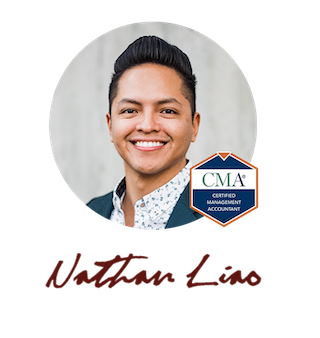 Hi, I'm Nathan Liao (aka the CMA Coach)! For the last 10 years, over 82,000 accounting and finance pros came knocking at my door seeking guidance and help. If you're also aiming to conquer the CMA exam on your very first try—without wasting away time or money—you've found your ultimate guide. Dive in deeper to discover more about me and the dedicated team that powers CMA Exam Academy. Click here and let's embark on this journey together!