In this episode of The CMA Show, I have a very special guest who will reveal the best kept CMA exam prep secrets. This impressive man has 23 years experience with the IMA, is a certified management accountant, certified financial manager, as well as a certified association executive.
Impressive resume, right!
Dennis Whitney is the Senior Vice President of the Institute of Management Accountants and has heaps of knowledge to share with us about how to CMA exam prep. The advice and information he shares in this episode are truly invaluable to future CMA candidates, so let's dive right in.
To listen in, click the play button at the top of the page, download this in iTunes or listen on Stitcher.
Like what you hear? Give us a 5-star rating or leave a review!
Here's What You'll Learn in this Week's Episode:
A deeper look into what he actually does for the IMA

An insider look into the CMA exam structure and why it has been created this way

Which sections of the textbook candidates should focus their studying on

Strategies for tackling the essay section of the exam

How to pass the essay section if English is not your first language

Dennis' top tip for crushing the multiple choice questions section

The prerequisites you must fulfill in order to become a CMA

Dennis' advice for those about to take the exam for the first time

How the CMA is expanding globally and what we can expect from it in the future

When to consider asking for a regrade on your exam score
Resources:
CMACoach.com — The most comprehensive online resource for CMA candidates

The Ultimate Guide to the CMA Exam — Listen in for your

FREE download

discount code

CMAExamAcademy.com — The best online, Instructor-led CMA review course

Get in touch with Dennis Whitney — email him at

dwhitney@imanet.org

IMAnet.org — learn more about the CMA
Like what you heard? Be sure to share it with your friends, family or coworkers and join me for brand new episodes every week.
More by Nathan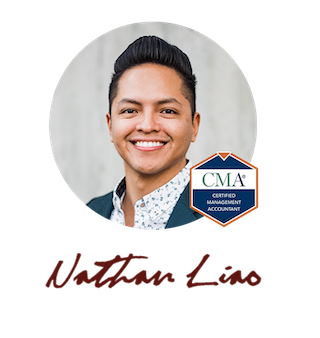 Hi, I'm Nathan Liao (aka the CMA Coach)! For the last 10 years, over 82,000 accounting and finance pros came knocking at my door seeking guidance and help. If you're also aiming to conquer the CMA exam on your very first try—without wasting away time or money—you've found your ultimate guide. Dive in deeper to discover more about me and the dedicated team that powers CMA Exam Academy. Click here and let's embark on this journey together!