This week's episode is especially exciting because you will be hearing from a very distinguished guest in the IMA CMA community.
This man has made Accounting Today's Top 100 Most Influential four years in a row, Trust Across America's Top 100 Thought Leaders for five years running, and most recently earned the Institute of Management Accounting's Lifetime Achievement Award.
So who is he? Jeff Thomson — CEO of the IMA.
I was very excited to pick his brain on all things IMA CMA, so be sure to listen in to this one. You're going to learn a lot.
To listen in, just click the play button at the top of the page, download this in iTunes or listen on Stitcher.
Like what you hear? Give us a 5-star rating or leave a review!
Here's What You'll Learn in this Week's Episode:
A brief history of the IMA CMA and where they see it going in the next 10-15 years
The benefits of earning your designation and why it trumps others
How the USA designation stacks up against its global counterparts
A realistic outlook on job opportunities available to newly minted CMAs
Insight into the IMA CMA exam content and how often it changes, and what to expect for future examinations
How to contact Jeff to chat careers and opportunities
Resources:
Like what you heard? Be sure to share it with your friends, family or coworkers and join me for brand new episodes every week.
P.S. If you liked this article, check out the ones below: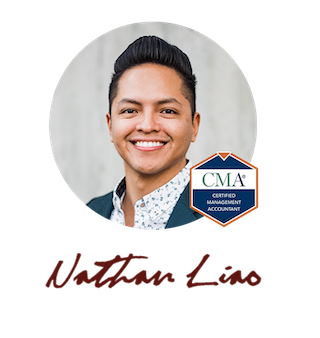 Hi, I'm Nathan Liao (aka the CMA Coach)! In the past 8 years, over 37,000 CMA candidates came knocking at my door seeking guidance. And just like them, I'm here to show you how you can pass the CMA exam on your first attempt without wasting money or time. Click here to learn more about me and the awesome team behind CMA Exam Academy.