Let's be honest — preparing for the CMA exam can be challenging.
Now add a full time job and a few kids to the mix and you've created a whole new challenge to overcome.
The truth is, many candidates are either working full time jobs or juggling other commitments while preparing for the CMA exam. But parenting adds it's own tenuous level of work/life balance that others may never experience.
The good news is passing the CMA exam on your first try is still possible as long as you have the right strategy and mindset.
So for all those working parents preparing for the CMA exam — this one's for you.
5 Strategies for Preparing for the CMA Exam as a Working Parent
There are several ways you can prep for success while balancing work and your family. Here are a few tips that studying parents have found to be useful in the past.
1. Get Your Family On Board
Whether you're married or single, you need to get your family on board with your plans of becoming a CMA.
During the study time you will need moral support and likely a few extra hands to give you the space you need to focus.
Having a supportive partner or grandparents is crucial so that they can occupy the little ones while you study. If your children are old enough to understand what you are doing, ask them to direct questions to another family member before interrupting your study session.
2. Set a Date
The best way to ensure you actually follow through with your cma exam preparation is to set a date to write the exam.
By setting a date you are commiting to preparing for the CMA exam and can create a study schedule that supports this timeline.
As a working parent, take into consideration how much free time you have available to study and allot enough preparation time so you can actually complete the studying you need to do.
3. Creating a Manageable Study Schedule
Part of preparing for the CMA exam is creating a study schedule that is reasonable for you and your current lifestyle.
The same goes for working parents.
Create a study schedule that divides your focus into manageable chunks of study times. If you have smaller children you may find that studying while they nap or after they go to bed for the night is best.
Not interested in creating your own schedule? CMA Exam Academy has a made-for-you schedule that breaks up topics into easy to digest chunks. Learn more here.
If your kids are in school and you have some free time during the day, take advantage of it.
Just make sure that the time allotted for studying is free from distraction, even if that means only crushing it for one solid hour at a time.
I asked one CMA Exam Academy student how he found the time to study while working a full time job and taking care of 3 kids and here's what he said:
"I put in about 10-15 hours/week. I'd wake up early and get an hour in before making the kids breakfast. I travel a bit so got a lot done on airplanes.
I've done the Ironman before and it's the same concept. If you want to do it, you'll find the time to do it." – Steve Christos
See his full Case Study here.
4. Choose a Well Structured CMA Exam Review Course
Not every review course is designed the same. Just look at the difference between CMA Exam Academy and other review courses.
CMA Exam Academy offers live coaching calls plus an extensive test bank and 16-week course structure with both online and textbook training.
With adaptive learning technology you will streamline your studying by focusing on areas of weakness. Not only will you learn why an answer is wrong, but you will be shown a complete explanation so you can learn from your mistakes.
In addition to this I will personally support you 24/7 via email and you will become part of the growing CMA Exam Academy community. Here you can touch base with other candidates who are experiencing the same work/family challenges you are facing.
So why is this structured format so essential when preparing for the CMA exam?
For starters, as a working parent your time is already limited. You don't need to wait days to hear back from an online mentor regarding a question. Nor do you want to waste valuable study time trying to find the right answer in your textbook.
A review course like CMA Exam Academy breaks lessons down into manageable sections so you can conquer your CMA prep one topic at a time.
Weekly feedback emails from myself will also help you laser focus your efforts so you can truly maximize your study time.
5. Don't Forget to Schedule Downtime
This may seem counter-intuitive, especially if you're already limited for study time. I cannot stress enough how important it is to schedule "me time" as well and "mom/dad time" with the little ones.
At a certain point you will be unable to absorb more information due to exhaustion and brain overload. Take these times to enjoy the little things.
Spend time with your family.
Get an extra hour of sleep.
Meditate.
Do whatever you need to do to remember why you are taking the CMA exam and appreciate your journey to earning it.
Then you can go back to your regular study schedule with a new found vigour and willingness to learn.
More by Nathan:
Fifteen Tips on How to Combine Your CMA Test Prep with Working Full Time like a Pro
CMA Study Tools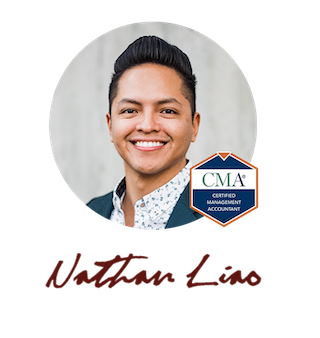 Hi, I'm Nathan Liao (aka the CMA Coach)! For the last 10 years, over 82,000 accounting and finance pros came knocking at my door seeking guidance and help. If you're also aiming to conquer the CMA exam on your very first try—without wasting away time or money—you've found your ultimate guide. Dive in deeper to discover more about me and the dedicated team that powers CMA Exam Academy. Click here and let's embark on this journey together!