If you are debating whether or not becoming a CMA is right for you, then you've likely wondered what the average Certified Management Accountant salary is.
How much can you actually expect to make? Does it justify the time and cost of taking the exam? How do CMA vs CPA salaries compare with one another?
Let's be honest, money is often a determining factor when an individual is looking to advance their career. After all, why would you invest upwards of a 100 hours of studying just to make the same amount?
The good news is, the CMA is a career differentiator in more ways than one.
For starters, it allows you to stand out amongst your CPA peers thanks to your specialized knowledge of management accounting.
Perhaps most importantly, it comes with a nice salary boost too.
Wondering if a Certified Management Accountant salary is just as good in other countries? Let's take a look at the CMA salary break down from this year's global survey.
IMA's 2019 Global Certified Management Accountant Salary Survey
Each year the Institute of Management Accountants (IMA) shares results from their global survey. In the 2019 survey, 78 countries around the globe participated by sharing their CMA salary, education and certification details, job satisfaction and several other factors.
In fact, 5,208 members responded. This is over double the amount of usable survey results as compared to 2018. In fact, last year 50% of the respondents came from U.S, while this year only 31.4% did. In 2018, 22.8% of respondents came from China, while this year that number has grown to 30%. These changes in respondent demographics can impact some of the year-to-year comparisons, which I will touch base on later.
2019 marked the fifth annual global survey and is a particularly interesting one as we appear to be entering some turbulent times. As author Shannon Charles put it "increased tariffs, looming trade wars, and strained international relations" will all impact future CMA salary.
She did go on to mention that the IMA is concerned about how this will impact future Certified Management Accountant salary, and has taken the time to identify trends that may affect it. So let's dive in.
GET MY FREE 3-PART CMA EXAM VIDEO COURSE

How Much Does a CMA Make?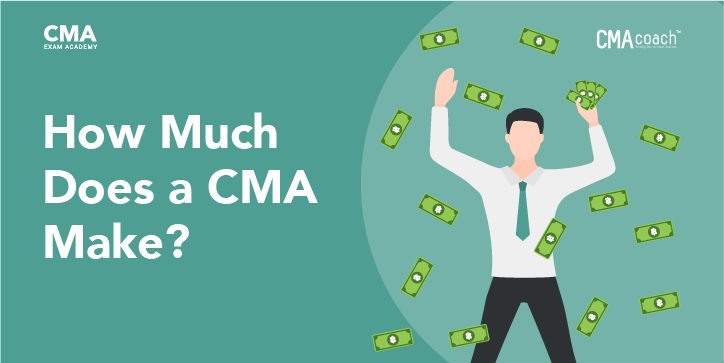 One of the key topics discussed in the global survey is the Certified Management Accountant salary – aka. Compensation.
The global mean and median salary of CMAs saw a decline in 2019. The mean and median salaries are now $54,401 and $40,000, which is a 27% and 39% decrease from 2018, respectively.
Author Shannon Charles attributes this to the increased number of responders from the 20-29 year age group, which increased over 7% this year.
Another factor impacting this decrease can be attributed to the number of non-USA respondents.
Regional CMA salary breakdowns would be much more accurate and can be seen in the table below:


As you can see from the table above, there are significant differences in salary by region. The Americas still have the highest mean total compensation ($118,439) among the regions, although there's a 10% decrease compared to last year. The Middle East and Africa region experienced the largest decrease in median total compensation (30%), while Asia had the smallest decrease (5%).
European countries make the next highest Certified management accountant salary with an average total compensation of $77,713.
Last year I mentioned how the salary numbers in Asia and Middle East/Africa regions were greatly impacted by the fact that women made 78% less than their male counterparts. While there is still some gender pay disparity, I am happy to report that the gap is closing.
In fact, women ages 20 to 29 and 30 to 39 in the Middle East/Africa region, actually have a higher median total compensation than their male peers.
You can see the full global gender pay gap broken down in the chart below:

CMA Salary vs Non-CMA Compensation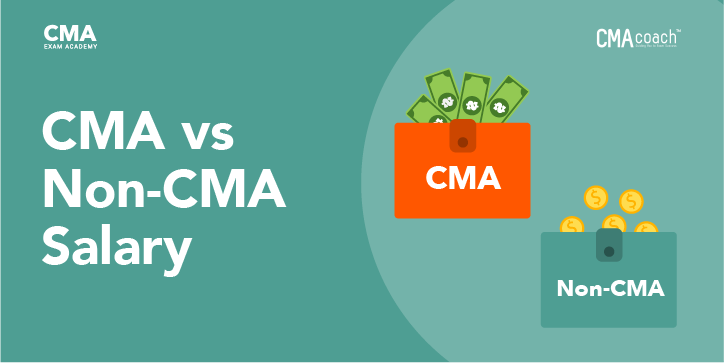 Another interesting pay gap I like to discuss is the one between CMA's and their Non-CMA peers.
If you ever wondered if earning your CMA was worth it then you are going to want to keep reading.
Because it absolutely is!
It literally pays to add the CMA designation to your resume. In 2018 CMA's earned 62% more in median salary and 67% more in median total compensation than their non-CMA counterparts, but this has further increased.
Now CMAs earn 117% more in median salary and 118% more in median total compensation than their non-certified peers.
This is a massive increase and further proves the importance of earning your CMA certification.

Obviously there are several contributing factors that may lead to this difference salary difference.
For starters, CMA's are often older than non-CMA's. They also tend to have more experience in the field and already holding higher management level positions.
Don't let these details discourage you though. Entry level CMA's still earn much more than entry level non-CMA employees. The median total compensation for an entry level CMA is $50,000 while a non CMA's salary is only $20,570.
If you look at the pay variance between Senior level management of CMAs versus Non-CMAs it is quite drastic as well. For example, senior management CMAs earn $90,000 in total compensation annually, while non-CMAs earn just over half of that with $47,000.
Even at the highest level of management, non-CMAs earn around the same as a middle-management certified management accountant. The following chart is incredibly illuminating. Have a look: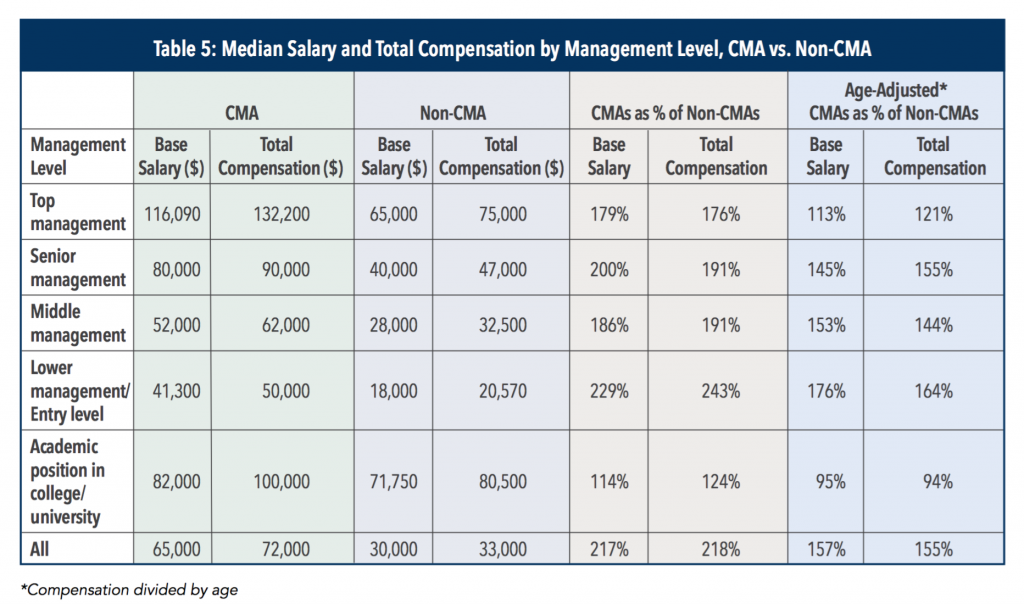 CMA vs CPA Salary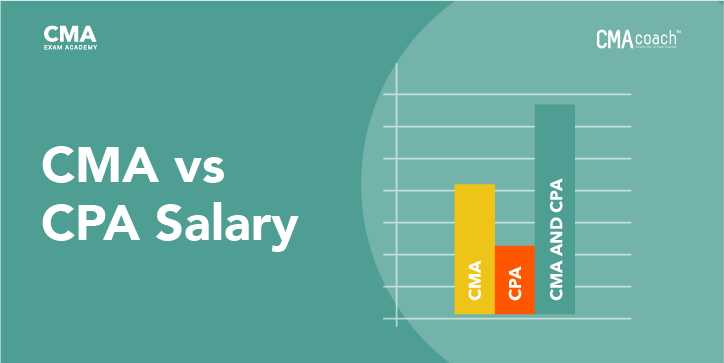 I have had many individuals who are CPAs ask me if adding the CMA designation is worth it. In this years CMA Salary survey, there were some interesting findings.
For starters, it was found that CMAs earn 31% higher median total compensation, while individuals with just their CPA earn 22% higher median total compensation than their non-certified peers.
Accountants who have both the CMA and CPA designations earn 50% higher median total compensation.
It is clear from these results that earning your CMA and CPA validate different skill sets and that each certification is being valued for having a unique range of knowledge and skills.
While I can't speak highly enough of earning your CMA, 78% of respondents across all regions have found that earning the certified management accountant certification has strengthened their ability to move across all areas of business and 72% believe this has strengthened their job security. Additionally, 76% of all respondents believe that having their CMA has provided them with career opportunities not otherwise available to them. In a world where automation is rapidly replacing human workers, this is a big deal.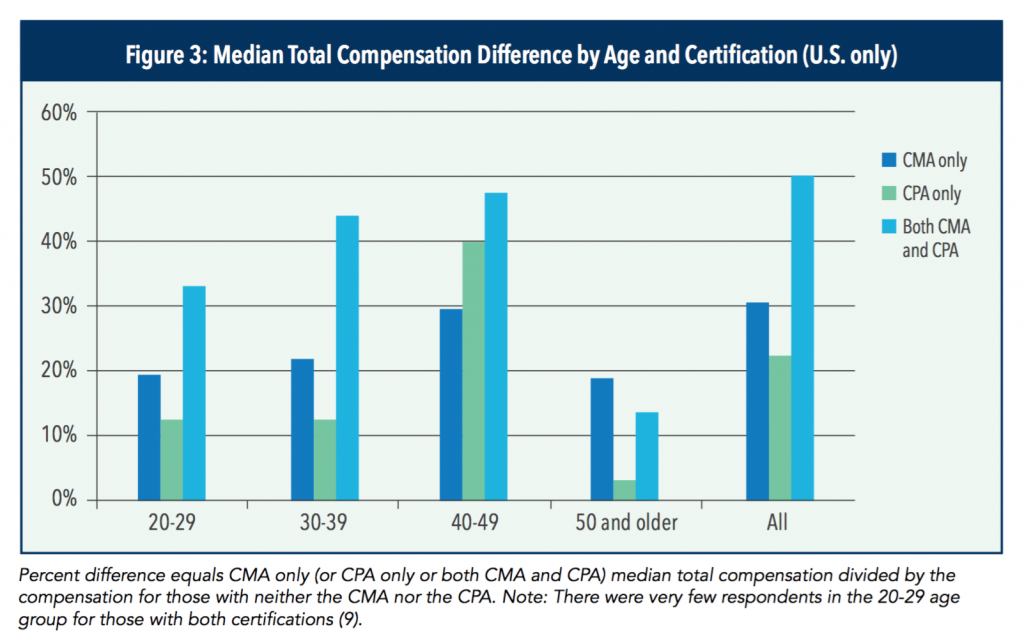 So if you ever had any doubts about working towards your CMA designation I hope this information helps.
I, personally, feel like the CMA has been a game changer for my career and believe it can be for you as well!
Interested in learning more about your salary potential as a CMA in your region? Check out the links below to learn more.

More by Nathan
Certified Management Accountant Salary in the USA
Certified Management Accountant Salary in China
Certified Management Accountant Salary in Middle East