A CFO, or Chief Financial Officer, holds a prestigious position, responsible for the financial management of a corporation. The CFO title is usually accessible to people with a background in accounting and finance, especially for those who have earned a CMA.
Chief Financial Officers work on an executive level and are typically the highest-ranking accounting professionals in a public or private organization. This corporate designation comes with plenty of esteem and a sizable CFO salary.
CFO Job Description
The CFO of a company is primarily responsible for all finance activities. This includes everything related to the business, including budgeting, negotiations, auditing, and forecasting.
When businesses hire a CFO, they not only expect that individual to have accounting knowledge, they also expect some leadership and people management abilities. CFOs often have teams of staff reporting to them, including accounting, auditing, investor relations, and human resources departments. The job requires regular coordination between departments and with other executives.
Obviously, this is a broad definition that can encompass a huge range of daily tasks.
What Does a CFO Do?
A CFO needs to have the ability to oversee all financial planning and accounting in a company. This includes areas such as:
Investment strategies: Managing and activating new investments; factoring in cash and liquidity risks.
Risk management: Related to liability and investments.
Financial strategy: Overarching strategies for a business's financial moves; factoring in market conditions and long-term planning.
Financial management: Revenue, profit & loss, financial growth, sustainable growth, etc.
Banking operations
Supervise personnel: Including treasurers, bookkeepers, accountants, controllers, etc.
Manage relationships with vendors
Manage finance IT systems
Enforce compliance: Ensure relevant laws and company policies are followed
Communication: With stakeholders, investors, boards, trustees
Data analysis
Especially nowadays, proficiency in project management and accounting tools, especially software, is essential to getting CFO jobs.
Chief Financial Officer Roles
CFOs have a shot at a number of exciting and prestigious roles in a company. Depending on the size and type of company they are part of, Chief Financial Officers can operate in many capacities.
Financial Strategist
CFOs who are strong in strategy may find themselves largely leading from that strength. Financial strategists are particularly important for businesses responding to major market shifts and having to forecast future plans. Proactive strategies can save businesses, especially when it comes to investments and expenditures.
Leader of the Financial Department
CFOs are the most visible leaders, at the top of the heap in a finance department. They may oversee vast teams of controllers, accountants, and other finance professionals. A role like this will require considerable people skills and excellent communication.
Company Representative in Front of Third Parties
As a CFO, you can defy the notion that accountants are essentially number crunches. Especially when armed with a CMA or other mark of finance and leadership acumen, a CFO can be a very public and prominent figure in a company. 
Sometimes, a CFO role will be to represent the company in front of outside parties. In accounting or finance contexts, this can include shareholders, a board of trustees, and even negotiating with vendors or partners.
Responsibilities of a Chief Financial Officer
In many companies, a CFO will have specific responsibilities. These include:
Financial planning: Quarterly tactics, forecasting, budgeting, analyzing financial strengths, corrective actions in response to financial weaknesses and calendaring are all tasks related to this responsibility.
Financial management: Departmental oversight—including budgets, statements, and account management—may all come directly from the CFO's office. Capital structure, managing income, managing expenses, and more are all related to regular financial management.
Strategic decision-making: Adapt short-term plans to a well developed long-term vision and goals for the organization.
At the end of the day, the CFO's objective is to optimize financial performance, mitigate risk, and ensure maximum profit for the company they lead.
How to Become a CFO
Very few people (if any) step out of college into the role of a CFO. There are several strategic steps that accounting professionals can take to become a CFO. You'll find a deeper look in our comprehensive guide on how to become a CFO, but here are the basic steps.
1. Get the right CFO qualifications
In addition to a relevant bachelor's degree, there are three professional certifications that you may pursue to become a CFO. These are a CPA, MBA, or CMA.
The CMA is a globally recognized certification, issued by the IMA, that indicates both business and financial leadership skills. It's often earned by people who want to become Chief Financial Officers. CMA certification requirements include passing an exam, getting a degree, and completing some work experience.
The CPA is another professional accounting designation with requirements including an extensive exam, education, and work experience.
To decide between CMA and CPA, consider that you'll get more strategic management knowledge with a CMA, whereas a CPA is geared for taxation, auditing and compliance. An MBA (Master's of Business Administration) is a graduate degree that provides a broad education on all aspects of running a business.
Whichever path you choose, it will probably require extensive education, a rigorous professional exam (like the CMA exam, CPA exam, or GMAT), and at least a year or two of qualifying work experience.
This step alone is a lengthy commitment, but well worth it — few people become a CFO without the right qualifications.
2. Get experience to move up to a CFO role
Any of the relevant professional certifications require some experience, but it is worth reiterating. Nobody starts out as a CFO.
Even after you've obtained, say, a CMA certificate, you may not be immediately eligible for upper level management. Many companies want to see at least a couple years of additional work experience in controller or treasury roles. Some experts say it takes at least 10 years of experience to become a CFO at a mid-sized or larger company.
3. Build your network and get connected
As with any profession, "who" you know and where you work make a difference. Working at the right company and aligning yourself with the right professionals can go a long way.
People with high ambition in any field may benefit from a career coach or mentor. Networking, attending industry events, and being a part of industry organizations can go a long way in rubbing shoulders with the right people. The relationships you nurture will open doors for your future as a CFO.
CFOs can make great money and enjoy exciting careers on the forefront of business success. The right qualifications, the right experience, and the right connections can get you there.
4. Start Your Own Practice as a Virtual CFO – Here's How
Many accounting professionals, especially those who have a CMA certification, activate their inner entrepreneur and start their own CFO practice. Sometimes called a Virtual CFO or Fractional CFO, they may work on the side or full time as a CFO-for-hire.
Want to be a CFO but don't care about a corner desk? An emerging field for qualified accountants is to become a virtual chief financial officer (vCFO). This is an off-site position that gives you location independence, with the same role and title as a traditional executive. CMAs are particularly well-positioned to be high-powered players in the c-suite. Start it as a side hustle, do it in a consultative capacity, and earn some great credentials to accelerate your career.
Need a boost? Hire a CFO trainer who can get you on the fast track toward becoming a vCFO.
FAQ
Here are some answers to frequently asked questions about CFOs and what they do.
What Does the CFO Do?
The Chief Financial Officer (CFO) leads a company's accounting and finances. This includes financial planning, investment strategies, analysis, managing income and expenditures, budgeting, and more. While the specific tasks vary from company to company, the CFO is the highest ranking financial role in an organization.
Is the CEO Higher Than CFO?
A Chief Executive Officer (CEO) oversees a company's operations and every department, ultimately including the finance and accounting department. A CFO is one of the other executives who oversee a specific area of the company, in this case finances. The CEO is the highest-ranked in any company, and reports to the board of directors, while the CFO reports to the CEO.
What is the Qualification of a CFO?
A CFO must have a bachelor's degree. While each company has different requirements, CFOs are often chosen from candidates that hold an MBA, CPA, or CMA certification.
Does a CFO Have Ownership?
A CFO oversees financial operations. The CFO of an organization may be a member of the organization and could be an owner, though they are not by default. Every company is structured differently.
Have more questions? Drop them below and I'll help you on your way to becoming a CFO!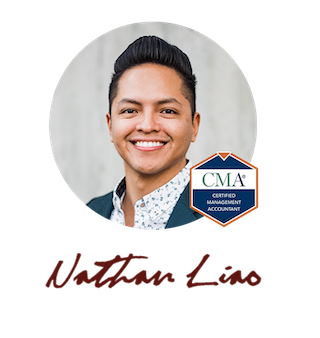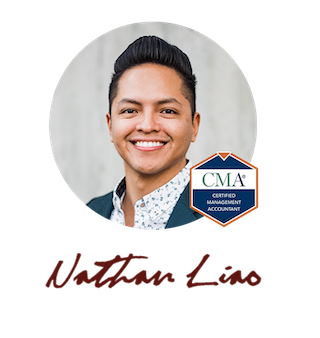 Hi, I'm Nathan Liao (aka the CMA Coach)! For the last 10 years, over 82,000 accounting and finance pros came knocking at my door seeking guidance and help. If you're also aiming to conquer the CMA exam on your very first try—without wasting away time or money—you've found your ultimate guide. Dive in deeper to discover more about me and the dedicated team that powers CMA Exam Academy. Click here and let's embark on this journey together!