A Virtual CFO is a management accounting expert at the top of their game. They can handle major financial decisions and day-to-day operations, as well as high-level strategy and financial management advice — all without ever coming into the office.
With the right qualifications, like a CMA certification, an accounting professional can work as a freelance CFO-for-hire, advising and managing finances for multiple companies.
It's also becoming more common for accounting agencies to include a virtual CFO as an upgraded service to business clients. This consultancy role can be integrated with bookkeeping, accounting, and tax preparation, for a full service financial team.
For many businesses, this is a great way to outsource the CFO role. An outsourced framework has the dual benefits of reducing the cost of a CFO salary and providing access to global talent.
And, for many accounting professionals, it's an appealing business opportunity. Between the normalization of remote work to the unprecedented synthesis of online systems and tools, this is now a completely viable career option.
Read on to learn more about what a virtual CFO is, what they do, and how to become a virtual CFO.
What Is a Virtual CFO?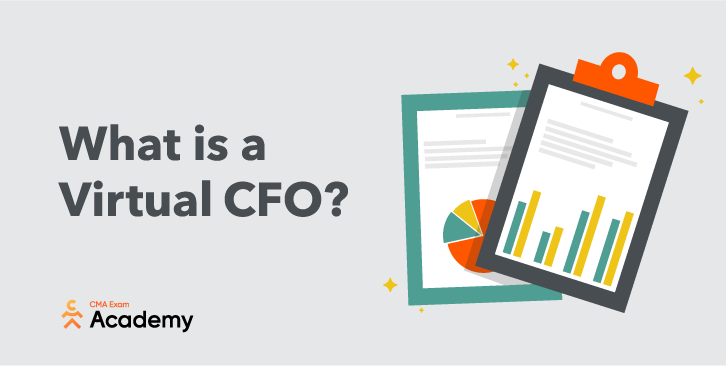 A virtual CFO is offsite but performs all of the regular duties of a CFO, which include:
Building financial models
Preparing financial statements
Budgeting
Forecasting
Cashflow management
Reporting
Business planning
Overseeing investments
Running all financial activities
All of this will be accomplished remotely, using secure tools that streamline efficiency. With the advent of secure VPNs, unprecedented access to broadband internet, and more tools than ever for sharing data, there is no compromise in productivity.
Virtual CFOs can work from anywhere, having all of the power and prestige of the position, and make a paycheck with the right amount of zeroes.
What Is a Fractional CFO? What Is an Outsourced CFO?
Virtual CFO is one term for the job described here, but you may hear it called by different names. This role as CFO of an organization, doing the work remotely and often less than full-time, may also be called:
Fractional CFO: Sometimes, this term is used to specifically relate to a CFO who provides their work on a retainer or part-time basis. It often applies to people who hold this as a contract position.
Outsourced CFO: An outsourced CFO is synonymous with a virtual CFO. Both terms refer to someone who performs the role of a CFO at a company in a virtual, outsourced work arrangement. It can also include workers who are on retainer, part-time, or contract, but that isn't always the case.
What Does a Virtual CFO Make?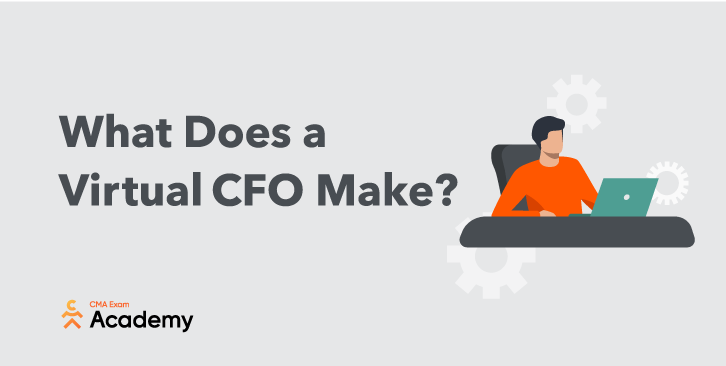 A virtual CFO salary in the 90th percentile of earning will make about $213,500, according to ZipRecruiter. This is compared to a median CFO salary of $393.412.
Of course, as with all CFO positions, there is a huge range of income potential. Earnings for a CFO of any kind vary based on the type and size of the company, years of experience, and other factors.
As mentioned above, a virtual, fractional, or outsourced CFO can work on a monthly retainer. Contract or freelance professionals in this capacity may charge per hour, per day, per week, or per month. Fractional CFO rates usually fall in these ranges:
Hourly rates fall between $175 and $300
Daily rates fall between $1,200 and $1,500
Monthly rates fall between $3,000 and $10,000
The most common retainer rate is $5,000-$7,000 a month
Sometimes, a virtual CFO will be an in-house position, but on a remote and part-time basis. In models like these, a virtual CFO may work for a smaller company that doesn't require full time help. Often, companies like these will hire a virtual CFO with the intent of bringing them on full-time as the business grows.
Whatever the arrangement, these options will of course impact virtual CFO salary. The point is that there are some unique, non-traditional CFO options that can be mutually beneficial for aspirational accountants and the businesses that need their skills.
Why Businesses Hire a Virtual CFO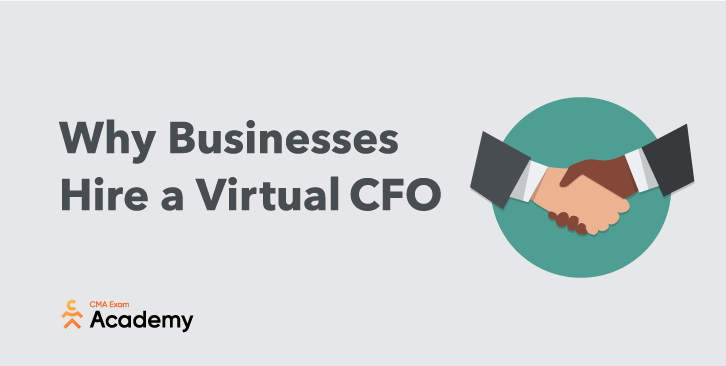 There are three main reasons why a company would hire a virtual CFO.
The most obvious reason is to save the cost of hiring someone for this executive-level position. CFO compensation typically includes salary, performance bonuses, benefits, and even stock bonuses. Instead, a company can just pay for what they need.
Hiring a virtual CFO makes sense for many smaller companies and those in their early stages. Start-ups that lack the capital for a full-time person or who don't have an executive structure intact (yet) still need financial advice. Having access to expert analysis and strategic planning with a vCFO is a clear advantage, ensuring profitability and growth much faster.
These days, many companies are choosing to use a fully remote workforce, ditching corporate offices altogether. These companies are also naturally set up for outsourcing, and more likely to use a virtual CFO.
If you're considering whether your company can benefit from this trend, here are some pros and cons to help you decide.
Pros of Hiring a vCFO
There are some powerful benefits to hiring a vCFO, which include:
Lower cost, higher profit: Working with a vCFO requires minimal overhead and cost less than hiring for this executive role.
Higher profits: If a company isn't ready for a full-time CFO yet, having the guidance of a qualified expert as needed will only improve the bottom line.
Efficiency: vCFOs are a way to maximize efficiency, as the work that really needs to get done is the only focus of their job.
Perspective: An outsourced CFO can provide an outsider's perspective, which can be valuable in making competitive financial decisions.
Easy to scale: As your company grows, you can scale up on virtual CFO services — all the way up to hiring a full time person.
Diverse experience: You may find a broader, more unique range of experiences in virtual CFOs. Compared with a more traditional hire, a CFO candidate who has worked at 2-3 companies in total, this can provide a business advantage.
Creativity and flexibility: Accountants drawn to this role often have an entrepreneurial spirit, with more innate creativity and flexibility than their traditional counterparts.
Connections: Access to a rich network of other experts and consultants is often part of the deal when you hire a virtual CFO.
Cons of Hiring a vCFO
It's not all roses. There are, of course, some cons to hiring a vCFO, which include:
Lower commitment: An outsourced CFO may not be as highly committed to a company in short term contracts. They may have multiple clients and less of a stake in your company's long-term growth if not hired long term.
Less time to refine: One of the advantages of a staid and established CFO is that they can develop processes and other leaders within the company. This may not be equally true of virtual CFOs who are hired on a very short term basis.
May not be an industry professional: The "outsider's perspective" slices both ways. If their experience or viewpoint is too far outside of the industry or company, a vCFO may not make the most relevant or expert decisions, unless you hire a vCFO with industry experience.
May have less experience: Traditional CFO hires often have 10+ years of experience, working their way up to the role. In contrast, a vCFO could be less experienced.
How to Become a Virtual CFO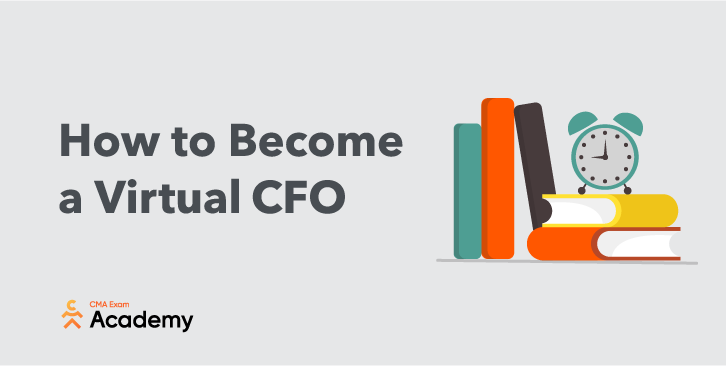 Virtual CFOs need all the qualifications and skills of a regular CFO, plus a huge dose of technological know-how. Here's a breakdown of what is typically looked for in a CFO or virtual CFO:
Accounting professionals who have an academic background and advanced degrees in related fields.
Finance professionals with additional qualifications, like the CMA. Find out more about what CMA is.
People who are eligible for traditional CFO positions usually have at least a decade of accounting and financial management experience. This experience may be obtained in the less traditional role of a virtual CFO.
People who exhibit both accounting acumen and business leadership. It is important that a CFO can manage staff and develop solid processes.
Any type of CFO needs to communicate well. There will be many contexts in which they provide reporting, forecast budgets, and even cast a vision for the financial future of a company.
Virtual CFOs must be tech-savvy. All of their work will be done remotely or virtually, using a lot of software to get tasks done. The CFO is responsible for a lot of purchasing and operations decisions, including technology.
A virtual CFO must have an entrepreneurial bent. Essentially, they are operating a virtual business of growing their clients' businesses. That means seeking out clients and all the operational tasks of providing CFO services.
Because of those requirements, here are some accomplishments that will set you on the right path to a successful vCFO business:
Education: Get a bachelor's degree and maybe a master's degree in accounting or finance.
Credentials: Become a Certified Management Accountant or pursue another high-level accounting credential.
Experience: Practice in an accounting firm or in finance full-time, working your way up the ladder to increasingly important roles. Work experience is part of the CMA requirements and will add to your credibility as a virtual CFO.
Leadership: Become a controller or pursue another role that requires similar knowledge and leadership.
Network: Build a network within your field and at any business where you are employed. These relationships will be useful to you later in your career and to help you get your first clients when you start looking for vCFO clients.
Want to be a CFO but don't care about a corner desk? An emerging field for qualified accountants is to become a virtual chief financial officer (vCFO). This is an off-site position that gives you location independence, with the same role and title as a traditional executive. CMAs are particularly well-positioned to be high-powered players in the c-suite. Start it as a side hustle, do it in a consultative capacity, and earn some great credentials to accelerate your career.
Need a boost? Hire a CFO trainer who can get you on the fast-track toward becoming a vCFO.
Virtual CFO FAQs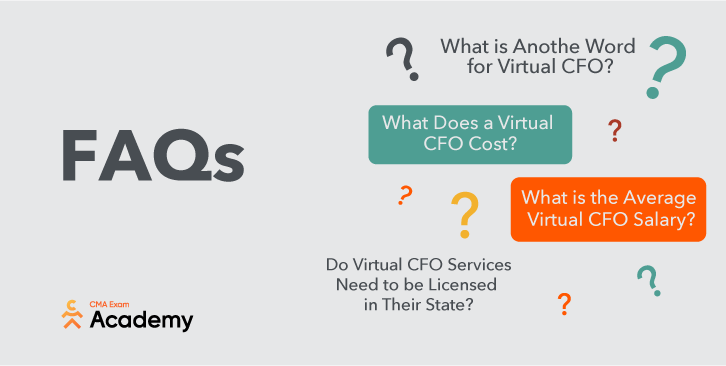 Here are some answers to frequently asked questions about virtual CFOs.
What is the Average Virtual CFO Salary?
In the 90th earning percentile, the average virtual CFO salary is $213,500. The median national average salary for vCFOs is $125,273.
Do Virtual CFO Services Need to be Licensed in Their State?
Virtual CFOs can be hired in a variety of capacities, and the technical setup may change from business to business. Some companies hire a virtual CFO as an independent contractor, through an accounting firm, or as a part-time employee on staff. The only licensure that would be associated with a virtual CFO could be a CPA or CMA certificate. Both of these credentials must be maintained through continued education and ethics courses.
What is Another Word for Virtual CFO?
Another word for virtual CFO is fractional CFO or outsourced CFO. The term is often abbreviated as vCFO.
What Does a Virtual CFO Cost?
Virtual CFOs typically cost less to a company than traditional CFOs. Where a traditional CFO may make an average of $393.412, a high-performing vCFO makes an average of $213,500.
Do you have more questions about how to become a virtual CFO or what a virtual CFO does? Drop them below and I'll answer!