Chief Financial Officers are in charge of managing finances at the highest corporate level. So it makes sense to offer a CFO salary that matches this responsibility. CFO salaries are significantly above average, even for executives at a similar level.
Compensation follows expertise. A CFO job description includes providing valuable strategic leadership of a company's financial systems and transactions. All the staff in accounting departments report to the CFO. It is the highest, and highest paid, accounting position in a company.
This article will break down average CFO salary ranges, how much you can make as a CFO in different kinds of companies. You'll also see what CFOs make in different states and the non-salary compensation perks that can add to your earning power as a CFO.
Average CFO Salary Ranges
A chief financial officer in the U.S. can expect to make anywhere from $130,000-$462,923 per year. Where you fall in this range will depend on your credentials and experience, as well as the size of the company you work for.
CFO salary ranges also differ from state to state. According to Zip Recruiter, the highest paying state for CFOs is Washington and the lowest paying state for CFO jobs is North Carolina.
Salary ranges for CFOs depend on a few things, such as:
Company size
Company location
CFO qualifications
Years of experience
Most public company CFO jobs have three components of compensation:
Base salary
Bonus
Equity
While all CFOs can end up making great money for most of their career, early decisions like what school you go and whether you pursue graduate studies definitely make a difference. Going after accounting certifications like CMA or CPA and pursuing the right job experience will also increase your earning power as a CFO.
And of course, paychecks aren't the only perks.
Additional CFO Compensation
Like many people in executive or upper management positions, salary isn't the only remuneration received in the course of a year. Additional compensation may come your way in the form of:
Incentive compensation (pay-for-performance)
Long-term incentives (pay packages)
Incentive stock plans
Supplemental life insurance
Supplemental disability insurance
Long-term care insurance
Supplemental medical insurance
Job related liability insurance
Vacation allowances
Sabbatical or leave of absence allowances
No-additional cost services
Employee discounts
De minimis fringe benefits
Working condition fringe benefits
Retirement plans
It is estimated that base salary only accounts for about 70% of what CFOs make each year. With bonuses and benefits, the median salary can go from $363,567 to $519,692.
Want to be a CFO but don't care about a corner desk? An emerging field for qualified accountants is to become a virtual chief financial officer (vCFO). This is an off-site position that gives you location independence, with the same role and title as a traditional executive. CMAs are particularly well-positioned to be high-powered players in the c-suite. Start it as a side hustle, do it in a consultative capacity, and earn some great credentials to accelerate your career.
Need a boost? Hire a CFO trainer who can get you on the fast-track toward becoming a vCFO.
CFO Salaries by Company Size
Whether you want to be a small fish in a big pond, or vice versa, CFO pay will vary based on company size. Here's a breakdown of average salary for a CFO in everything from a startup to a large public company.
| | |
| --- | --- |
| | Average Salary in the USA |
| Startup Business CFO Salary | |
| Small Business CFO Salary | CFOs of small businesses with less than $20M in annual revenue make an average of $194,354 |
| Medium-Sized Business CFO Salary | CFOs of medium-sized businesses that earn between $21M-$99M in annual revenue make an average of $237,983 |
| Large Business CFO Salary | CFOs of large businesses typically follow the national median and earn an average of $362,030 |
| CFO Salary at a Fortune 500 Company | CFO pay at the largest companies typically includes a high six-figure salary with large bonuses and stock awards |
Many factors impact who gets the CFO job in a company. As you look further into how to become a CFO, consider what type of company you want to work for. That way, you can work towards getting the right credentials and experience to eventually land your ideal position.
Larger companies and Fortune 500 companies are steeply competitive. Most commonly, they will hire a CFO based on a number of factors. They may require Ivy League education and additional credentials like an MBA, CMA, or CPA. It's typical for a CFO at that level to have a decade or more of demonstrated experience.
Some smaller companies and even startups hire a full-time CFO, but will pay far less. Others choose to hire a part-time CFO while they are growing or outsource the role to a Virtual or Fractional CFO service.
Although a virtual CFO salary may not be as high as a full-time CFO, working as a vCFO or part-time will get you the experience you need to advance your career. And the bonus is you need fewer qualifications to get the gig, so it can be a great first stop.
Not all accounting professionals who want to be CFOs are just in it for the power and money. Entrepreneurially minded professionals may work with startups or in smaller companies for the thrill of doing something new. While income is a factor for becoming a CFO, it isn't the only point of consideration.
CFO vs CEO Salary
The CFO and CEO are the top positions in any organization. While their roles have similar scope, the CEO is still the most authoritative figure in an organization. Top paid CEOs make as much as $108M a year (Safra Catz and Oracle Corp). However, some studies have estimated that CFOs may make less than half what CEOs make.
In very general numbers, here is how CFO salary compares to CEO salary across the U.S.:
Even though a CFO is vital to company operations, they play a different role than the CEO. The CEO provides leadership over every department and oversees the entire company. Their pay reflects this reality.
Even though a CFO is vital to company operations, they play a different role than the CEO. The CEO provides leadership over every department and oversees the entire company. Their pay reflects this reality.
CFO Salaries by Location
CFO salaries vary by location. Different parts of the country have different levels of demand, a different saturation of Fortune 500 or bigger businesses and generally higher salaries for executives.
Here's the breakdown of CFO salaries by location in some of the top paying areas.
| | |
| --- | --- |
| | |
| CFO Salary in Los Angeles | |
| | |
| | |
| | |
| | |
| | |
| CFO Salaries in Smaller US Cities | The median CFO salary for the entire United States is $393,412 |
While the numbers may appear to vary, keep in mind that commensurate cost of living norms contribute to what you can make as a CFO in different states.
CFO: A Well Salaried Profession
Becoming a CFO has plenty of perks. Many people with high ambition aim at this top of the pile accounting profession.
While the journey to become a CFO is fairly straightforward, there are several years of experience and hard work that have to be accomplished. After getting a degree in a related field, many professionals pursue additional credentials, like becoming a CMA.
These, as well as distinguishing yourself through a few years of hard work, may help you land a seat in the C-suite.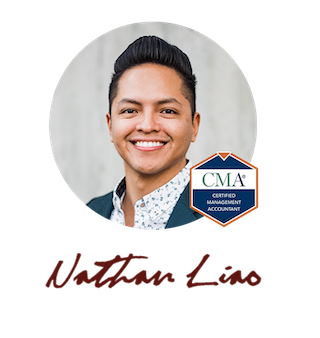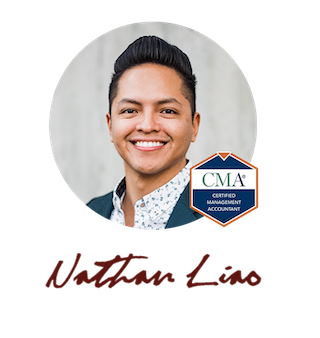 Hi, I'm Nathan Liao (aka the CMA Coach)! For the last 10 years, over 82,000 accounting and finance pros came knocking at my door seeking guidance and help. If you're also aiming to conquer the CMA exam on your very first try—without wasting away time or money—you've found your ultimate guide. Dive in deeper to discover more about me and the dedicated team that powers CMA Exam Academy. Click here and let's embark on this journey together!