Would you believe that the CMA designation helped me pay off $100K of debt? Yes, it did.
If you have ever studied at college in the United States, spent a little too much on your credit cards or purchased a home or car, then you will probably understand the overwhelm of debt to some extent.
Digging your way out of debt can be daunting, especially if you're in a low-income job, which is where I found myself…until I earned my CMA.
Find out how earning my CMA designation helped me get out of debt, and how it can help you improve your lifestyle too.
To listen in, just click the play button at the top of the page, download this in iTunes or listen on Stitcher.
Like what you hear? Give us a 5-star rating or leave a review!
Here's What You'll Learn in this Week's Episode:
A sneak peek into the launch of CMACoach.com
The underbelly of debt and the realities of poor paying jobs
How earning my CMA designation changed my life
Resources:
CMACoach.com — The most comprehensive online resource for CMAs
The Ultimate Guide to the CMA Exam — Find out how to get a FREE download
CMAExamAcademy.com — My top-rated Instructor-led CMA review course
Like what you heard? Be sure to share it with your friends, family or coworkers and join me for brand new episodes every week.
P.S. Here are a few more awesome resources: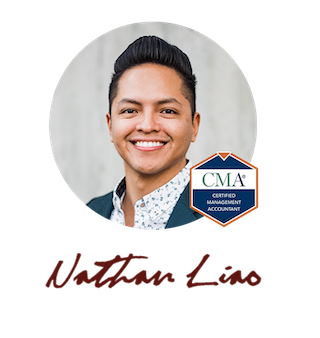 Hi, I'm Nathan Liao (aka the CMA Coach)! For the last 10 years, over 82,000 accounting and finance pros came knocking at my door seeking guidance and help. If you're also aiming to conquer the CMA exam on your very first try—without wasting away time or money—you've found your ultimate guide. Dive in deeper to discover more about me and the dedicated team that powers CMA Exam Academy. Click here and let's embark on this journey together!