Not too long ago a new designation was born — Chartered Global Management Accountant (CGMA). As you can imagine, this got the accounting world buzzing. Now, which one should accountants go for first? The CGMA vs CMA?
Was it going to be accepted by the community? Was it worth its salt? Or was it a flawed certification, though with good intentions, failed to meet the high standards we expect from certified accountants?
In this episode, you are going to hear a bit about the history of the CGMA vs CMA, how you can earn this designation and which one you should consider.
Probably one of the most controversial designations yet, you're going to want to hear every word of this podcast. To dive right in, click the play button at the top of the page, download this in iTunes or listen on Stitcher.
Like what you hear? Give us a 5-star rating or leave a review!
Here's What You'll Learn in this Week's Episode of CGMA vs CMA:
A juicy history of the CGMA vs CMA

Are you eligible, or does that even matter?

Show me that money — what's your earning potential

Which designation is more desirable to employers

Decision time. Find out which one is best suited for you
Resources:
CMACoach.com — The most comprehensive online resource for CMA candidates

The Ultimate Guide to the CMA Exam — Listen in for your

FREE download

discount code

CMAExamAcademy.com — The best online, Instructor-led CMA review course
Like what you heard? Be sure to share it with your friends, family or coworkers and join me for brand new episodes every week.
More By Nathan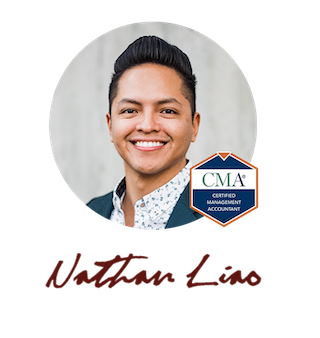 Hi, I'm Nathan Liao (aka the CMA Coach)! For the last 10 years, over 82,000 accounting and finance pros came knocking at my door seeking guidance and help. If you're also aiming to conquer the CMA exam on your very first try—without wasting away time or money—you've found your ultimate guide. Dive in deeper to discover more about me and the dedicated team that powers CMA Exam Academy. Click here and let's embark on this journey together!