If you're looking for skills to future-proof your career in accounting, let me introduce you to data analytics. As technology becomes more prevalent in our professional lives, it also becomes increasingly important for us to understand how to maximize its uses.
Developing your skills in data analytics can help you remain competitive in the candidate pool for new positions while also helping you advance in your current company.
Whether you're interested in investing in your professional development or you're looking to understand more about the data analytics section of the CMA exam, keep reading.
In this article, I'll cover the basics of data analytics in accounting and provide practical advice for accountants who want to future-proof their careers:
What Is Data Analytics in Accounting?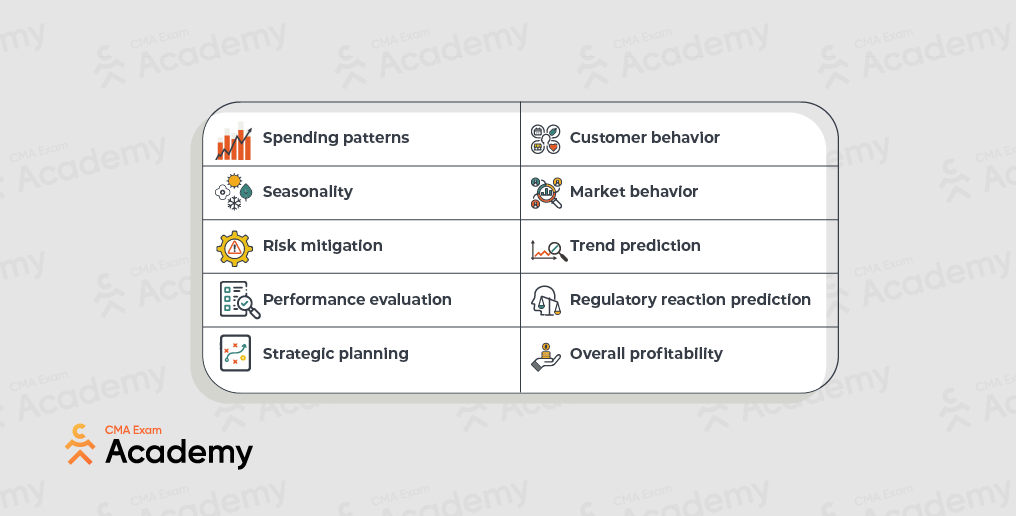 Data analytics for accounting is a skill in which professionals capture, harvest, and analyze data pertaining to a company's finances. Professionals then use that data to inform decision-making and strategic planning processes in order to make more accurate projections. They can also use data to program AI software to automate tasks.
When used correctly, data can provide insight into and support for the following areas of a business:
Spending patterns
Seasonality
Risk mitigation
Performance evaluation
Strategic planning
Customer behavior
Market behavior
Trend prediction
Regulatory reaction prediction
Overall profitability
Data analytics is an increasingly necessary skill for accountants in high-level positions, as it empowers them to make better decisions, answer big questions, and project more accurately.
The 4 Types of Data Analytics in Accounting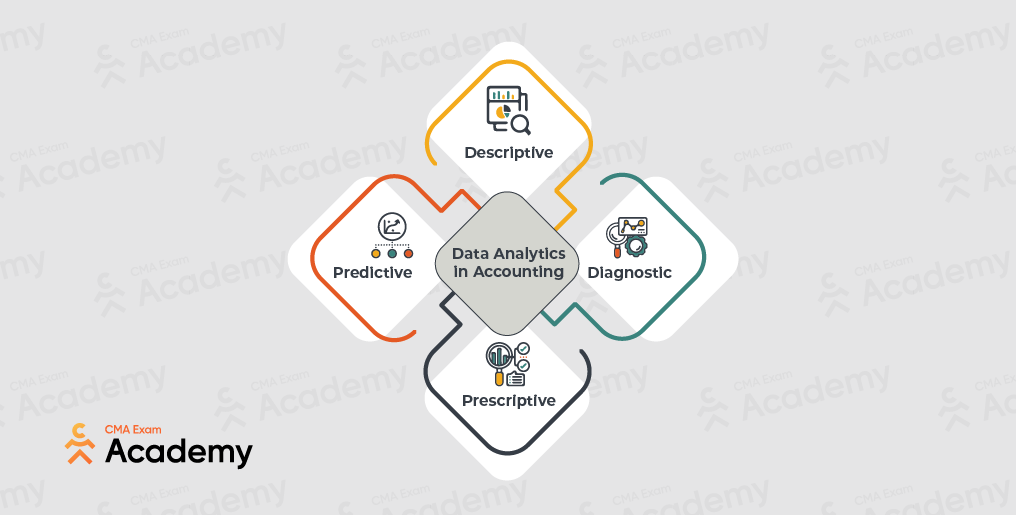 So, it's clear data analytics skills can make an accountant even more valuable to their team. But how exactly can those skills be applied?
Let's break down four types of data analytics in accounting and discuss what each type is used for.
Descriptive Analytics
What took place this quarter? How are we performing compared to our performance last year? These are the types of questions that can be answered with this type of analytics.
Descriptive data analytics in accounting involves data that alerts a team to the current status of an operation. It provides basic insight into what is currently happening.
An accountant who specializes in descriptive data analysis can use relevant data to create precise financial statements, reports, and recommendations for a business in the present moment.
Diagnostic Analytics
Why did this strategy fail? Why did we perform better than expected this quarter? Diagnostic data analytics in accounting aim to answer these more complex questions. They can provide insight into why the descriptive analytics numbers appear the way they do.
Accountants who specialize in diagnostic data analysis employ both recent and past data to gain a better understanding of the outcomes demonstrated by descriptive data. These answers can be used to communicate to the C-Suite of a company, to provide insight to board members and investors, and to analyze business performance.
Predictive Analytics
Can data really predict the future? The plain answer is no, but it's more complicated than that. Projections, strategy, and predictions begin with predictive data analytics. Accountants who specialize in predictive analytics use diagnostic and descriptive data to forecast future trends, outcomes, and patterns.
Depending on the amount of data that's actually available for analysis, predictive analytics could either be used to inform minor decisions and strategies, predict major trends, or demonstrate the potential result of a proposed decision.
The results aren't set in stone—predicting future outcomes with 100 percent accuracy is impossible. But accountants can use this type of analysis to get a better understanding of what might happen in a business's future.
Prescriptive Analytics
The final type of analysis works in tandem with predictive analytics to determine what should happen in order to help a business reach its objectives. They can be used to inform recommendations, strategies, and actions that can result in major wins for a company.
How Is Data Analytics Used in Accounting?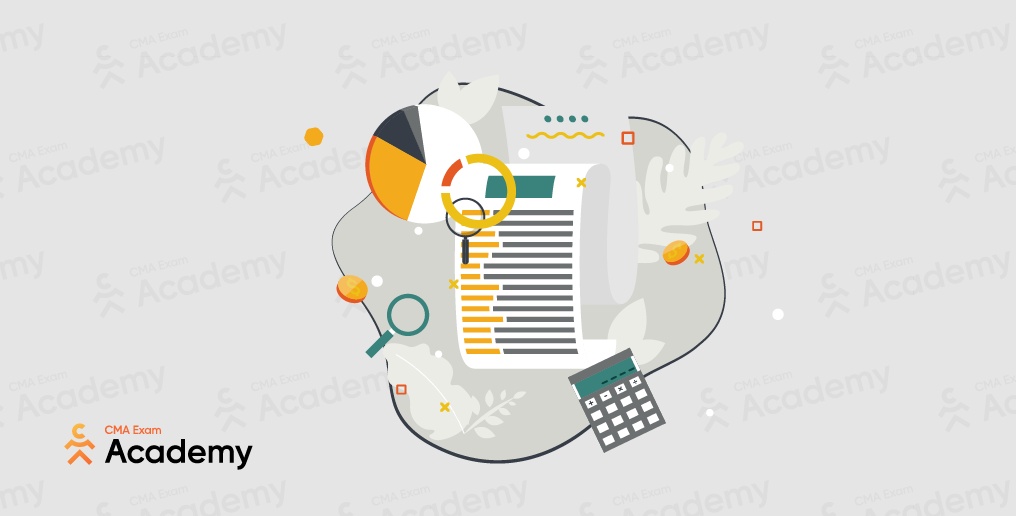 As you can likely see, accountants who specialize in data analytics are able to mobilize data across multiple areas of a business. In doing so, they inform decisions and create accurate projections that improve performance, productivity, and profitability.
With the advancement of machine learning and artificial intelligence tools, teams can achieve data-handling numbers that were previously unthinkable. Businesses need skilled analysts to make use of this data.
Accountants who can deliver all four types of analysis are able to provide sophisticated and measurably valuable skills to any organization. And as technology becomes more integrated with our daily professional lives, it will become a requirement to remain competitive.
Data Analysis and Visualization in Accounting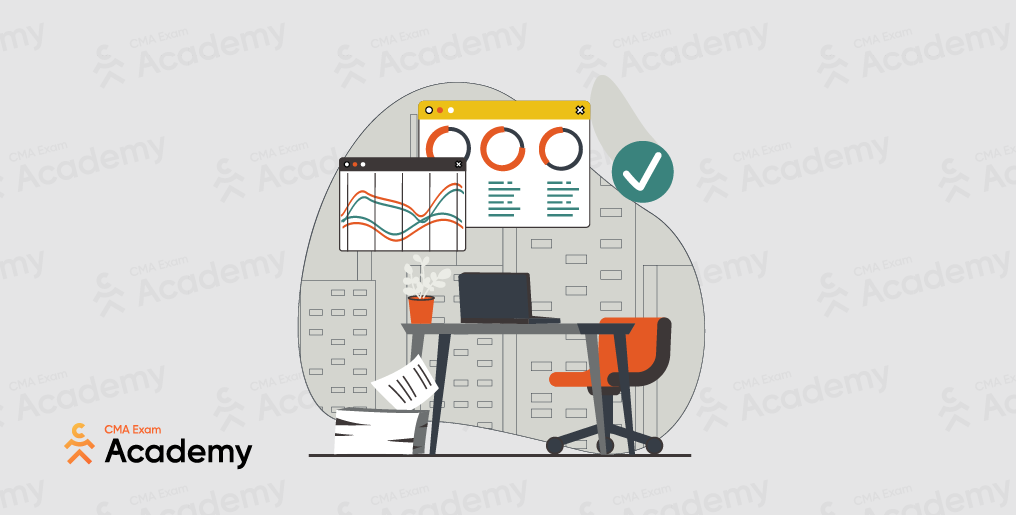 If you're ready to begin expanding your data analytics skillset, let's explore some of the different tools used in accounting that can help you capture, understand, and leverage insights from data.
Excel for Accounting Data Analytics
You likely already know that Microsoft Excel is an extremely popular and powerful tool. It's used by organizations across the globe for a wide variety of applications. But did you know that it's one of the go-to tools for data analytics?
Excel is a navigable, accessible option that you're likely already familiar with so it should be easier to begin using it to analyze data.
Tableau for Accounting Data Analytics
Tableau is one of the foremost data analytics tools in the world. This is ideal for anyone employed by a mid to large-sized enterprise, as it is capable of handling significant sets of data. It can even produce fantastic visualizations for presenting to leadership.
Power BI for Accounting Data Analytics
Microsoft's Power BI is a premium tool that seamlessly integrates information from other Google and Microsoft applications to optimize business insights. Professionals who are adept at Power BI will be able to deliver excellent value to their team in the form of end-to-end insight and visibility that drives smarter decision-making.
IDEA for Accounting Data Analytics
If you're looking for data analytics software for accountants specifically, then you might want to look into IDEA. Because it was engineered with accounting professionals in mind, it's capable of performing the exact functions they'll need.
How Do I Become an Accounting Data Analyst?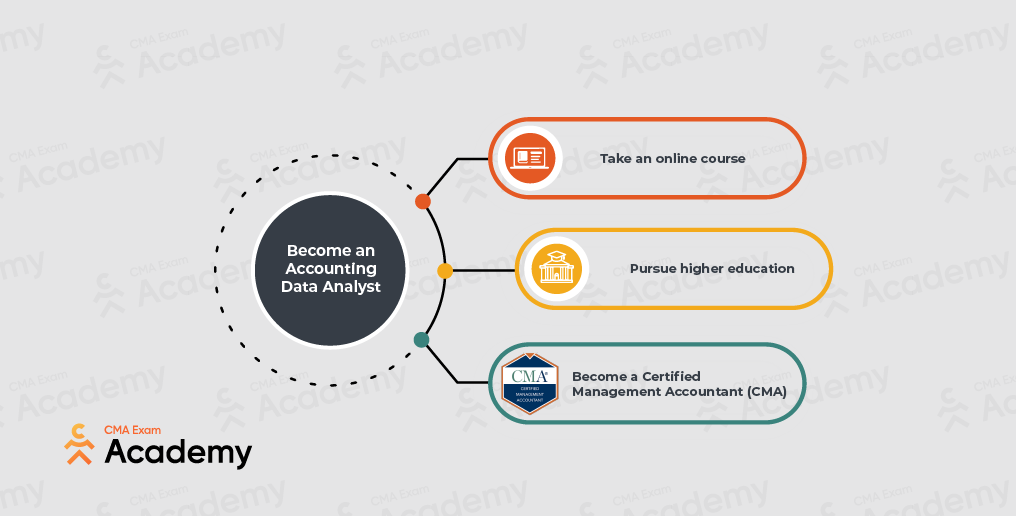 As an accounting professional, data analytics is one of the most important skills to hone in order to future-proof your career. So how can you learn new skills to deliver more value to your organization?
Here are some options:
Take an online course: There are many online courses about data analytics that can allow you to access the knowledge you need to level up your career. The downside of this option is that many online courses aren't recognized by employers as official education because they don't come with accredited certifications. There's also limited data available on how this may impact your salary and career opportunities.
Pursue higher education: A certificate in data analytics or even an MBA could be attractive options for many accountants who want to explore advanced concepts and ideas. The downside of post-secondary education is the immense time and money commitment required.
Become a Certified Management Accountant (CMA): The process for becoming a CMA is challenging, but it is a relatively low-cost, high-reward way to advance in your career. Part One of the CMA exam includes data analytics, so becoming a CMA will allow you to learn this as well as many other valuable skills.
If you're interested in becoming a CMA, don't let the process of studying and passing the exam deter you. The truth is that CMAs earn 58% more than non-CMAs globally, so it's a great investment in your financial future. Plus, CMA Exam Academy students have a pass rate that is nearly double the global average.
Check out my CMA 16-Week Accelerator program before you begin your journey to becoming a CMA. It could save you hours of study time and it's guaranteed to help you pass the exam.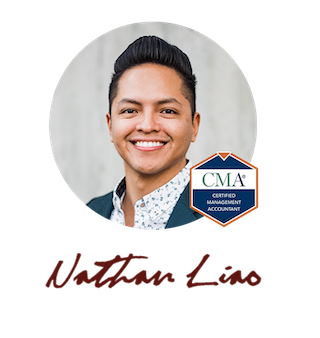 Hi, I'm Nathan Liao (aka the CMA Coach)! For the last 10 years, over 82,000 accounting and finance pros came knocking at my door seeking guidance and help. If you're also aiming to conquer the CMA exam on your very first try—without wasting away time or money—you've found your ultimate guide. Dive in deeper to discover more about me and the dedicated team that powers CMA Exam Academy. Click here and let's embark on this journey together!