There are plenty of options for curriculum and courses that help you pass the CMA exam. Two top choices are Wiley CMAexcel and CMA Exam Academy.
Both programs offer comprehensive course materials and study tools, but there are some notable distinctions that may tip the scale for you one way or the other.
If you're investigating Wiley vs. CMA Exam Academy, read on to learn more about the pros and cons of each.
Want to find a CMA review course right now? Shop for a CMA Exam Academy course.
Wiley CMAexcel vs. CMA Exam Academy: Course Materials & Features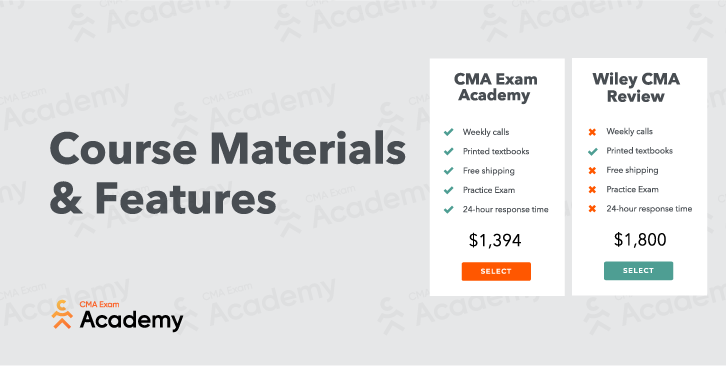 Here are some apples to apples comparisons of what you get with Wiley CMAexcel versus what you get with a CMA Exam Academy course.
Wiley offers three tiers of pricing, but only the Platinum course would be considered a complete resource, and it's their most popular. The cheaper options exclude important features, like the test bank and access to instructors when you have questions.
| | | |
| --- | --- | --- |
| | | |
| | | |
| Weekly support calls with your CMA Coach | | |
| | | |
| | | |
| In-person practice exam at a testing center | | |
| 24-hour response time from a CMA Exam Instructor | | |
| | | |
| | | |
| | | |
| | Weekly coaching with guidance through the online course content | |
| 16-Week study program for each exam part | | |
| | | |
| | | |
| Accounting 101 Crash Course | | |
| "Your Exam Day" coaching and prep | | |
| | | "Partner Until You Pass" (course access until you pass) |
Price Comparison
The first thing you'll notice in the chart is that CMA Exam Academy has a significantly lower price. On top of that, you'll get discounts on some of the required IMA fees, and it's completely risk-free. You can get your entire investment back if the course doesn't help you pass.
When you compare the course features and what's included in each, you'll see that despite its higher price, Wiley offers less value. You may find you have to purchase additional tutoring or coaching to be prepared enough to pass the exam on your first try.
Features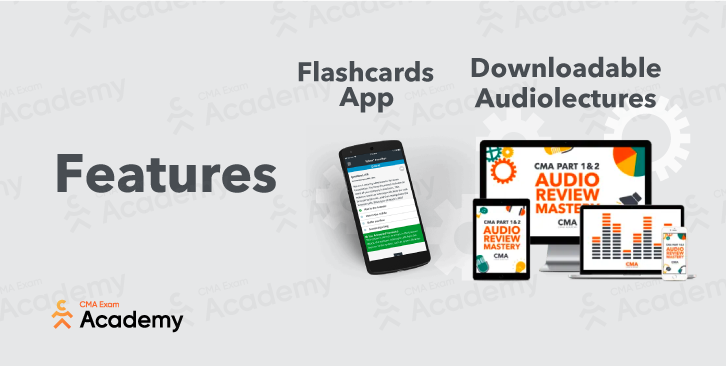 While both courses offer a complete set of study resources, there are some points of departure that could make the difference for you.
The one feature Wiley offers that CMA Exam Academy doesn't is a flashcards app. And the one feature CMA Exam Academy has that Wiley doesn't is downloadable audio lectures.
Some people prefer learning on the go, and audio lectures are really helpful to make use of extra time during a commute or exercise session.
While both courses have an online test bank, CMA Exam Academy's test bank features PassRate predictive technology, which lets you know when you're ready. You can buy it separately, but it's included when you buy CMA Exam Academy's course.
And finally, CMA Exam Academy includes a unique Prometric bonus. You can schedule an in-person practice exam at a real testing center to get familiar with the process and make sure you're ready to pass. The cost is included with your enrollment in this program.
Extra Support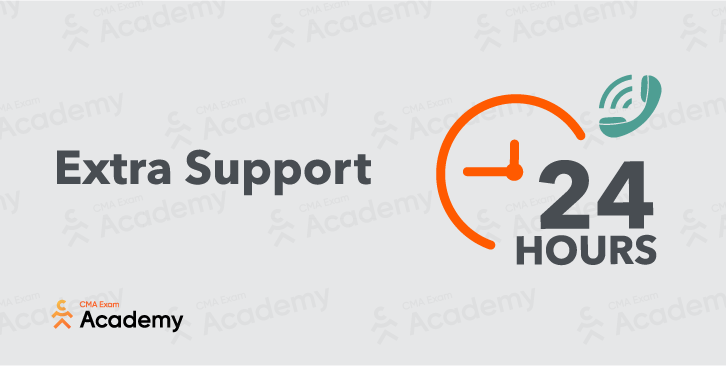 The CMA exam is so difficult that less than 50% of candidates pass each year. Of course, you can self-study and you can pay additional fees to retake the exam. But the most efficient and effective way to prepare is to do it right the first time — fully supported and prepared on exam day.
That's why CMA Exam Academy places an emphasis on coaching and support. In this category, it's a clear winner. The course includes a weekly coaching call and unlimited questions via email with a 24-hour response time from a Certified Management Accountant, or CMA instructor.
Compared to the 48-hour response time from a subject matter expert from Wiley, that's a big difference in the level of support.
Special Offerings: Wiley vs. CMA Exam Academy
Every CMA exam review course has a few special offerings built in. Here is a comparison of unique features from Wiley versus unique features from CEA.
| | |
| --- | --- |
| | |
| Weekly coaching calls & fast support from CMAs | |
| 16-week guided program with success rate of 90% | Bite-sized lessons for microlearning and rapid-fire review |
| Personalized test bank with PassRate technology for a custom experience | 11th Hour Final Review cram session |
| | |
Word on the Street: Wiley Reviews and CMA Exam Academy Reviews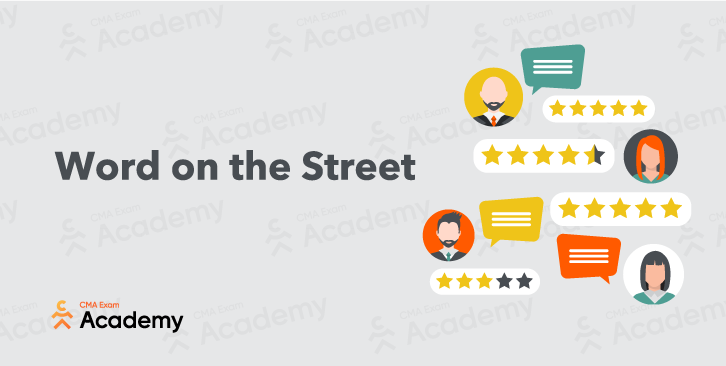 How you approach learning will impact how you experience these courses. It can be helpful to vet the content by looking at objective reviews.
Here are a few things CMA Exam Academy's many successful students have to say about their experience, and you can find many more on the testimonials page:
"It all started like I wasn't gonna scale through but yayyyy! I made it on my first attempt. Thanks to Nathan and his incredible team 💯💯"

– Ruth Danimoh, CMA Candidate

"In less than 6 months, Nathan & the CMA Academy helped me achieve my goal of becoming a CMA! Your support team is incredible, and I loved being held accountable for reporting back status updates as I neared my exam. I will be forever grateful for the new doors this opportunity will open for me."

– Nick Buscemi, CMA

"Thanks to Nathan and his team, I was able to pass part 1 on my first attempt! I'm currently studying for part 2 with the Academy with a target test date of February 2021. I highly recommend this program. As a working professional and new mother, the 16-week program fit perfectly in my schedule without being overwhelming."

– Amanda Kirby, CMA Candidate
The Best CMA Coach
If you are leaning toward CMA Exam Academy, allow us to sweeten the deal even more. One of the reasons many people buy CMA Exam Academy courses is because they are led by successful CMA coach, Nathan Liao.
Nathan maintains personal involvement in the courses and hosts weekly coaching calls. His assistance has helped thousands of people like you pass the CMA exam.
CLICK HERE to contact CEA directly!
CMA Exam Academy's FREE Resources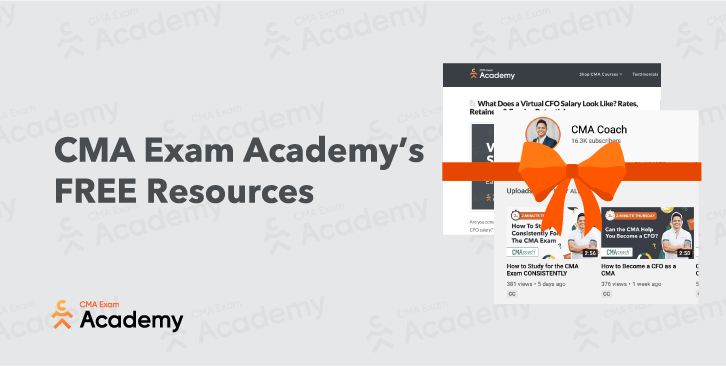 In addition to coaching within his courses and as a service, CMA Exam Academy has a ton of FREE online resources that can set you up for success.
Check them out here:
CMA Exam Academy Blog: Chock-full of valuable resources that not only teach you CMA test-taking strategies but also illustrate your career options once you earn a CMA.
CMA Exam Academy on YouTube: subscribe to Nathan's channel for expert guidance on crafting a CMA action plan, how long to study for the CMA exam and LIVE Q & A sessions where you can submit your own inquiries.
Wiley vs. CMA Exam Academy: Find the Right Program For You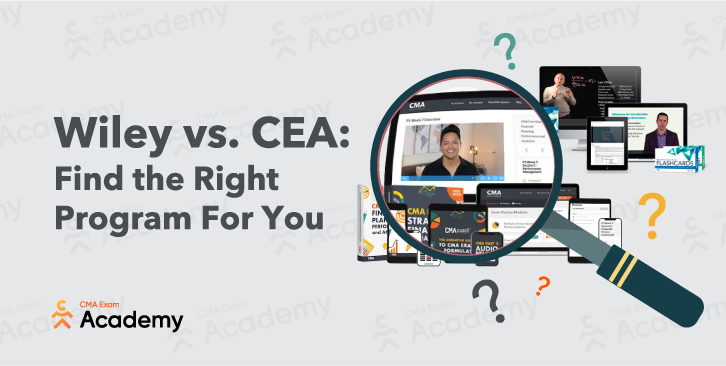 At the end of the day, the right CMA exam prep is going to be a comprehensive course that engages you consistently through the course of your studies.
This is a strategic decision that can make all of the difference. If you want a self-study option, must have an app, and are willing to pay a higher price, Wiley CMAexcel may be right for you.
If you respond best to high-energy instruction, following a proven weekly program, and unparalleled coaching support, CMA Exam Academy may be your best bet.
There is no easy button to pass the CMA exam. But with the right CMA review course, you'll be sure to achieve your goals.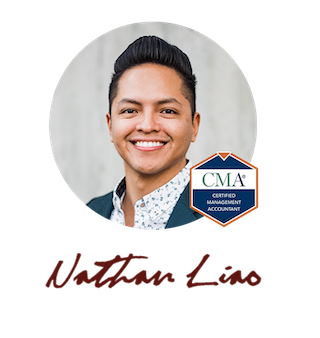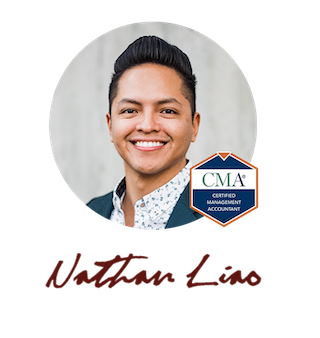 Hi, I'm Nathan Liao (aka the CMA Coach)! For the last 10 years, over 82,000 accounting and finance pros came knocking at my door seeking guidance and help. If you're also aiming to conquer the CMA exam on your very first try—without wasting away time or money—you've found your ultimate guide. Dive in deeper to discover more about me and the dedicated team that powers CMA Exam Academy. Click here and let's embark on this journey together!