[wptm id=4]
| | | | | | |
| --- | --- | --- | --- | --- | --- |
| | | | | | |
| | | | | | |
| | | | | | |
| | 16-Week CMA Accelerator Program | | | | |
| | | | | | |
| | | | | | |
| | | | | | |
| | | | | | |
| | | | | | |
| | | | | | |
| Weekly Accountability Check-ins | | | | | |
| | | | | | |
| | | | | | |
| Prometric In-Person Exam Rehearsal | | | | | |
| 24-Hour Email Response Time | | | | | |
| | | | | | |
| Exclusive 15% IMA Discount | | | | | |
| | | | | | |
| Fundamentals of Accounting Textbook | | | | | |
| Whiteboard Explainer Videos (MCQs) | | | | | |
| | | | | | |
| | | | | | |
| | | | | | |
| | | | | | |
| | | | | | |
| | | | | | |
| | | | | | |
| | | | | | |
| | | | | | |
| | | | | | |
| | | | | | |
So many accountants are excited about the possibility of becoming CMAs, earn a much higher salary, advance their career into the executive ranks, and expand their knowledge and skills.
We've already seen it's a definite possibility. I've pulled back the curtain on my own CMA journey from giving up on the CMA credential to passing both parts on my first attempt in 6 months. 
It's possible! But it isn't easy.
In fact, when I started out. I was completely overwhelmed. The first thing I did was Google, "how to become a CMA with less effort and time." And I found SO MANY OPTIONS. And all of them were terrifying and jargony. Should I do X? Should I do Y? And what the heck is Z?
I was lost. My enthusiasm wavered. I knew I had to take action, but would I ever really be able to figure this out?"
I want to tell you more about the mistakes I made when I started out. Because there are SO many ways to go wrong when you start to figure out how to prepare for the exam. And there are plenty of "experts" running their mouths and telling you what you want to hear, instead of what actually works.
Here are the 3 pernicious myths that I see so many people fall victim to — and I want to help you avoid them:
1. The "If I only take live classes, I'll pass the exam" myth
This one is a doozy. When I started out trying to prepare for the CMA exam, I took a live instructor-led course at a University close to home with a price tag of $1,600 per part! Just like all CMA courses offered at universities around the world, this course was very accelerated. It lasted 7 weeks!
At the time I didn't know, but that was NOT enough time to prepare for this tough exam. I was so frustrated!
But you know what? Instead of thinking about my process (or whether the class even worked), I'd always blame myself. "If only I tried harder, it would have worked."
And then I tried harder. Had good weeks. Had very bad weeks. Hated myself for the bad weeks.
Once I realized that just "trying harder" wasn't working (and would NEVER work), I broke through and developed a solution for myself that didn't just make the process easier. More on that soon…
Another myth I had to get over?
2. The "I can pass the exam if I self-study" myth
What about all those CMA review courses that promise that if you "only do X" or "as long as you study  Y hours," you'll be able to pass the exam? If so many companies promise this, it has to be true right?
I wanted it to be true, too. Here's why so many people believe it and how I found out the truth (and why you'll actually be HAPPY the "I can pass the exam if I self-study" myth isn't true).
After the disaster that it was to take a live prep class, I took matters into my own hands and went the self-study route. Oh, how grueling it was! If I had followed exactly what the self-study prep course suggested, I probably would've failed.
According to the IMA, in the past 12 months, less than 30% of candidates passed the exam.That means over 70% failed the exam.
And guess what? The majority self-studied. Self-studying is one of the hardest things to do and the success rate is extremely low. There's a strategy to significantly cut the time and effort it takes to figure it all out and to prevent from making the mistakes over 70% of candidates make each year.
3. The "I don't have time to study so I'm putting the CMA on hold" myth
I still hear this all the time! When did we first hear this myth? Was it a commercial? For some reason, when we think about prepping for the exam, we envision coming home from work, have dinner in front of the TV or with the family, then open our books and study until 2 AM the next day. We think it takes 30 to 40 hours per week to adequately prepare for this exam.
We think that we have to sacrifice our weekends, time with family and friends, and our leisure time. But it doesn't have to be that way.
There's no doubt that it's very tough when we do it alone. It was tough for me because I was alone on this journey and worked full time too. I hit the books almost every evening after work, then put some hours on my weekends. However, I was very strategic about my time and how I studied.
I spent a good few weeks figuring out the fastest way to study while retaining over 80% of what I learned. This allowed me to have time for my family, friends, the gym, and other hobbies of mine all while studying for the exam.
We are all very busy people but there are strategies and study methods that made it possible for me to continue working full-time, study for the exam, and have time for family and friends. With the right process, you too can have it all! There's no need to temporarily sacrifice what we love in life for the CMA designation. We can have both 🙂
4. Bonus Myth: "Study Longer and Study Harder"
Most accountants believe that they have to study longer and harder than anyone to pass the CMA exam. Instead, I've discovered that 1-on-1 coaching is far more important if you want to pass the exam on your first attempt with less effort, in less time while saving money.
I coach accountants who are frustrated with their careers and with their salaries pass the CMA exam, earn a much higher salary, advance their career into the executive ranks, and gain respect from their peers and bosses.
Part III is coming soon to your inbox. In it, I'll reveal one of the most important techniques to pass the CMA exam on your first attempt. Don't miss it. Its worth is in gold.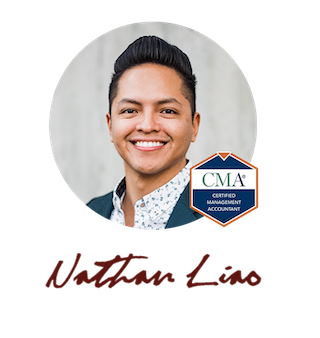 Hi, I'm Nathan Liao (aka the CMA Coach)! For the last 10 years, over 82,000 accounting and finance pros came knocking at my door seeking guidance and help. If you're also aiming to conquer the CMA exam on your very first try—without wasting away time or money—you've found your ultimate guide. Dive in deeper to discover more about me and the dedicated team that powers CMA Exam Academy. Click here and let's embark on this journey together!