The Certified Management Accountant designation is growing at a fast pace. That's due to the demand for professionals with such advanced skills in management accounting. The banking industry is no exception. 
Click the play button at the top of the page, download this in iTunes or listen on Stitcher.
Like what you hear? Give us a 5-star rating or leave a review!
Here's What You'll Learn in this Week's Episode:
Certified Management Accountant vs MBA – which one is more practical in real life?
How relevant the Certified Management Accountant designation is in the banking industry
How helpful the CMA designation is for a Corporate Finance Director
If considering a move to a different industry, does the Certified Management Accountant designation hold its value?
The one skill you need to nurture today to become a Corporate Finance Director tomorrow
How to know if complacency has become the silent killer of your career – and what you can do about it now
Resources:
CMAExamAcademy.com/textbook — To claim your free CMA Part-One textbook in paperback
Horizon Analytics® – Horizon Analytics is Pacific Mercantile Bank's proprietary financial tool that provides a level of insight and analysis uncommon for small- to medium-sized private businesses. Using a proprietary private company database and financial analysis techniques typically available only to large public companies, Horizon Analytics helps businesses understand how their financial performance compares to their competitors and develop a detailed multi-year financial forecast to assist with capital planning and business investment. Through the insight provided by Horizon Analytics, Pacific Mercantile Bank helps its clients navigate challenges, capitalize on opportunities, and look into the future, far beyond a company's day-to-day activities.
Like what you heard? Be sure to share it with your friends, family or coworkers and join me for brand new episodes every week.
More By Nathan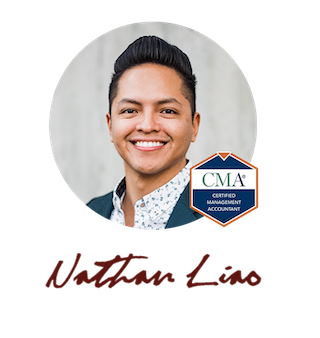 Hi, I'm Nathan Liao (aka the CMA Coach)! In the past 8 years, over 37,000 CMA candidates came knocking at my door seeking guidance. And just like them, I'm here to show you how you can pass the CMA exam on your first attempt without wasting money or time. Click here to learn more about me and the awesome team behind CMA Exam Academy.