MORE THAN A SELF-STUDY CMA REVIEW COURSE
If you don't like the idea of spending 20 hours per week
self-studying...DON'T...instead you'll be guided each week in this
done-for-you CMA prep course slashing your study time in half.
---
See How It Works!
---
"In less than 6 months, Nathan and the Academy team
helped me achieve my goal of becoming a CMA!"

Nick Buscemi, CMA
Trusted By Employees From: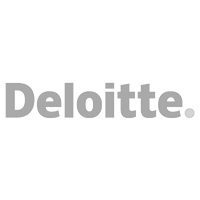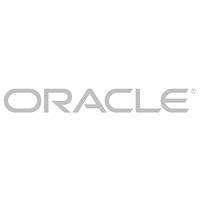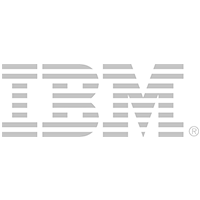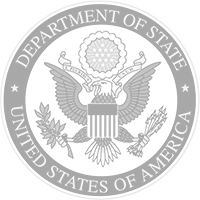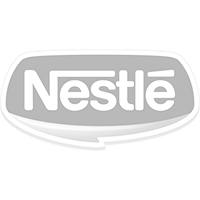 Dear Friend, I'm thrilled you are here right now. It tells me you are ready to advance your career, gain the respect and credibility of your peers and earn a higher pay for the rest of your life - I can help.
My mission is to help you realize your full potential and make an impact in your organization that you're meant to make throughout your career. 
But the secret and the first step is to prepare and pass the Certified Management Accountant exam.
The world needs more CMAs like you. It needs that special thing that only you possess.
Whether you're starting out in the accounting/finance industry or taking your current experience and skills to new heights, I'm here to help turn your big dreams into a lucrative and fulfilling career. 
After successfully coaching thousands of ambitious professionals from around the world to pass the CMA exam and live their dreams, my deepest hope is that I'll be able to help you do the same with my proven CMA prep course. 
With respect & appreciation,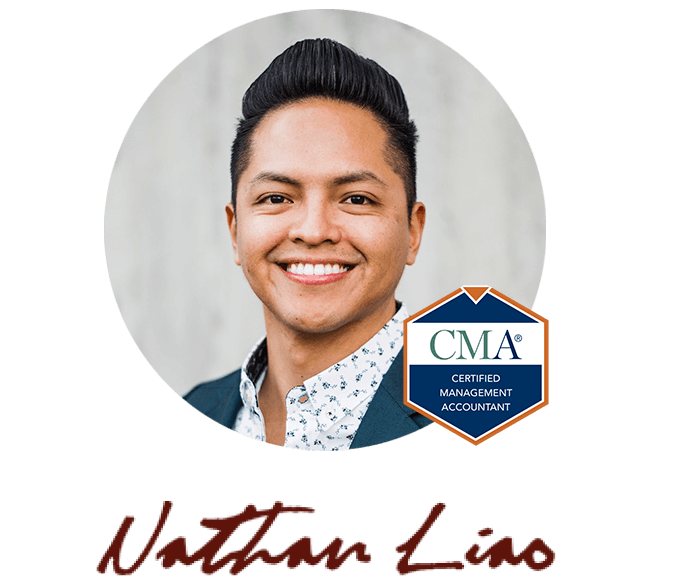 HEAR FROM ACADEMY GRADS
I'm honored to receive outstanding reviews from past students and a vibrant global community of passionate CMA candidates who can attest to the power of this CMA prep course.
"The CMA Exam Academy was instrumental in passing the CMA exam on my first attempt. I don't believe I would have passed in a timely manner without it."Ruben Dorado, CMA Candidate

"I used Nathan's CMA coaching website and am pleased to say I passed both parts of the CMA exam on my first time.

For Part 1 I got 420/500 and for Part 2 I got 440/500. I thank you for all your help. It really helped me a lot in planning and preparing for the exam."
Bob Varghese, CMA

"On test day I felt prepared and confident, and after the exam I felt that the content in the course was accurate and exactly what I need to prepare and pass the exam. I have passed part 1 of the CMA exam on my first try with a score of 360. I have Nathan and the CMA Exam Academy to thank."
Paula Koerner, Office Manager

"Nathan's able to prepare any hard-working person to pass the exam. His coaching techniques are innovative and effective; his personal presence is supportive and reassuring. This unique combination enabled me to score 420 on Part 1 and 440 on Part 2."
David Wood, CMA

"I have passed both parts of the CMA in the Sept/Oct 2014 exam window on my first attempt. I followed your method and cracked the exams. My scores are Part-One 420, and Part-Two 430."

Sushma Atthota, CMA
TRUSTED BY EMPLOYEES FROM:

WHAT EXACTLY AM I GOING TO LEARN IN THIS CMA PREP COURSE?
The Academy's comprehensive curriculum will help you pass the CMA exam and achieve your dreams of earning 6-figures per year, ascend to the executive ranks and earn the respect from your peers.
There are sixteen core learning Modules per part. Each Module is filled with step-by-step training videos, downloadable resources, and action guides/assignments. You'll watch and learn from your computer, or download your training to your tablet or mobile device.
My goal is to make your online learning experience as easy and enjoyable as possible in this CMA prep course.
When you're making an investment in your career, it's important to know what you're getting. That's why I share my exact curriculum — so you can make sure this program is right for you.
Your training is released in weekly Modules within our private, members-only website.
CMA COURSE PART-ONE
Orientation | Overview - Welcome to the Academy - Academy Tour - IMA Membership & Exam Registration - CMA Part-One Content Specifications - Exam Study Tips & Strategies - Orientation Assignments
CMA COURSE PART-TWO
Orientation | Overview - Welcome to the Academy - Academy Tour - IMA Membership & Exam Registration - CMA Part-Two Content Specifications - Exam Study Tips & Strategies - Orientation Assignments
DID YOU KNOW THAT 17,000 CANDIDATES SELF-STUDIED FOR THE EXAM IN THE PAST YEAR AND ONLY 45% PASSED?
Each year, 17,000 candidates take the CMA exam.
But only 45% of them will pass on the first try.
That's right -
Of the 17,000 people who self-study for the exam each year, 55% of them FAIL!
Most candidates know how hard the exam is, and are almost scared by the thought of taking it.
I know - because I've coached thousands of them.
From my experience coaching people how to pass the CMA exam, I've learned that there is a lot of misinformation out there about the exam that's holding people back from becoming a CMA.
There are many REAL (but unnecessary) worries most candidates face.
How many of these concerns apply to you?
(Most CMA candidates share at least 3 of these worries… but some have all 6)
Worry #1: "I'm afraid I'll fail the exam. What if I study hard, and won't be able to pass - after doing the best I could?"
Worry #2: "I don't have enough time to study. I'm already busy enough as it is… I just don't have the time or energy to study for the CMA exam - even if I wanted to!"
Worry #3: "I won't be able to understand the CMA subject matter. What if I'm not smart or skilled enough to understand these concepts and apply them at the exam?"
Worry #4: "I have no clue how to study for the exam. There is so much information to learn and material to read… I wouldn't even know where to begin!"
Worry #5: "I don't have the discipline to study for the exam. I'm horrible at independent studying and always procrastinate. I'm afraid I'm not disciplined enough to study effectively for the exam…"
Worry #6: "I'm not good at taking exams. Even if I'll know all the subject material well, I'll get nervous on the test, run out of time, mess up and fail!"
How many of these things do you worry about?
And what's your natural response to them?
There's a simple solution to each of these concerns. But you won't discover them by searching online or figuring them out on your own.
You won't find out what TRULY separates the people who pass the CMA exam on the first try from the ones who fail.
INTRODUCING CMA EXAM ACADEMY - THE GUARANTEED WAY TO PASS THE CMA EXAM
After coaching thousands of students to pass the CMA exam on their first try, I want to help YOU do the same (even if you don't know where to start)..
CMA Exam Academy is the blueprint to your exam success.
If you don't like the idea of spending close to 20 hours per week self-studying using other review courses...DON'T...because now you won't need to. You'll be guided each week in this done-for-you CMA prep course slashing your study time in half.
In the amount of time it'd take you to watch a movie each night, you'll be ready to pass your exam. It's that simple.
The beauty of CMA Exam Academy is that it's all mapped out for you in an easy-to-follow 16-week study plan per part, so you don't have to think about what you need to study.
You'll learn how to apply the best study techniques to help you save time, money and energy preparing for the CMA exam.
We'll cover all the subject matter you need to pass the exam thoroughly and make it easy to understand, without wasting any of your valuable time on things that don't matter.
Study when you want and where you want to at your own pace - from the comfort of your own home.
And get the support of personalized, 1-on-1 coaching to help you when you're stuck, monitor your progress and keep you accountable to keep studying - no matter how hard it gets.
Before you know it, you'll have passed the exam, become a CMA, gotten a promotion and a raise to a salary that can top $130,000 per year.
WHAT YOU'LL GET TODAY WITH YOUR CMA PREP COURSE:
WEEKLY SUPPORT CALLS WITH NATHAN, YOUR CMA COACH
(Valued at $600 per part)
As you work through the course, you'll naturally have questions about exam strategies, about the CMA designation, about career advice, etc. Take advantage of your weekly calls directly with Nathan to find answers to all your questions.
No other review course offers this type of exam prep coaching support and real human-to-human interaction.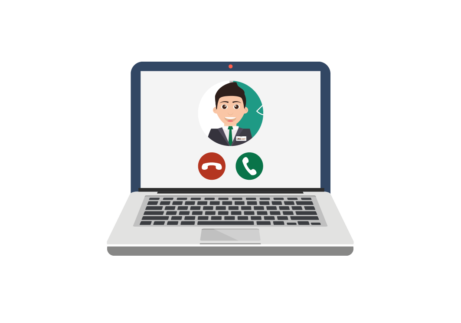 VIDEO LECTURES COVERING ALL TOPICS SO IT'S EASY TO LEARN
(Valued at $1,000)
The core of the Academy are the HD video lectures covering every single topic tested in the exam in detail. The subject matter is spread out in bite-sized chunks over 16 modules, making it easy to digest.
24-HOUR HOTLINE TO YOUR CMA COACH
(Valued at $500 per part)
There's no limit as to how many questions you can send via email. The more questions you ask the better your CMA Coach will be able to guide you.
Our students say it's hard not to pass with this much help.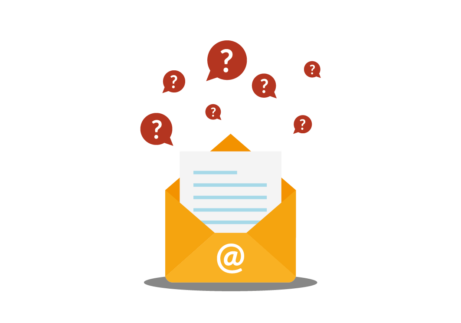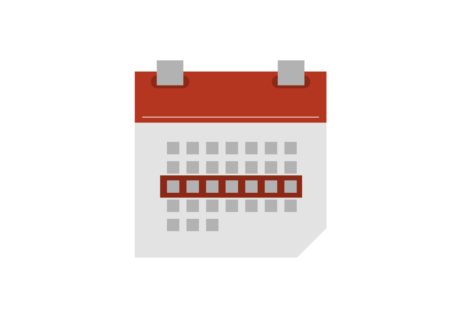 WEEKLY CHECK-INS WITH YOUR COACH TO KEEP YOU ON TRACK
(Valued at $500)
Your CMA Coach will follow your progress weekly and keep you accountable and on track to exam success during the entire course.
Weekly check-ins and reminders via email will ensure that you stay on track with my proven study plan. Weekly assignments will help reinforce the subject matter to further increase your confidence.
UNLIMITED 1-ON-1 CMA COACHING
(Valued at $2,000)
Your CMA Coach will be right by your side, every step of the way. You'll get personal, 1-on-1 coaching via email and inside the course to make sure you'll pass the exam. You can get help or ask questions whenever you want by sending your CMA Coach an email or posting it inside the course. He will personally respond to your email in detail within 24 hours.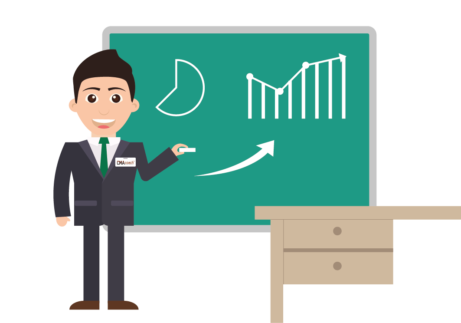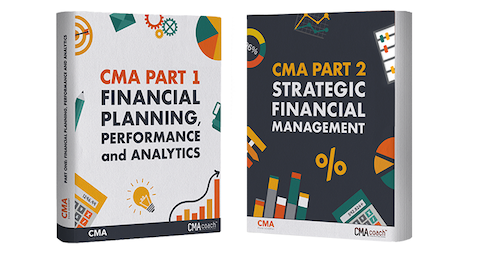 PRINTED/PHYSICAL TEXTBOOKS
(Valued at $699)
Would you like to hold something in your hands? You like to jot up, mark and highlight? Great! These textbooks in paperback feature 100% of the ICMA Learning Outcome Statements. They were written with light-hearted and fun CMAs and CPAs.
PERSONALIZED TEST BANK
(Valued at $599 per part)
You'll also receive access to our 2,000+ question online test bank including over 30 essay scenarios and exam simulations.
You'll also gain access to your Analytics dashboard to see at a glance how ready you are for your exam so you can focus in the topics that'll make a huge difference in your exam performance.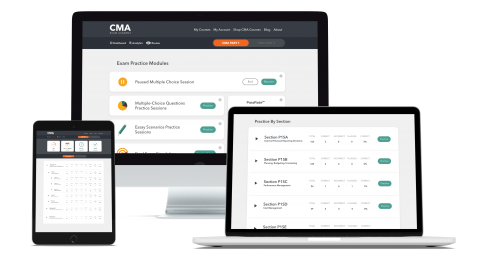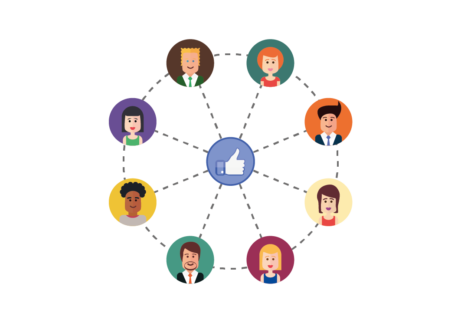 ACCESS TO PRIVATE STUDY GROUP
(Valued at $200)
It's not just Nathan who'll help you out. You'll also get exclusive access to our private CMA community. Inside our private Facebook group, you can connect with other students who are preparing for the CMA exam. You can ask questions, share study strategies, or just connect with likeminded people who are on the same path as you are and know what you're going through.
Complete CMA Prep Course SPECIAL EDITION BONUSES: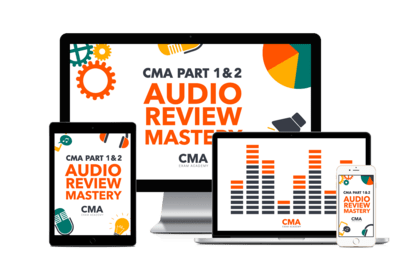 Bonus #1: GET THE ON-THE-GO AUDIO VERSION
(Valued at $500 per part)
Would you like to continue studying the exam course on the go? Enjoy the convenience of listening to the course at the time and place that's best for you.
Then download the audio version of the video lectures in MP3 format and take them with you. You can download all the 100+ video lectures in audio format and take them with you anywhere you go.
Bonus #2: ALL-IN-ONE FORMULA GUIDES
(Valued at $200)
Wouldn't it be great to have all the formulas in one guide? That's what we've got and waiting for you right now. One of the most challenging aspects of the exam is to memorize all the formulas. In fact - not knowing the right formulas to perform calculations cause thousands of candidates to fail the exam each year. These PDF files contain all the formulas you'll be tested on in the exam.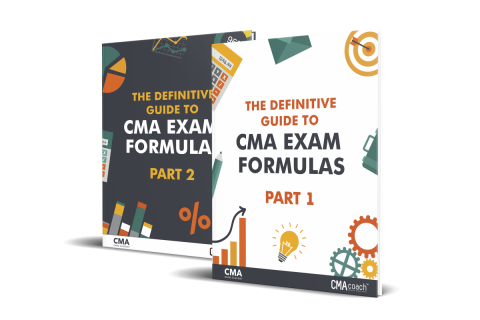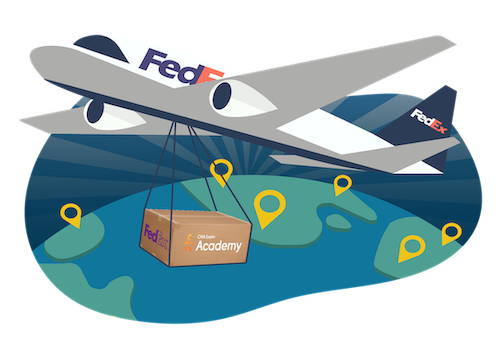 Bonus #3: FREE SHIPPING WORLDWIDE
(Valued at $75)
We'll ship your printed/physical textbooks to your door anywhere in the world absolutely free. All packages are shipped via FedEx and include a tracking number for peace of mind.
Bonus #4: 15% DISCOUNT ON IMA FEES
(Valued at $74)
As a CMA Exam Academy student, you'll get an exclusive 15% discount on your IMA Membership and the CMA Entrance Fee.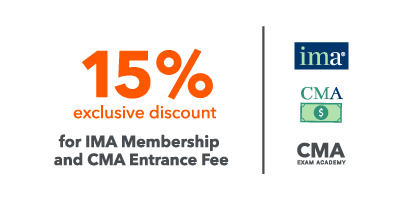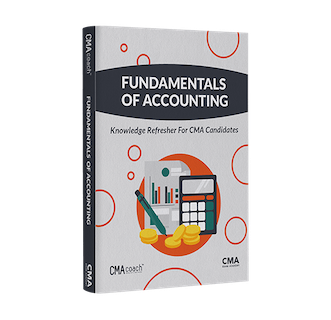 Bonus #5: FUNDAMENTALS OF ACCOUNTING
(Valued at $99)
Is your accounting knowledge a bit rusty? This online textbook will give you a fast and easy crash course on the fundamentals of accounting so you feel confident tackling the CMA.
Bonus #6: IN-PERSON EXAM TEST DRIVE AT YOUR LOCAL PROMETRIC SITE
(Valued at $30)
Familiarizing yourself with the look and feel of the computer-based testing environment prior to your exam will minimize pre-test mistakes such as getting lost, finding parking, or failing to provide the correct I.D., paperwork, or calculator. Going through a 30-minute test drive at your local testing site will help you perform much better on exam day.
(Only for Complete CMA Review Course Combo enrollments)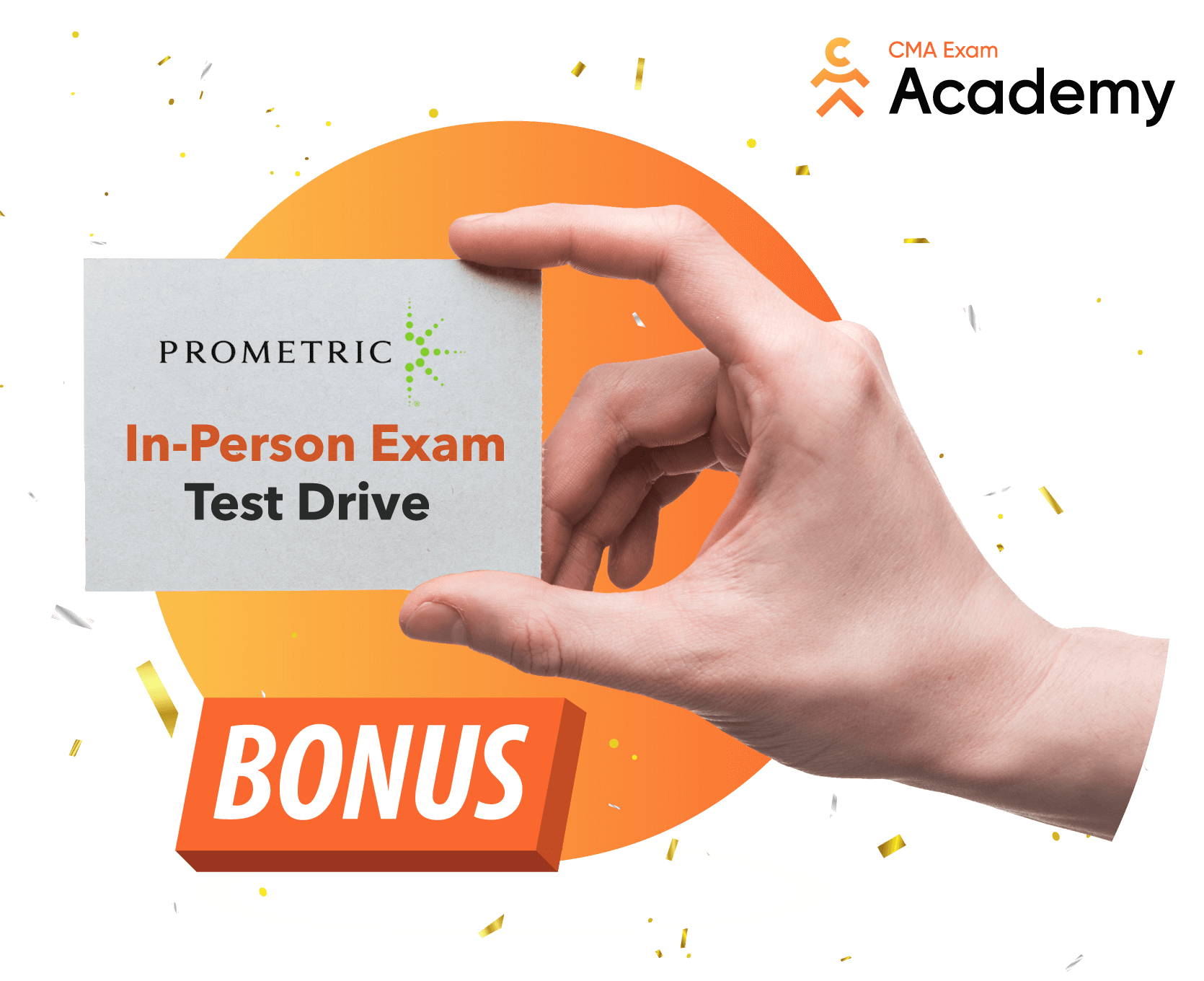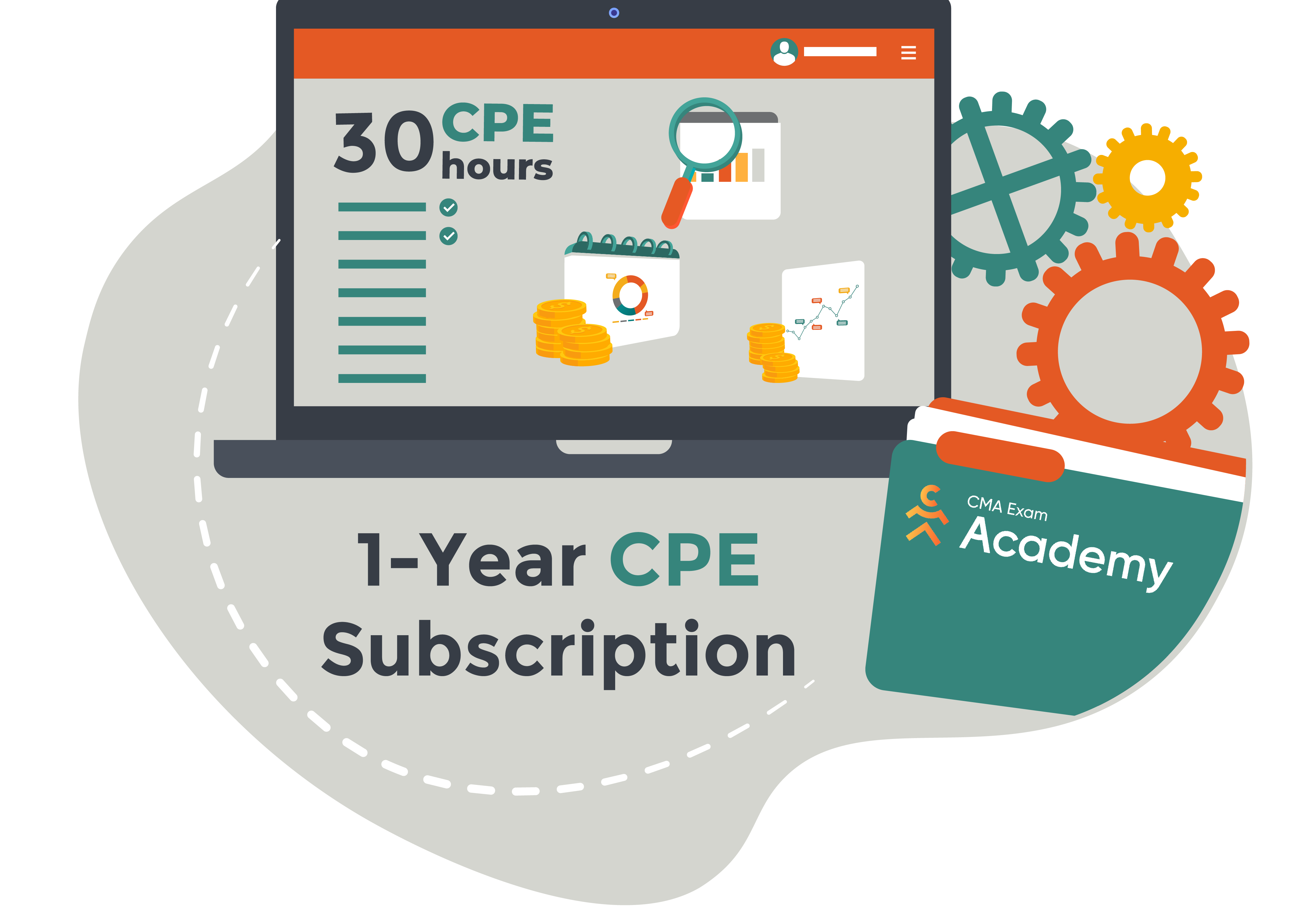 Bonus #7: 1-YEAR CPE SUBSCRIPTION
(Valued at $699)
After earning your CMA designation, you need to fulfill 30 credits per year of Continued Professional Education or CPEs. This bonus has you covered for the first year with live webinars, recorded courses, and much more. All courses are NASBA approved.
(Only for Complete CMA Review Course Combo enrollments)
Complete 2022 CMA Prep Course:
100% Coverage of ICMA LOS
Pass or 100% Refund Guarantee
Complete Video + Audio (mp3) review Lectures
Unlimited coaching online. 24-Hour Response Time
Weekly support calls with Nathan, your CMA Coach
Weekly assignments and accountability follow up via email
16-Week Step-by-Step Syllabus and study system per part
Fundamentals of Accounting e-textbook


Printed Textbooks featuring 100% of the ICMA Learning Outcome Statements
In-Person exam test drive at Prometric
Free Shipping Worldwide.
Formula guides (pdf)
2-year access to 3,000+ Question Test Bank
30+ Essay Questions with model answers
2-year combo course access or 1-year per part
15% discount on IMA fees


PASS OR 100% REFUND GUARANTEE
CMA Exam Academy has been tested and proven to work. I'm so sure you will pass the CMA exam by studying with me that I stand fully behind my work. If you go through the Academy and don't pass the CMA exam your first time, I'll give you a full refund. Click here for eligibility details. 
You've got nothing to lose to give this review course a try and begin your journey to a 6-figure salary.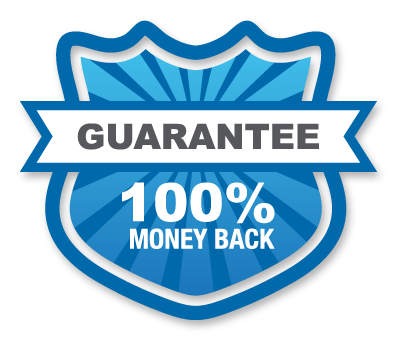 What Candidates Like You Say...
"I just passed Part II of the CMA exam (Nathan suggested Part II first since it doesn't matter which order you decide to take them).  I have to say, it was probably one of the hardest test I have ever taken and I am elated that I passed.  It would have not been likely had I not signed up for the CMA Exam Academy program.  Between the exam material, the step by step study guide and the video tutorial, I was as ready as I could have been.  Nathan really cared about my progress and my results as we continued to exchange emails throughout.  Thanks Nathan!!!!!"
Steve Christos, CMA Candidate
"I want to really thank you, for helping me through the exam preparation in the past few months. I passed the exam but it was hard to prep for it while having crazy working hour job, but you helped a lot through (1) your carefully designed weekly study plan (2) your spontaneous email response when I have questions (3) your weekly encouraging words and reminder to me to keep on track of study plan. So I was feeling fairly confident walking into exam hall, as I've completed your mock exam assignments scoring above 80%. Thank you, really!"
David Chen, CMA Candidate
THIS CMA PREP COURSE IS RIGHT FOR YOU IF…
CMA Exam Academy is not right for everyone.
If you're not committed to becoming a CMA or don't want to work in the accounting or finance industry long term, becoming a CMA is not the right choice for you.
If you're expecting "overnight results", or think you'll pass the CMA exam with very little work involved, than this course is not for you.
I can give you the EXACT blueprint and tell you what you need to do to become a CMA, but you need to put in the hard work and actually do it.
That being said - this CMA prep course is definitely right for you if:
Ready for the Next Level

You are ready to take your career to the next level, determined to change your life and become a CMA, and just want to follow the best program to prepare the exam.

Feeling Lost?

You feel completely lost and are not sure how to study or where to even begin

Time & Money Efficient

You don't want to waste your valuable time preparing and failing for the exam, and want the most time-efficient, laser targeted course that'll help you pass on your first time instead.

Accountability

You don't want to do it all on your own, but would like someone to keep you accountable, push you forward and help you pass over roadblocks when you're stuck and don't know what to do.
It doesn't matter whether you've tried to pass the CMA exam before and failed, or this is your first time, and you don't know where to start (or have very little accounting background to begin with).
Maybe you already have a corporate job and want to gain more knowledge or get promoted.
Or maybe you're looking for an attractive job in the accounting industry, and just want to stand out from the competition.
Whatever the case may be - CMA Exam Academy can help you get there.
Common Questions
Any Other Questions?
If you feel like there is a question that has gone unanswered or you have any other concerns about the CMA Exam Academy program, contact me here and I'll put your mind at ease.
Why Candidates Choose Us:
| | | | | | |
| --- | --- | --- | --- | --- | --- |
| | | | | | |
| | | | | | |
| | | | | | |
| | | | | | |
| | | | | | |
| | | | | | |
| | | | | | |
| | | | | | |
| | | | | | |
| | | | | | |
| Weekly Accountability Check-ins | | | | | |
| | | | | | |
| | | | | | |
| Prometric In-Person Exam Rehearsal | | | | | |
| 24-Hour Email Response Time | | | | | |
| | | | | | |
| Exclusive 15% IMA Discount | | | | | |
| | | | | | |
| Fundamentals of Accounting Textbook | | | | | |
| | | | | | |
| | | | | | |
| | | | | | |
| | | | | | |
| | | | | | |
| | | | | | |
| | | | | | |
| | | | | | |
| | | | | | |
| | | | | | |
READY TO CHANGE YOUR LIFE? 
If you've taken the time to read this, it's clear that you want to make a change. You have 3 choices today.
You can continue believing that becoming a CMA is for "other people" who are smarter than you, or have more experience or discipline.

---

You can tell yourself you'll "do it later" or figure it out on your own when it's more convenient - if that time will ever come.

---

Or you can take action - following a proven plan and tested techniques that have helped thousands of people just like you pass the CMA exam on their first try, get promotions and substantial raises, and get fulfilling jobs that give them the responsibility and respect they deserve.
The choice is yours.
The longer you postpone taking the exam, the longer you settle for mediocrity and miss out on a promotion, a massive raise or a position of influence that fulfills you.
The numbers are clear:
If you try and study for the CMA exam on your own, you have a 55% chance to fail - wasting months of studying and a lot of money on exam fees in the process.
With CMA Exam Academy, thanks to one-on-one coaching you'll have a much higher chance to pass on your first try - even if you don't know where to start or have very little accounting background to begin with.
You CAN pass the CMA exam on your first attempt.
If you're done postponing and wishing… and if you're ready to become a CMA, then I would like to invite you to join.
NOW WHAT?
Hit the button below to get instant access to CMA Exam Academy.
In less than 60 seconds, you'll be taking your first step on your path to becoming a CMA, find a fulfilling job that pays you what you deserve and live the life you dream of.
Are you ready to take the next step?
Yes, I'm Ready
What More Candidates Like You Say...

"The CMA Academy was instrumental in passing the CMA exam on my first attempt.
I don't believe I would have passed in a timely manner without it."
Ruben Dorado, Sr. Accountant & Analyst

"Thank you for creating a very helpful site for aspiring Certified Management Accountants. Thanks to you, I passed the exam with a score of 420 for Part 1 and a score of 410 for Part 2."
James Perez, CMA