Pass the CMA Exam on Your First Try, Guaranteed – With Our 16-Week Accelerator Program (Part 1 and 2 Combo)
Pass or 100% Refund Guarantee
Weekly Support Calls with your CMA Coach
Unlimited Coaching Support. 24-Hour Email Response Time
Weekly Assignments and Accountability Follow Up Via Email
16-Week Step-by-Step Study Plan Per Part
Complete Video + Audio (mp3) Review Lectures
Whiteboard Explainer Videos
2-Year Access to Both Parts
2-Year Access to 4,000+ Question Test Bank
35+ Essay Questions with Model Answers
Printed & Digital Textbooks 100% of the ICMA LOS
Accounting Fundamentals Textbook
Free Shipping Worldwide
In-Person Exam Rehearsal at a Prometric Site
Complete Formula Guides (pdf)
Free 1-Year CPE Subscription – $699 Value
iOS & Android Flashcards mobile app
Exclusive 15% IMA Discounts
We Have a 92% Avg. Exam Pass Rate
Description
---
CMA Exam Academy is a proven, 16-week per part online coaching program. We show you, step-by-step, what to study each week, keep you accountable through our structured study plan, and provide you with unlimited coaching support so you'll feel 100% certain you're going to pass going into test day.
"

With Nathan's comprehensive yet easy-to-use CMA review course, 

I passed both parts

 of the CMA exam 

on my first try

 in just less than a year. Whenever I had an issue, Nathan and the Academy team promptly provided assistance, and I felt the 

utmost confidence

 in my preparation both times I walked into the testing center. Since being awarded my CMA, 

I have been promoted at work

, and will soon be venturing off to a 

top MBA program

. Thank you CMA Exam Academy for helping me on my journey!

"

Charles Taylor, CMA
"

If you are serious about getting your CMA certification it is a no-brainer to go with CMA Exam Academy.

 Nathan and team go above and beyond to provide all the text, tools, test questions, personal calls, and more in order to guarantee your success.

"

Tyler Palmer, CMA
"With the help of CMA Exam Academy, I was able to pass both exams and earn my CMA in just one year! CMA Exam Academy allows you to make your own schedule and study at your own pace. They provide all the resources you need to pass your exams. I can't thank Nathan and the team enough."

Cassie Sweeney, CMA
WHAT EXACTLY AM I GOING TO LEARN IN THIS CMA COURSE?
The Academy's comprehensive curriculum will help you pass the CMA exam and achieve your dreams of earning 6-figures per year, ascend to the executive ranks and earn the respect from your peers.
There are sixteen core learning Modules. Each Module is filled with step-by-step training videos, downloadable resources, and action guides/assignments. You'll watch and learn from your computer, or download your training to your tablet or mobile device.
My goal is to make your online learning experience as easy and enjoyable as possible.
When you're making an investment in your career, it's important to know what you're getting. That's why I share my exact curriculum — so you can make sure this program is right for you.
Your training is released in weekly Modules within our private, member-only website.
CMA Part-One: Financial Planning, Performance, and Analytics
Orientation | Overview
- Welcome to the Academy
- Academy Tour
- IMA Membership & Exam Registration
- CMA Part-One Content Specifications
- Exam Study Tips & Strategies
- Orientation Assignments
CMA Part-Two: Strategic Financial Management
Orientation | Overview
- Welcome to the Academy
- Academy Tour
- IMA Membership & Exam Registration
- CMA Part-Two Content Specifications
- Exam Study Tips & Strategies
- Orientation Assignments
LISTEN TO WHAT OUR GRADUATES HAVE TO SAY
"

The CMA Exam Academy does a great job providing a highly structured recipe for success!

"

Nathaniel Royer, CMA
"

The biggest difference between this program and other ones is the support you get from the team. There will always be a subject you will get stuck on. I never felt alone, and many of my questions were answered. Thanks to Nathan and the CMA Exam Academy, I was able to pass Part 1 on my first try!"

Umberto Muniz, CMA Candidate
THIS IS WHAT YOU'LL GET TODAY:
---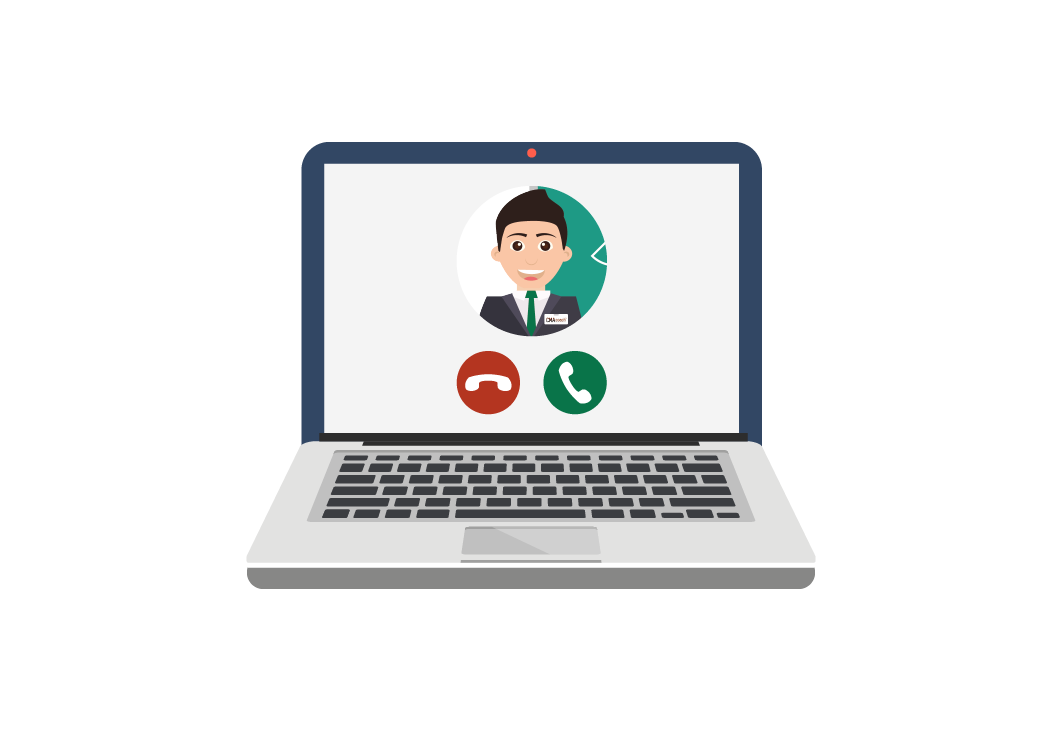 WEEKLY SUPPORT CALLS WITH YOUR CMA COACH
(Valued at $600)
As you work through the course, you'll naturally have questions about exam strategies, about the CMA designation, about career advice, etc. Take advantage of your weekly calls directly with your CMA Coach to find answers to all your questions.
No other review course offers this type of exam prep coaching support and real human-to-human interaction.
UNLIMITED COACHING SUPPORT
(Valued at $2,000)
Your CMA Coach will be right by your side, every step of the way. You'll get personal coaching support via email and inside the course to make sure you'll pass the exam. You can get help or ask questions whenever you want by sending your CMA Coach an email or posting it inside the course. Our coaches are certified CMAs.
---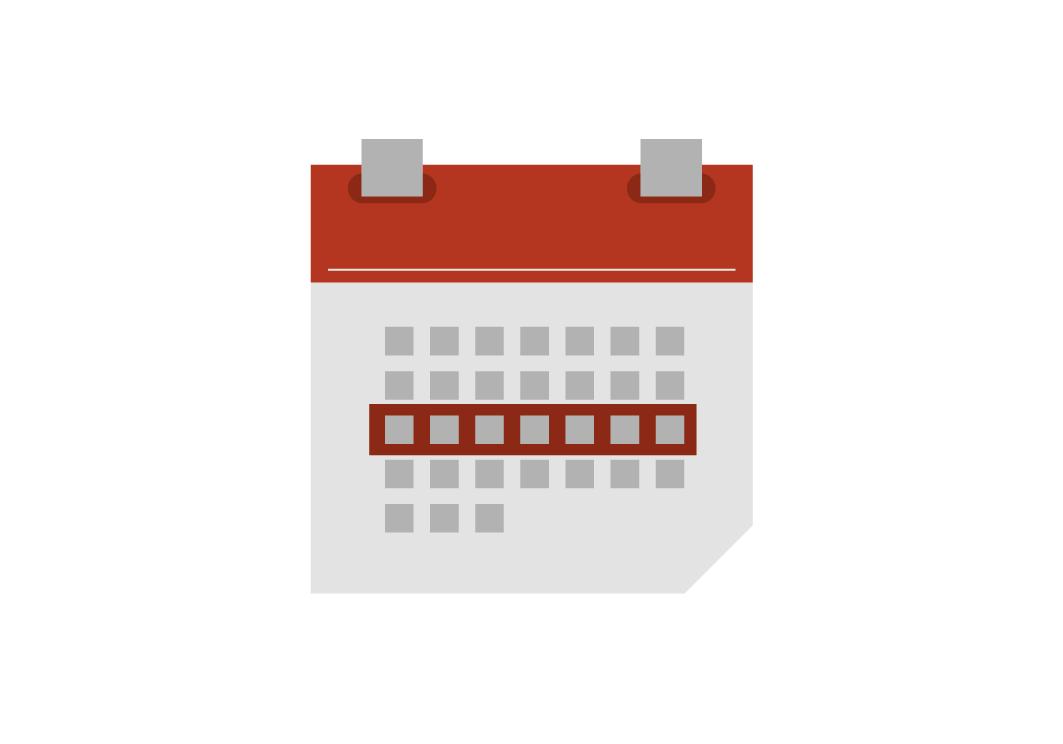 WEEKLY CHECK-INS WITH YOUR COACH TO KEEP YOU ON TRACK
(Valued at $500)
Your CMA Coach will follow your progress weekly and keep you accountable and on track to exam success during the entire course.
Weekly check-ins and reminders via email will ensure that you stay on track with my proven study plan. Weekly assignments will help reinforce the subject matter to further increase your confidence.
24-HOUR HOTLINE TO YOUR CMA COACH
(Valued at $500 per part)
Never feel stuck. Email your CMA Coach with your questions and you'll find his response in your inbox within 24 hours.
There's no limit as to how many questions you can send. The more questions you ask the better your CMA Coach will be able to guide you. Our students say it's hard not to pass with this much help.
---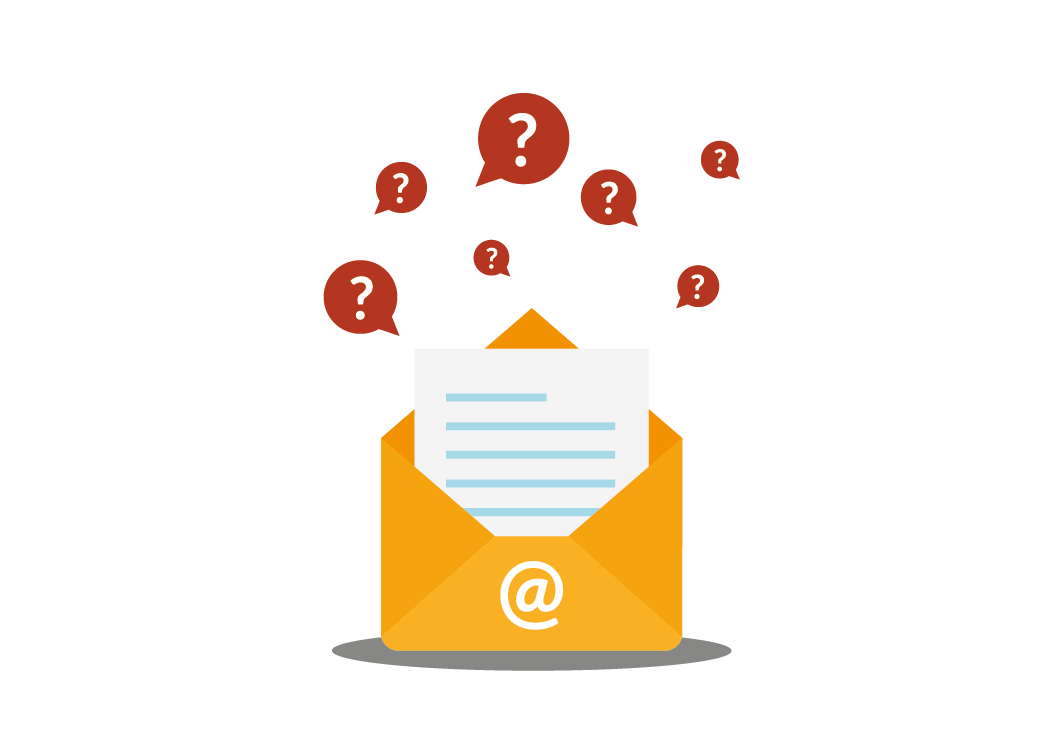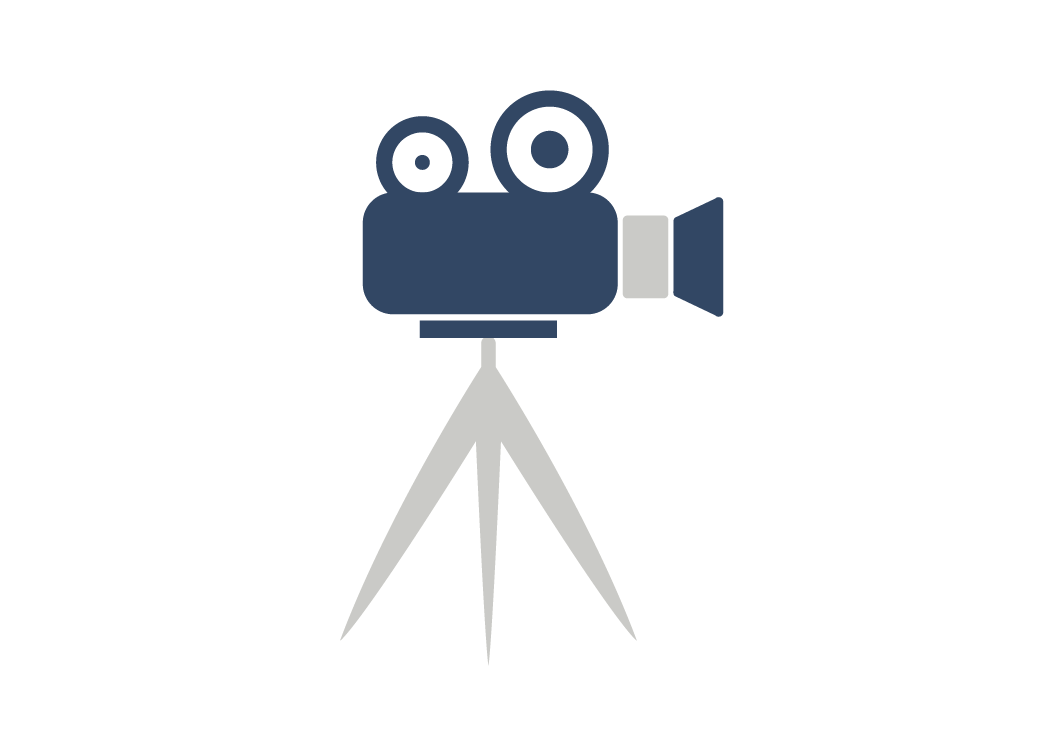 VIDEO LECTURES COVERING ALL TOPICS SO IT'S EASY TO LEARN
(Valued at $1,000)
You're getting HD video lectures covering every single topic tested in the exam in detail so you don't get caught off guard during your exam. The subject matter is spread out in bite-sized chunks over 16 modules, making it easy to digest.
STEP-BY-STEP WHITEBOARD EXPLAINER VIDEOS
(Valued at $299 per part)
The hardest part about the CMA exam is the multiple-choice question section. Not anymore!  With our whiteboard MCQ drills, you'll get a step-by-step explanation to help you tackle the hardest MCQs with accuracy and speed.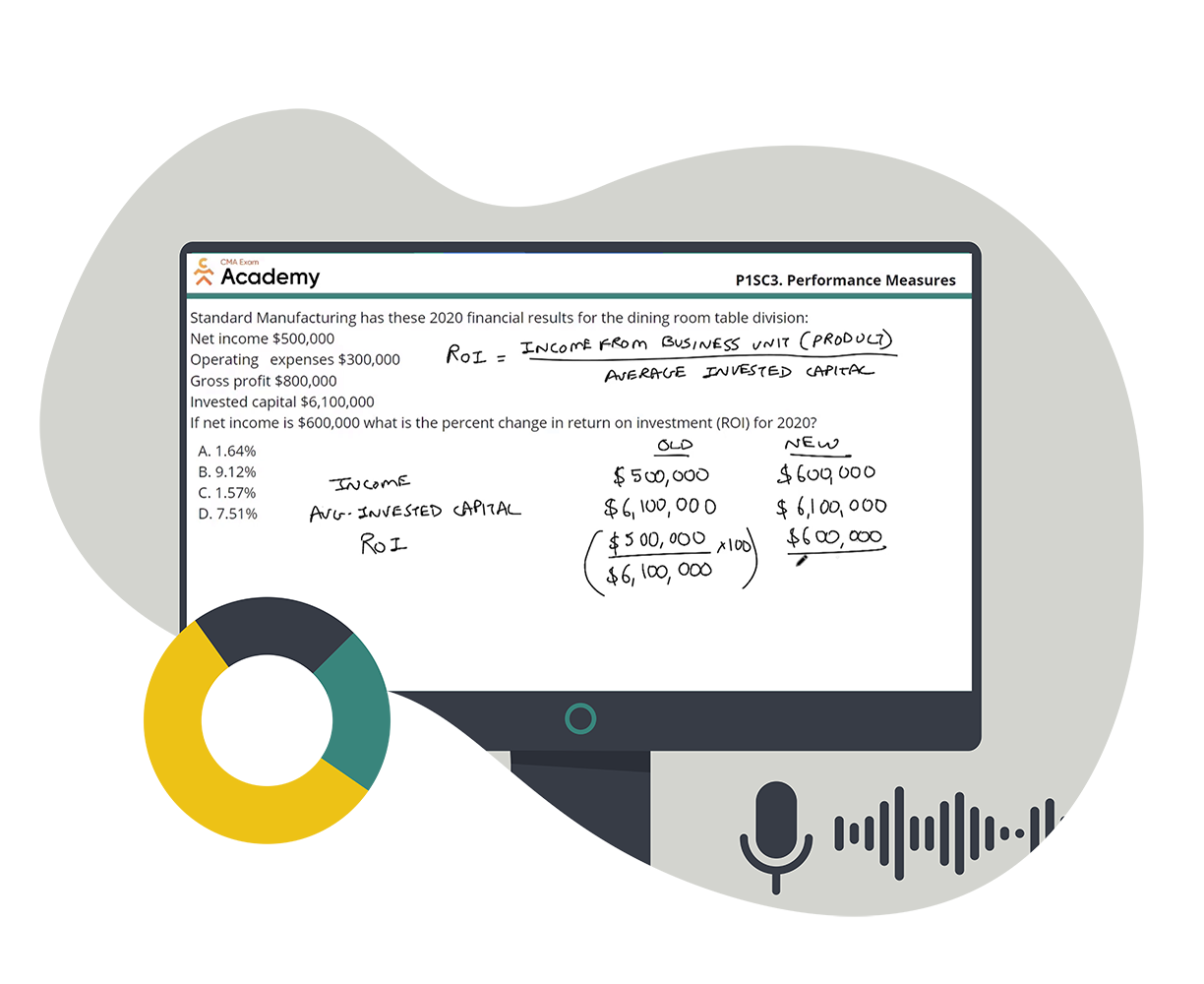 PERSONALIZED TEST BANK
(Valued at $599 per part)
You'll gain access to our 4,000+ question online test bank including 30+ essay scenarios and final exam simulations so you feel comfortable with the real exam program.
Don't leave it to chance, practice with our online test bank to guarantee your exam success!
---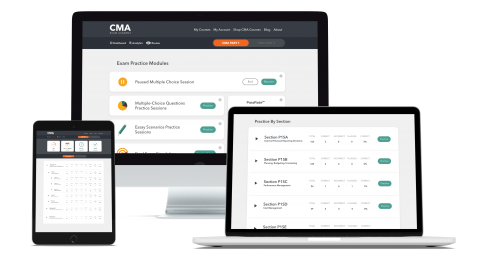 ---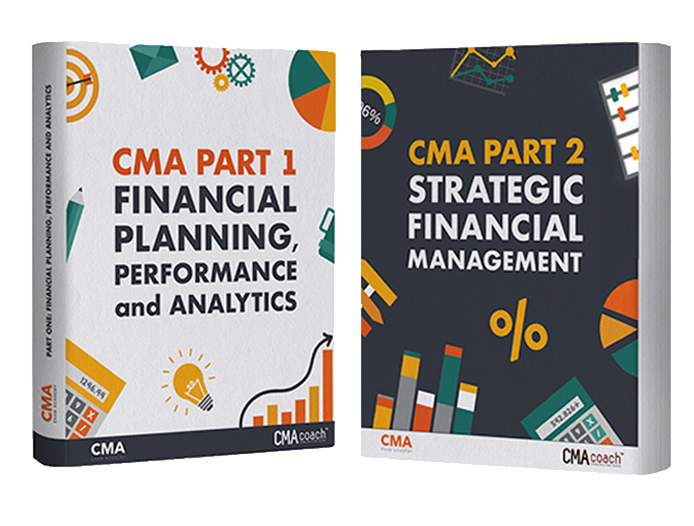 PRINTED/PHYSICAL TEXTBOOKS
(Valued at $699)
Would you like to hold something in your hands? You like to jot up, mark and highlight? Great! These textbooks feature 100% of the ICMA Learning Outcome Statements. They were written by light-hearted and fun CMAs and CPAs.
Special Bonus: Immediate access to the online textbook version too!
ACCESS TO PRIVATE COMMUNITY
(Valued at $200)
You'll also get exclusive access to our private CMA community. Inside you'll meet fellow candidates preparing for the exam. You can ask questions, share study strategies, or just connect with like-minded professionals who are on the same path as you are and know what it takes to succeed.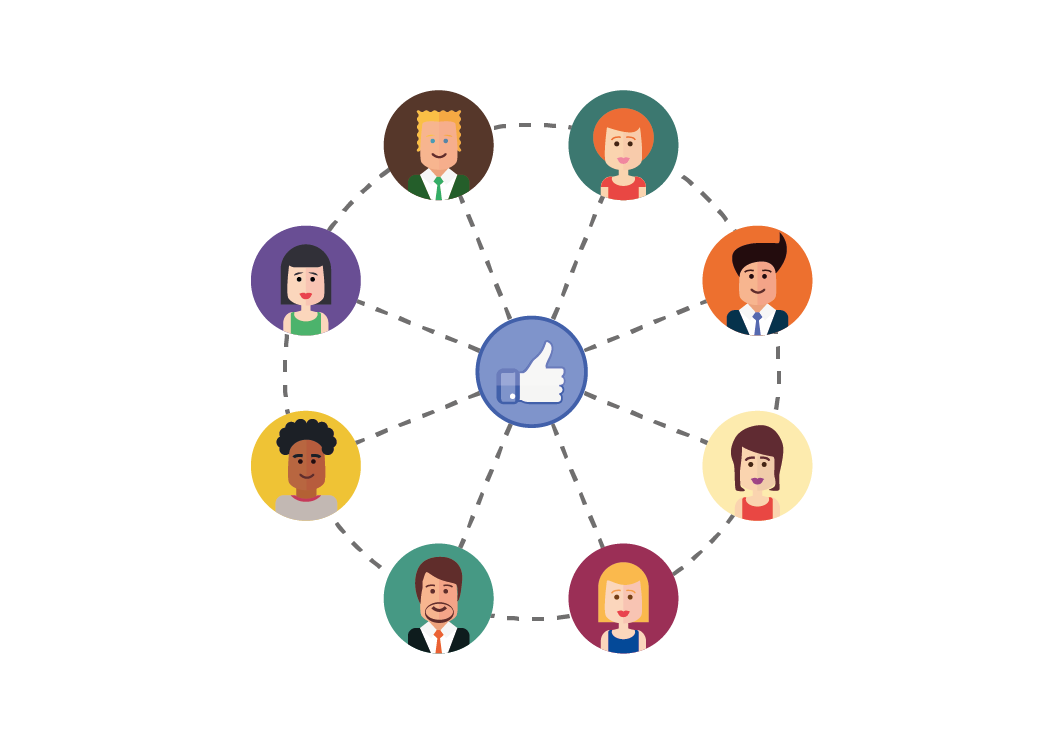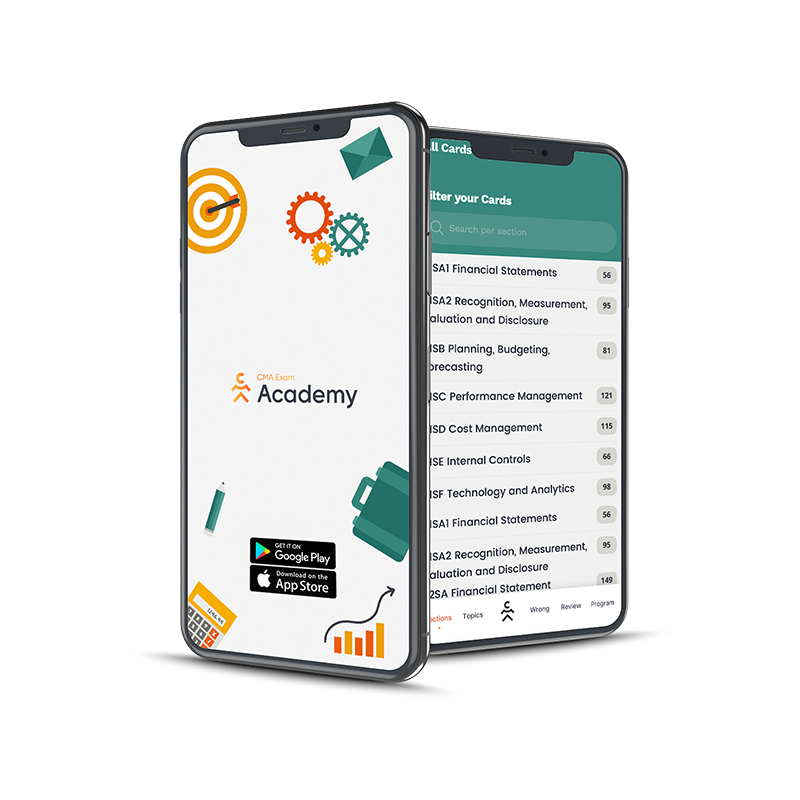 FLASHCARDS MOBILE APP
(Valued at $49)
The CMA Coach Flashcards mobile app is the perfect companion to study on the go. Practice anywhere, anytime, covering every topic on both parts of the CMA exam.
Flashcards cover all key testable areas of the CMA exam and reinforce learning on the go.
Available in Android and iOS.
"I am really thankful to CMA Exam Academy. I passed my CMA Part-Two exam with a score of 390 on the very first attempt. The weekly assignments and mock exams really helped me a lot. The email support was fantastic and I never had any problems asking questions which the team was so enthusiastic to respond to. Overall, worth every dollar! Thank You, Nathan and all the support staff of CMA Exam Academy.

"

Syed Madani, CMA
PLUS IF YOU ORDER TODAY, YOU'LL GET THIS
** SEVEN SPECIAL BONUS **
---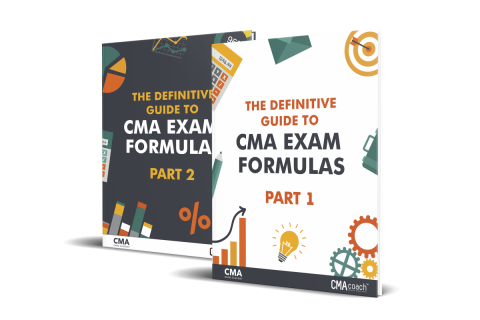 Bonus #1: ALL-IN-ONE FORMULA GUIDES
(Valued at $200)
Wouldn't it be great to have all the formulas in one guide? That's what we've got and waiting for you right now. One of the most challenging aspects of the exam is to memorize all the formulas. In fact – not knowing the right formulas to perform calculations cause thousands of candidates to fail the exam each year. These PDF files contain all the formulas you'll be tested on in the exam.
Bonus #2: GET THE ON-THE-GO AUDIO VERSION
(Valued at $500 per part)
Would you like to continue studying the exam course on-the-go and enjoy the convenience of listening to the course at the time and place that's best for you?
Then download the audio version of the video lectures in MP3 format and take them with you. You can download all of our video lectures in audio format and take them with you anywhere you go.
---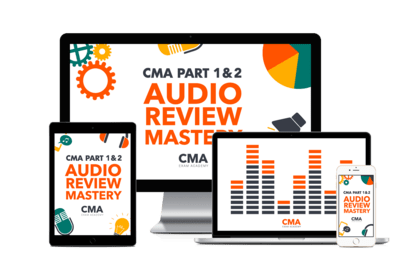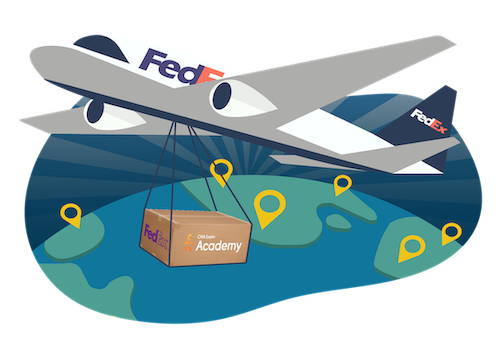 Bonus #3: FREE SHIPPING WORLDWIDE
(Valued at $75 per part)
We'll ship your printed/physical textbooks to your door anywhere in the world absolutely free. All packages are shipped via FedEx and include a tracking number for peace of mind.
Bonus #4: 15% DISCOUNT ON IMA FEES
(Valued at $74)
As a CMA Exam Academy student, you'll get an exclusive 15% discount on your IMA Membership and the CMA Entrance Fee.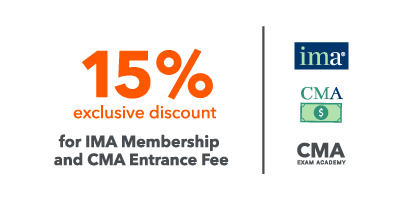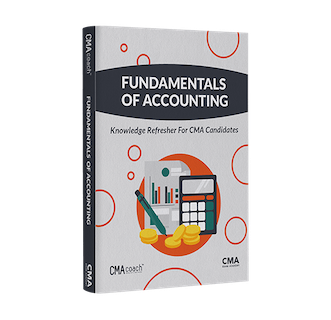 Bonus #5: FUNDAMENTALS OF ACCOUNTING
(Valued at $99)
Is your accounting knowledge a bit rusty? This online textbook will give you a fast and easy crash course on the fundamentals of accounting so you feel confident tackling the CMA.
Bonus #6: IN-PERSON EXAM TEST DRIVE AT YOUR LOCAL PROMETRIC SITE
(Valued at $30)
An in-person exam rehearsal is a powerful method to alleviate test anxiety by familiarizing yourself with the check-in process and the look and feel of the computer-based testing environment. It'll help eliminate any pre-test mistakes such as getting lost, finding parking, or failing to provide the correct I.D. or calculator. On exam day, you'll know exactly what to expect and feel prepared, relaxed and ready to pass your exam. 
(Only for Complete CMA Review Course Combo enrollments)
---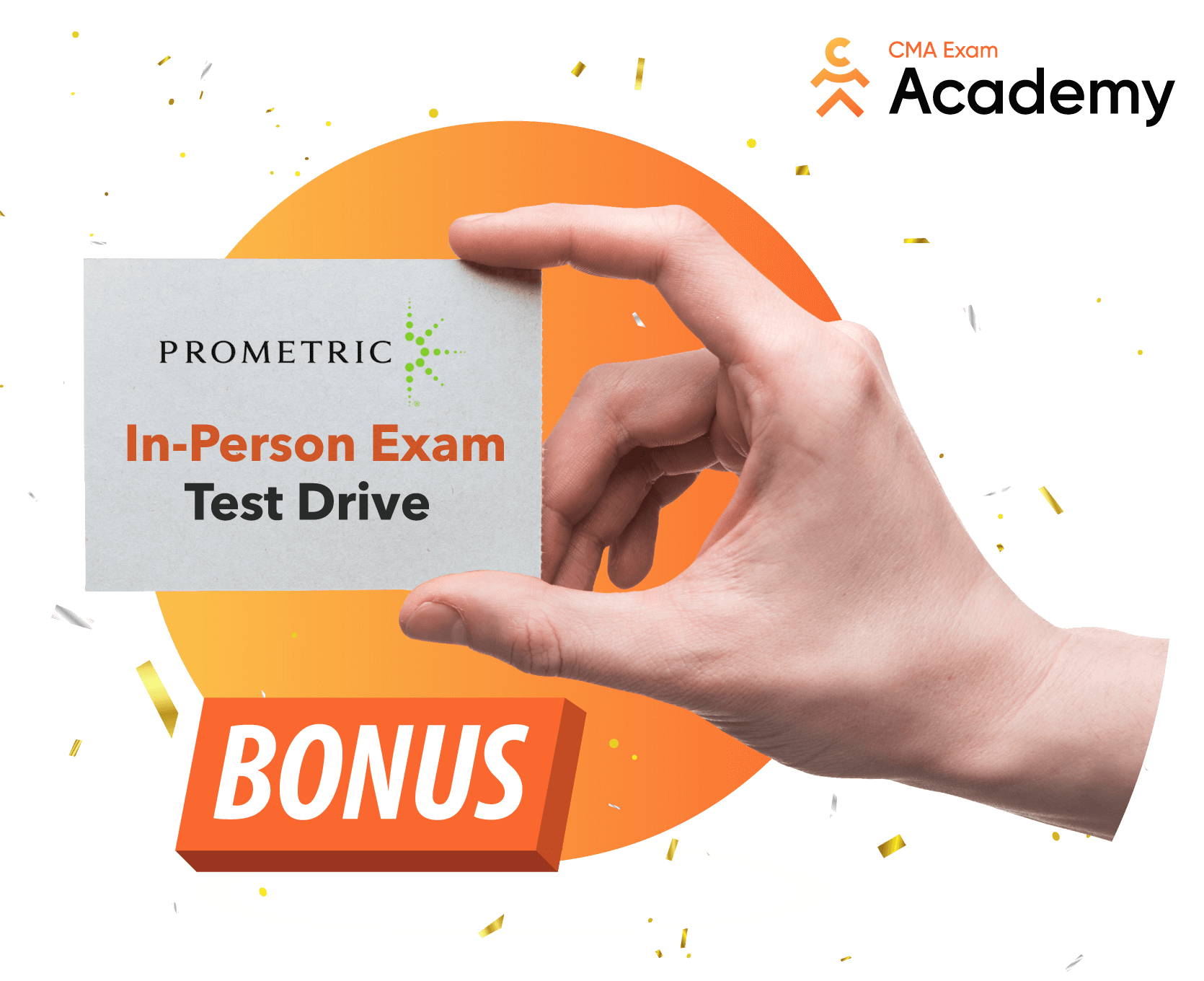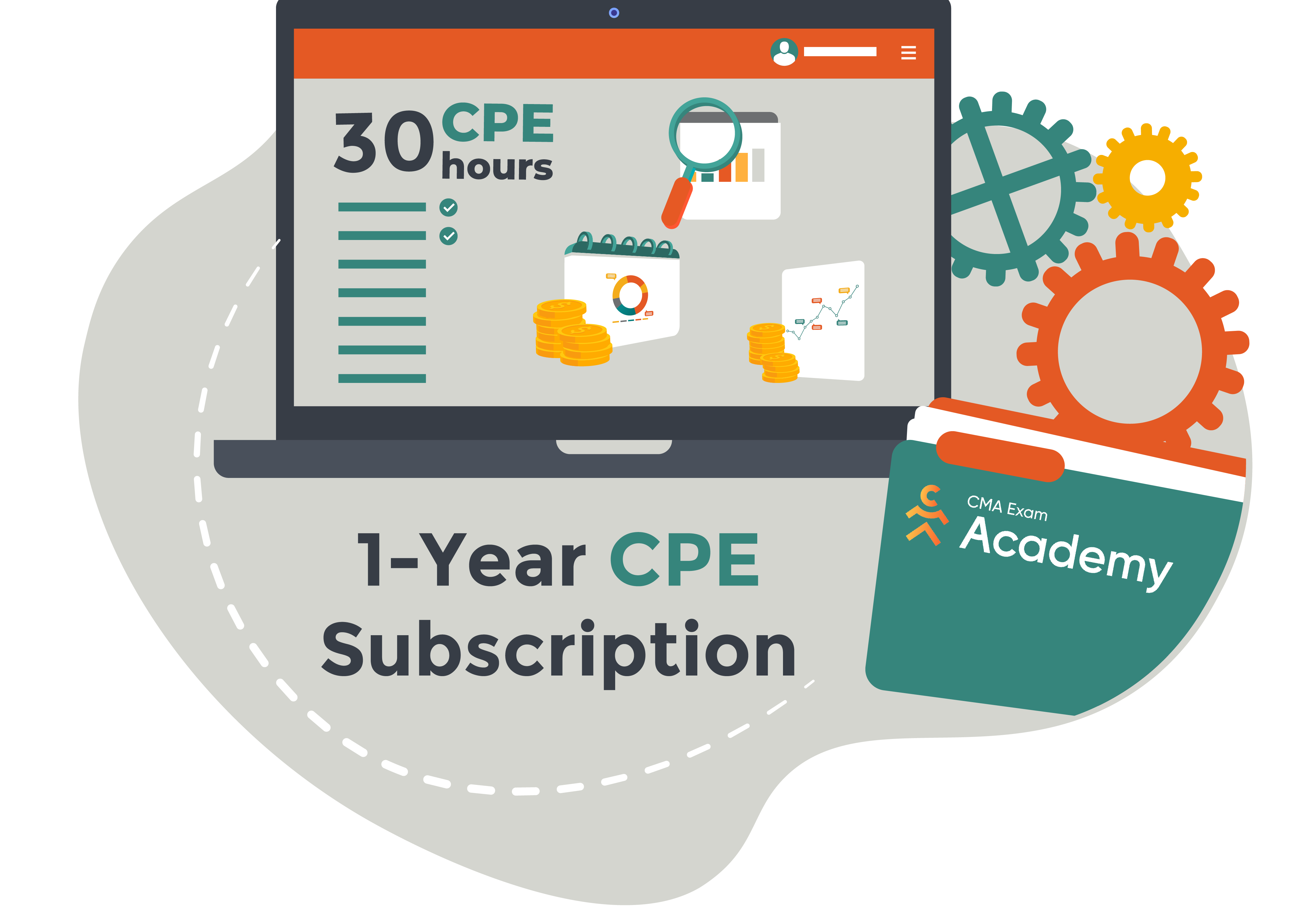 Bonus #7: 1-YEAR CPE SUBSCRIPTION
(Valued at $699)
After earning your CMA designation, you need to fulfill 30 credits per year of Continued Professional Education or CPEs. This bonus has you covered for the first year with live webinars, recorded courses, and much more. All courses are NASBA approved.
(Only for Complete CMA Review Course Combo enrollments)
"I was once hopeless that CMA is just a dream. Until God has sent me Nathan to rescue and lead me to the path of success to become a CMA. The program is very effective as you can manage time to study while working a full-time stressful job. The accountability and support made me feel that I'm not alone in this journey. I can't thank you enough and the team for everything..

"

Remedios Reyes, CMA
"The CMA Exam Academy program, built in accountability, and personal support was a huge reason I was able to successfully pass both exam parts and become a CMA in less than a year. This program will help you stay focused and on track to accomplish your goals, I would highly recommend it to anyone considering becoming a CMA!"

Kevin Hennessey, CMA
PASS OR 100% REFUND GUARANTEE
CMA Exam Academy has been tested and proven to work. I'm so sure you will pass the CMA exam by studying with me that I stand fully behind my work. If you go through the Academy and don't pass the CMA exam your first time, I'll give you a full refund.
You've got nothing to lose to give this review course a try and begin your journey to a 6-figure salary. Start today!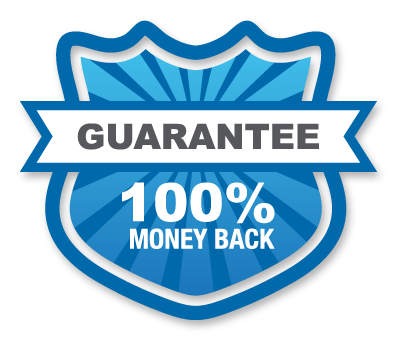 "

I found the materials and the recommended pace of study to be exactly what I needed to manage the volume of information, and successfully pass both sections on the first try. I scored a 440 and 430 for parts 1 and 2, respectively. I never would have gotten through the material, let alone passed, without the CMA Exam Academy.

"

Tiffany Cozzolino, CMA
"

The CMA Exam Academy is like no other professional study program

 I've participated in. The organization, support by Nathan and his team, and the community that is available for you to connect with creates a 

wonderful, encouraging culture

 where you are all equal and there to accomplish the same goal regardless of where you are on the globe. I'm highly visual so Nathan's videos and whiteboard drills of the material on the exam were a definite selling point and I feel when it came down to complex topics, he used straightforward language to convey these topics. Thank you, Nathan and team."

Ryan Ulch, CMA
Common Questions
Any Other Questions?
If you feel like there is a question that has gone unanswered or you have any other concerns about the CMA Exam Academy program, contact me here and I'll put your mind at ease.
"I just wanted to say thank you for your continuous support throughout the program. It has been a great time and I have learned a lot. And it is thanks to you and your team that I can now call myself a CMA.

"

Victor Jönsson, CMA
"After studying several times with other companies to pass the CPA exam without success, I was surprised that I was able to pass Part 1 of the CMA on the first try! I loved that we had assignments to keep me on track. Also, the personal messages from Nathan and the weekly check-ins made this program much more engaging. I definitely felt like the whole team was rooting for my success! 

"

Melissa Leavitt, CMA Candidate
Pass or 100% Refund Ironclad Guarantee
If You Go Through the Academy and Don't Pass the CMA exam Your First Time, We'll Give You a Full Refund.
I know what you're probably thinking… "Sounds too good to be true. Why would they offer that?"
The truth is that we believe in our courses that much.
In fact, we've had people come to us after failing with other BIG name programs, that are finally able to pass using our methods.
We think that you'll benefit so much from this different method of teaching and understanding, that we will guarantee you'll pass the CMA exam on your first attempt, or we'll pay you back all of what you paid us.
We have put in years of effort to make these courses, so our only requirement for this guarantee is that complete all the course material before your official exam date.
What does "completed all of the course material" mean?
Spent a minimum of 16 weeks studying per part
Successfully completed all weekly assignments
Watched all video lectures in your course
Taken all video quizzes
Taken your exam before course expiration. 1 year per part, or 2 years for both parts if purchased together
Forward the official email with your CMA exam score below 360 points to our support team no later than seven (7) days after you have received it.
If you have met all of the above qualifications, you will be eligible for a 100% money back.
This is my ironclad guarantee.
Nathan Liao, CMA

Forms of Payment:
Order online with our SSL secured system. We accept Mastercard, Visa, Discover or American Express.