CMA 1-on-1 Coaching Support
Nathan has coached over 9,000 CMA candidates via his blog cmacoach.com and now brings to you complete access to his knowledge and coaching experience to guarantee you results.
Most people self study and fail the exam. Take your review course into overdrive by hiring a CMA Coach dedicated to your exam success.
***This Is What You'll Get Today***
Exclusive Direct Access To CMA Coach
Email Replies To All Your Questions Within 24 Hours
Detailed Excel Spreadsheets Created On-Demand To Walk You Through Tough Calculations
Access To Me Until You Pass The Exam
Description
Most accountants believe they have to study longer and harder on their own to pass the exam. Instead, I've learned that 1-on-1 coaching is a far more important factor if you want to pass the exam on your first attempt with less effort and in less time.
The one thing that truly sets CMA Exam Academy apart from all other methods to prepare for the exam is that you're not doing it alone.
I'll be right by your side, every step of the way. You'll get personal, 1-on-1 coaching from me to make sure you'll pass the exam.
You can get help or ask me questions whenever you want by sending me an email. I'll personally respond to your email in detail within 24 hours.
Plus, I'll follow your progress and keep you accountable and on track to exam success during the entire course.
Usually, in-person tutoring with me costs hundreds of dollar per hour. But you can gain exclusive access to me for a fraction of that price.
A few ways I will coach you to pass the exam:
Email replies to every single CMA question you have within 24 hours.
Excel spreadsheets created on-demand to walk you through numerical calculations so you don't get stuck.
CMA Coaching for every step of your exam prep.
Exclusive access directly to Nathan until you pass the exam.
Example of an on-demand Excel spreadsheet created for one of our students: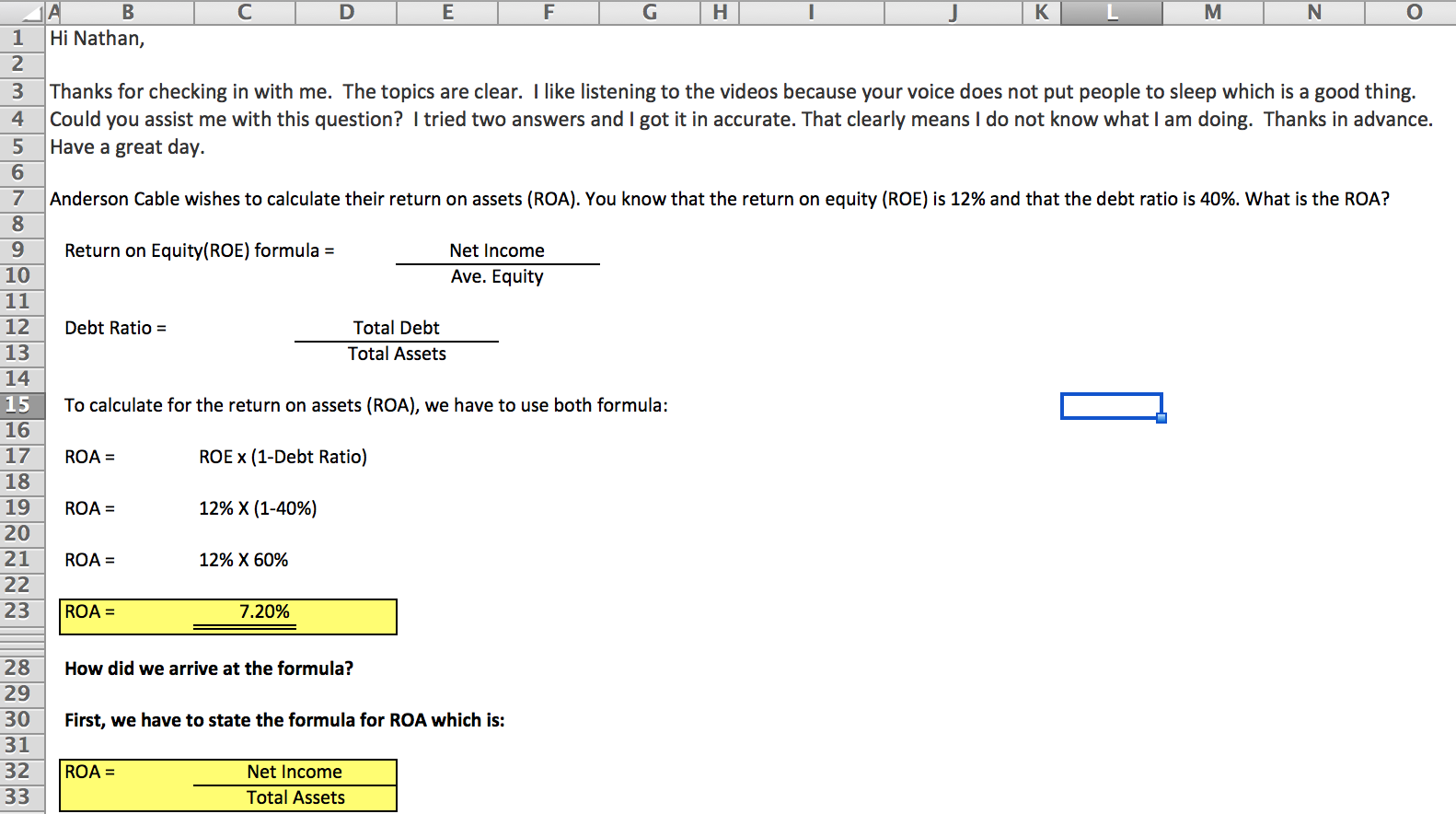 ---
100% Exam Pass Guarantee
I'm extending a personal promise:
I will help you pass the CMA exam – no matter what it takes.
I guarantee that joining this academy and following this course will give you the best preparation possible to pass the CMA exam on your first try – even if you have no prior experience.
I can't guarantee that you'll pass the exam on your first attempt.
But I have used these exact methods to pass the exam on my first try, and THOUSANDS of my students have done the same.
I've made it as easy as possible for you to pass the CMA exam. The academy contains the exact steps you need to take to study effectively and pass.
I'll be there helping you, and guiding you through it every step of the way.
But I wanted to go one step further.
If you do not pass the exam after following the study plan in its entirety and completing all assignments, you will have unlimited access and my 1-on-1 coaching support until you pass.
The risk is ALL on me, as it should be.
I am confident that these methods work and that you can use them to pass the CMA exam. I guarantee that you will pass. I know you can do it.